Thanks to two popular Tumblr artists and The Avengers fandom, the Strong Female Superhero Pose meme may have just reached its apotheosis—and its most popular iteration yet.
With the advent of an October issue of Marvel's Marvel Adventures comic featuring Hawkeye and Black Widow, Avengers fandom yesterday discovered a new way to critique superhero poses and celebrate one of their own. Meet the Hawkeye Initiative, a new Tumblr meme whose hub racked up over 10,000 followers in less than a day.
Begun on Tumblr over a year ago as a critique of the sexual objectification of female superheroes and characters, the Female Superhero Pose meme has been an ongoing and evolving critique of the ways female characters are drawn in comic books. Since the focus is always on showcasing T&A, the characters get drawn into warped, inhuman, anatomically impossible shapes, all to show off their best angles (usually all of them at once).
Over the last year, the meme has gone through numerous iterations. With the ongoing critique of female superheroes now firmly embedded in Tumblr's cultural conscious, it was inevitable that a cover like this one would be subverted. 
"For real though look me in the eye and tell me which is more likely for these two," said Tumblr artist hoursago when she switched the poses of Hawkeye and Black Widow, tagging the post "the hawkeye initiative." (See above right.)
Her friend, popular Tumblr user Gingerhaze, did her one better, noting, "how to fix every Strong Female Character pose in superhero comics: replace the character with Hawkeye doing the same thing." A few hilarious examples later and the Hawkeye Initiative was born. After 24 hours, the Tumblr now boasts Hawkeye as Harley Quinn, Hawkeye as Catwoman, and many more.
But how does the Hawkeye version of this meme stack up against all the others? Take a look.
Drawing via The Hawkeye Initiative
TIMELINE OF A MEME: THE STRONG FEMALE SUPERHERO POSE
1) Mary Jane
Date: Aug. 31, 2011
The Pose:
Illustration via foxmccloud / Tumblr
In the middle of a series of reblogs mocking the awkward way Spiderman's Mary Jane is holding her cup of coffee, Tumblr user foxmccloud became the first person to actually attempt to do a ridiculous female comics pose: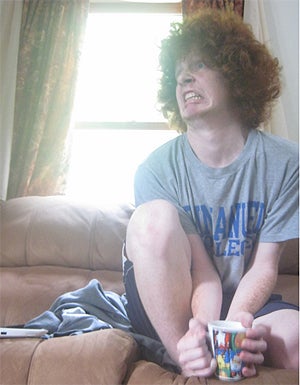 Photo via foxmccloud/Tumblr
2) The Meme
Instantly, a combination of meme and social critique was born, with dozens of Tumblr users following suit in a post that eventually amassed over 45,000 notes: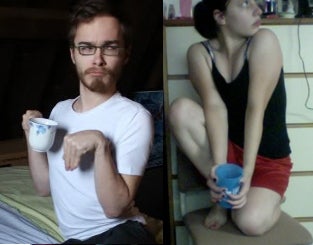 Photo via merelyn/Tumblr
3) Eschergirls
Date: Sept. 11, 2011
Predicated on the idea that female superheroes in comics are a little like Escher drawings, with impossible anatomical changes designed to showcase T&A at all times, the Eschergirls Tumblr quickly became a hot button for discussion about sexism in the comics industry.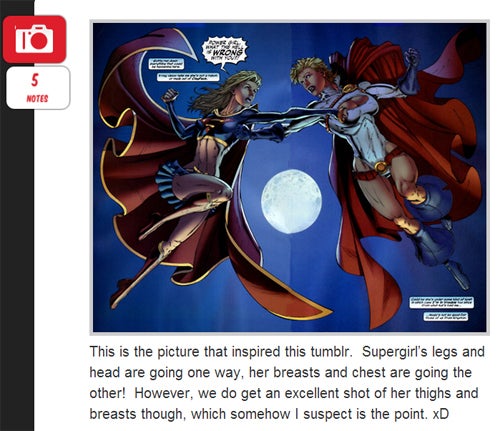 Photo via eschergirls/Tumblr
Date: Jan. 3, 2012
Following a similar line of thought, this Tumblr dubbed comic book women who wind up in these awkward positions "brokeback girls" because of their unnaturally flexible spines.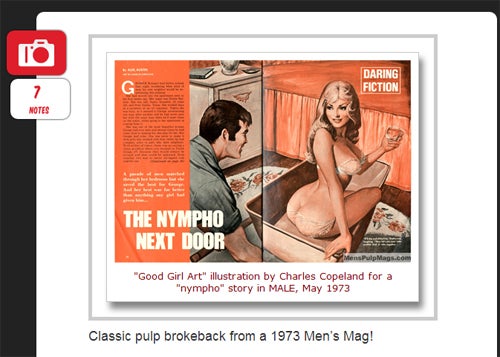 Photo via brokebackgirls/Tumblr
5) Jim Hines Does Women In Fantasy
Date: Jan. 11, 2012
Though he made no reference to the "Mary Jane" meme, popular blogger and fantasy writer Jim Hines was perhaps inspired by it when he did his own version—this time spoofing another corner of geek culture—the ridiculous poses of women on the covers of fantasy novels.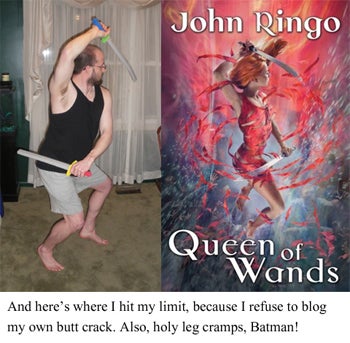 Photo via jimhines/Livejournal
6) Maxi and April's Action Poses
Date: Feb. 18, 2012
Inspired by the Mary Jane meme, two women on Tumblr, Maxine Hagan and April Spencer, began their own ridiculous photoshoots. Perhaps due to harassment, the two have since removed all of their own photos from the blog, but the artwork itself remains.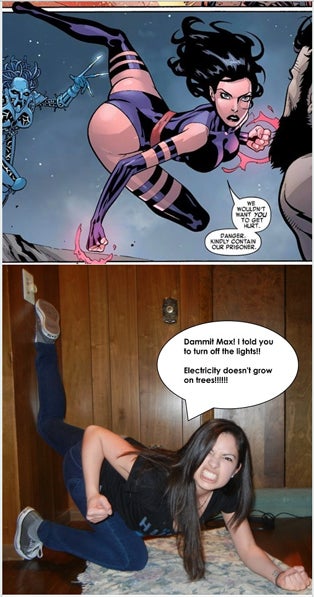 Photo via bookshop/Tumblr
Date: July 26, 2012
Inspired by the Escher Girls, a group of male cosplayers at a summer fan con decided to go as proverbial fake geek girls—or at least, as their scantily-clad superhero counterpart. "It's like Magic Mike spilled over into The Avengers," one commenter noted.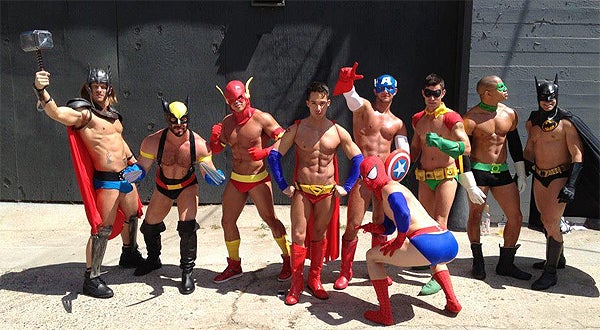 Photo via eschergirls/Tumblr
8) hoursago critiques Marvel's Hawkeye and Black Widow
Date: Dec. 2, 2012
Everything you read above. "For real though look me in the eye and tell me which is more likely for these two":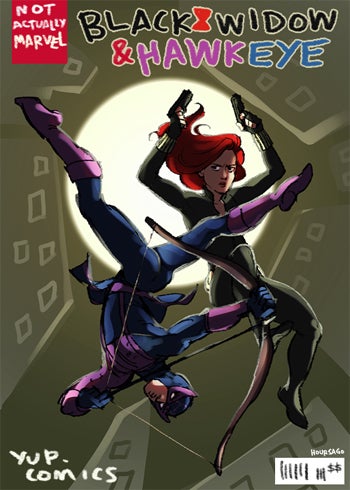 Illustration by hoursago/Tumblr
Gingerhaze, no stranger to launching memes herself, chimes in, and a new meme is born.
We look forward to seeing where fandom takes the Strong Female Superhero meme next. After all, so far, it's had more twists than a, well, strong female superhero.
Illustration via hoursago/Tumblr