There were a lot of good memes in 2018. Instead of selecting only one meme as the Meme of the Year, we're highlighting a few of our favorites this week. Read all of the stories here.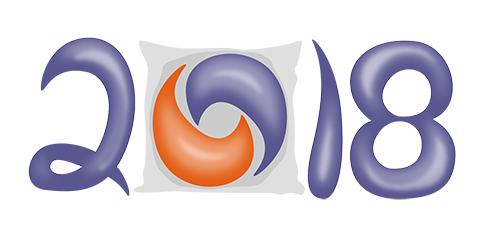 When the Philadelphia Flyers' new mascot burst onto the scene in late September, it's probably safe to say that no one was prepared for what would happen next. At first, people were almost universally horrified by "Gritty," a seven-foot-tall hairy orange monster with crazy-eyes and a gaping black mouth.
But quickly something odd—nay, magical—happened. Partly in response to the nationwide ridicule, Philadelphians embraced Gritty as one of their own, and soon, the rest of the country followed suit. All of a sudden Gritty was everywhere, transcending sports mascot status to become a full-fledged phenomenon.
Which is how, in just three short months, an orange hockey mascot went to become hands down one of the most popular memes of 2018. (Even if he didn't make a spot on the Time "Person of the Year" list, to mass chagrin.)
An entire subreddit was quickly created in Gritty's honor. "All hail our crazy neckbeard that eats hotdogs out of the trash," commented someone on the very first post "for Our Lord and Savior" Gritty.
Likewise, social media accounts began popping up for fans to share Gritty art and memes, such as the popular "gritty memes for philly teens" on Facebook, which now boasts over 17,000 members, and the "grittyphilly" Instagram account.
https://www.instagram.com/p/BpFv0iuBrDL/
https://www.instagram.com/p/Bor-KQThNV5/
https://www.instagram.com/p/Bo4CUElhuU6/
People also got hella creative with Photoshopping Gritty onto movie posters, and Gritty himself (or whoever runs his Twitter account, anyway) is more than happy to share the handiwork—from Lady Gaga and Bradley Cooper's A Star is Born to the Philly-centric National Treasure:
https://twitter.com/GrittyNHL/status/1054367678658473985
https://twitter.com/GrittyNHL/status/1054806155137036289
But perhaps the strangest thing to come out of Gritty mania was that the mascot became adopted as an unofficial mascot of the antifa movement and dubbed "Brother Gritty." Although maybe it's not that strange after all, being that Philadelphia is a scrappy, blue-collar city at its heart.
https://twitter.com/FellowGritty/status/1048183525327982592
Gritty's rising star as a symbol of the resistance only solidified when Philadelphians came out to protest a visit from President Trump back in October, and then again to counter-protest (an ultimately sad, and sparsely-attended) Proud Boys rally in November.
Really, is there anything more satisfying than the thought of a seven-foot-tall orange monster going whole-hog on a Nazi?
https://twitter.com/bthny/status/1047162993929326592
Gritty versus the nazis, Part II pic.twitter.com/Tn2TUvKX1C

— Gwen Snyder is uncivil (@gwensnyderPHL) November 17, 2018
Eventually, Gritty was even formally welcomed to the city through a resolution from the Philadelphia City Council. It was the first time in the history of Philadelphia that a sports mascot received the honor.
Elsewhere, following the recent trend of people getting tattoos of memes, it surprisingly did not take long before people began getting Gritty permanently inked on their bodies.
https://www.instagram.com/p/BoR-kr1BScO/
https://www.instagram.com/p/BrB0DBcjuwM/
Among other things, the festive mascot lends himself perfectly to holiday activities. So when Halloween rolled around, it was hardly surprising that bright orange costumes were out in full force, as people dressed themselves (or their pups) up as Gritty.
https://www.instagram.com/p/BpmhYtejsc5/
https://www.instagram.com/p/BpQJlebhnd3/
https://www.instagram.com/p/Bphjegzh5HH/
And with Christmas approaching, you'll be hard-pressed to find a tree (in Philadelphia, anyway) barren of a Gritty ornament.
https://www.instagram.com/p/BrIpT59DdVE/
With the controversy that led to Kevin Hart stepping down from his Oscars hosting gig—and the job apparently being the least desired next to the president's Chief of Staff vacancy—a grassroots campaign started on the internet to get Gritty to host the 2019 Academy Awards.
GRITTY FOR OSCAR HOST pic.twitter.com/xt5LpGkTbP

— Julie Gerstein (@havethehabit) December 7, 2018
let Gritty host the Oscars

— Lindsay Zoladz (@lindsayzoladz) December 7, 2018
I am so in favor of this choice – Gritty for Oscars host (he's gotta be better than Kevin Hart, right???) @GrittyNHL https://t.co/rBcd6FtUJv

— Debbie Emery (@debemery) December 8, 2018
Does … does Gritty even have a voice? And if so, what does he sound like? But regardless of speaking ability, he seems more than willing to accept the responsibility.
Ok fine, I'll do it.@TheAcademy pic.twitter.com/kzDQCpuFMv

— Gritty (@GrittyNHL) December 11, 2018
It's hard to pinpoint the exact appeal of Gritty. The mascot seems to mean so many things to so many people, whether it be irreverent goofus or champion of the working class. In a way, Gritty is all of us, and we are all Gritty.
READ MORE: