A piece of cardboard paper has just sliced through your index right finger. As you suck on the wound, you begin to think of a way you can accurately capture the agony of a papercut with more than just a sad emoticon.
That's where Giphy can help.
Giphy is a new GIF search engine founded by Alex Chung and Jace Cooke. Its stylish, stripped-down interface allows users to search for reaction GIFs using tags like "sad" and "bored" in a large search bar on the top of its homepage. Search results are drawn from an internal GIF archive and come up almost instantaneously, thanks to a collection of static tiles that animate when your mouse over them. 
While the GIF resurgence has been largely tied to Tumblr's artist community, a growing number of mobile applications and websites have helped make the reaction GIF a go-to form of expression. Reaction GIFs are short animations drawn from films, sports, and television shows that represent everyday feelings. 
For example, one of the most popular reaction GIFs of all time features actor Michael Cera of Arrested Development walking with his head down and arms slack before falling on the floor. While fans of the show are well aware of the memorable scene, their ability to find that exact moment as a GIF in mere seconds is what makes reaction GIFs unique.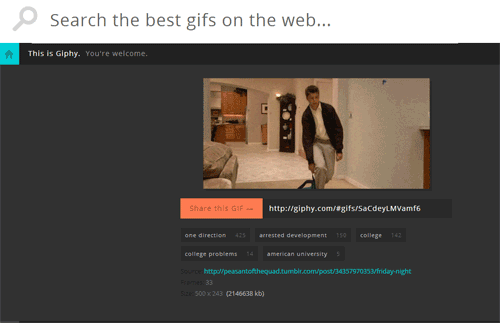 "Giphy was thought up over breakfast with my partner on the project, Alex Chung, while musing on the rise of purely visual communication," Jace told the Daily Dot.
"We both couldn't get over how cumbersome it still was to find and share GIFs, and thought we could do something about it."
After clicking on a GIF, you are taken to an individual page that includes a list of tags, the source of the animation, how many frames it contains, and the file size. And yet while this information is nice to have, it does little to help the animation addict on the go or casual GIF user who just wants to plug the file into Tumblr with a click of the mouse.
It's all about speed, said Tumblr artist duo Mr. GIF:
"I like how the hover to play looks, but if I want a quick GIF to send to my buddy, it's more work to find the GIF I want."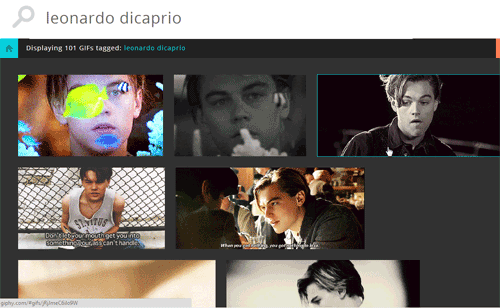 There are currently no share buttons featured with each GIF, no mobile site, or downloadable app. Where Giphy shines is with its user interface. With some more sharing options, it can better set itself apart from other GIF search engines like GIF Soup and GIFSearch.me.
"This could be really great for GIFs artists to get discovered," Mr. GIF told us. "Also makes browsing GIFs fun. It's all about discovery and entertainment and this site has it in spades."
Images via Giphy