Billionaire nerd-god Elon Musk has been in the news a lot recently due to the successful launch of his SpaceX Falcon Heavy rocket, which carried his personal Tesla car into orbit around the Earth. But there's one factoid on everyone's lips, and it has nothing to do with space: Elon Musk is short for Elongated Muskrat.
This is a factoid in the original Norman Mailer sense: It's not true, and it had no validity before it appeared in print. It's 2018, so replace "in print" with "on social media."
It's not entirely clear where all this Muskrat love started. A Reddit bot with the username ElongatedMuskrat has existed for three years, posting frequently on Reddit's SpaceX forum. The first person to tweet the Elongated Muskrat hypothesis seems to have been J. Crowley, in 2014:
@MaraWritesStuff Most people don't know this but he actually shortened his name from Elongated Muskrat when he moved from South Africa.

— Stephen King's "J Crowley" (@jdcrowley) July 11, 2014
Drew, the creator of the webcomic Toothpaste for Dinner, tweeted the muskrat joke in mid-2017, to some acclaim.
elon musks full name is Elongated Musk

— drewtoothpaste (@drewtoothpaste) May 5, 2017
But the SpaceX launch and this popular tweet by @mr_kapowski seem to have pushed "Elongated Muskrat" into full meme territory.
https://twitter.com/Mr_Kapowski/status/961045147109638144
Now there are so many of the jokes that you can't count them all.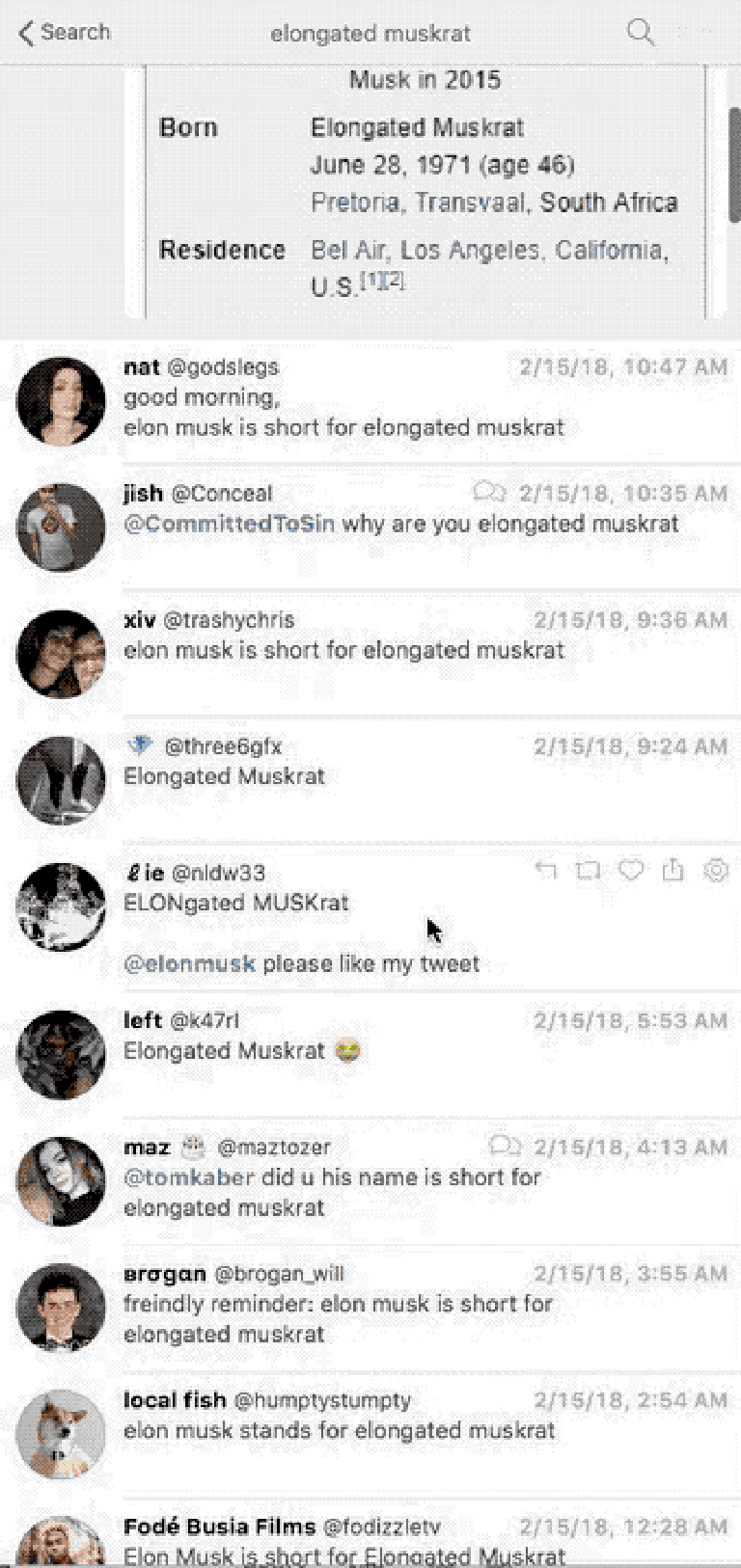 There's even a fake Wikipedia edit that shows Elongated Muskrat as Musk's birth name and a fake tweet where the man himself appears to admit it:
https://twitter.com/kolechian/status/964222070203846656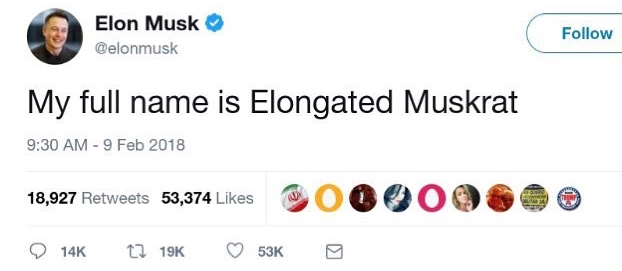 "Elongated Muskrat" is a pretty obvious joke—certainly Elon must have heard it before—but it's taken on increasingly relevance as he's started to joke around on Twitter more often.
People have reacted negatively to his tryhard online persona and to his priorities as a billionaire, and calling him "Elongated Muskrat" is a dank, current way to express that.
https://twitter.com/creeperintruder/status/963627909725515777
Idk why people love Elongated Muskrat so much. What has he ever done for me? Idgaf about cars in space, how about you pay my rent instead lmfao

— ingrid ¨̮ (@ilovebobbyhill) February 13, 2018
Elongated muskrat wants us to all be beholden to his bullshit electric cars so we give him money to fix our crisis and we really shouldn't let him.

— Guinevieve ⚧ (@Bug_Grrrl) January 19, 2018
i'm allowed to say fuck to technocrat billionaires like jeff and elongated muskrat because they have infinite money and literally no word i can say can cause them pain because i'm pretty sure they don't have any capacity for fear or love or embarrasment in their hearts.

— Guinevieve ⚧ (@Bug_Grrrl) January 22, 2018
The nickname might be insignificant to someone who has 20 billion dollars, but it's got hundreds of people claiming they "can't stop thinking about it." There are some things money just can't buy.