After Reddit user minarosli took a snapshot of her brown husky at the dog park and posted it on Reddit on Monday, the photo was hailed as the official dog version of the distracted boyfriend meme.
"I took a candid pic of my dog at the park and it's basically the dog version of this meme," the user wrote on the post, which at the time of writing has more than 36,000 upvotes.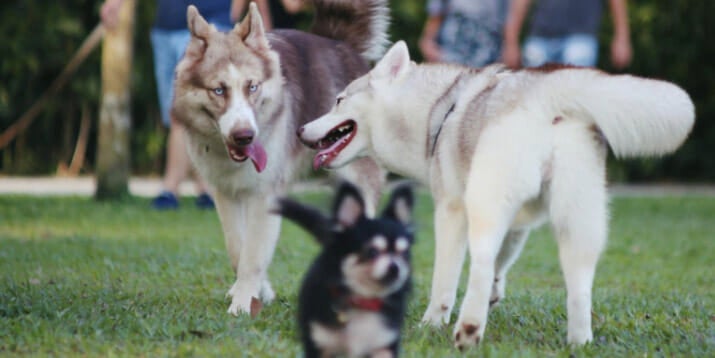 The original distracted boyfriend meme—honored as the Daily Dot's meme of the year in 2017—is a stock photo of a man staring at a woman walking past him, while another woman (who we assume to be his girlfriend) gives him a dirty look.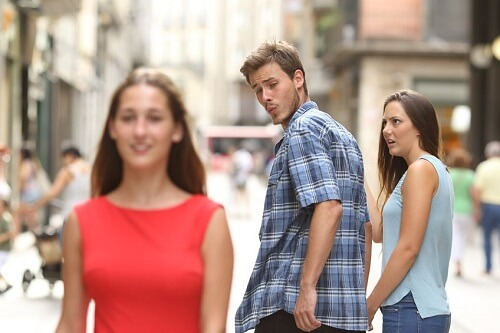 The meme has been regenerated in all kinds of imaginative forms, and its exact structure was even spotted in a Charlie Chaplin clip.
I can't believe Charlie Chaplin invented the distracted boyfriend meme about 100 years ago pic.twitter.com/a19iGlAUB2

— Miléna (@theodonut) October 16, 2018
It's been reenacted in real life.
https://twitter.com/Dray__/status/1052233717970862081
And it's so popular that people are dressing up as the meme for Halloween.
https://twitter.com/SophiaKunthara/status/1053074151672492032
When the newest dog version was posted to Reddit, people took to it immediately, with many interjecting their own captions.
Commenters were impressed with how closely the photo resembled the meme. As several pointed out, it even managed to capture the blur depicted in the original image.
The comments also got weird as some people called the brown husky as a "pedophile" for going after the small black Chihuahua.
People were quick to point out how a dog's size has nothing to do with its age. The original poster had to explain that the brown husky is actually younger than the Chihuahua.
READ MORE: