Whether you're a Brickhead yourself or you just love having a way to exercise your kid's engineering and creativity skillsets, you know Lego collections are notoriously hard to organize. Luckily, innovative builders around the world have devised a solution: Lego tables.
Not only do Lego tables provide a dedicated build space for your projects, many also double as storage for your family's Lego stash. There are hundreds, probably thousands, of examples of DIY Lego tables online, and no one solution will work for every family. After looking over way, way too many builds, we've curated this list of easy (and not so easy) projects that could help you on the way to making your Lego table dreams a reality.
One note before we get started: All of these builds use Lego base plates, 15-inch square plastic sheets with Lego-friendly bumps. You can get official Lego plates here on Amazon or at the Lego store for $7.99 each. Some builders have had good luck with less expensive knock-off versions, which you can also find on Amazon and other online retailers.
5 ways to make a DIY Lego table
1) The coffee table turned Lego table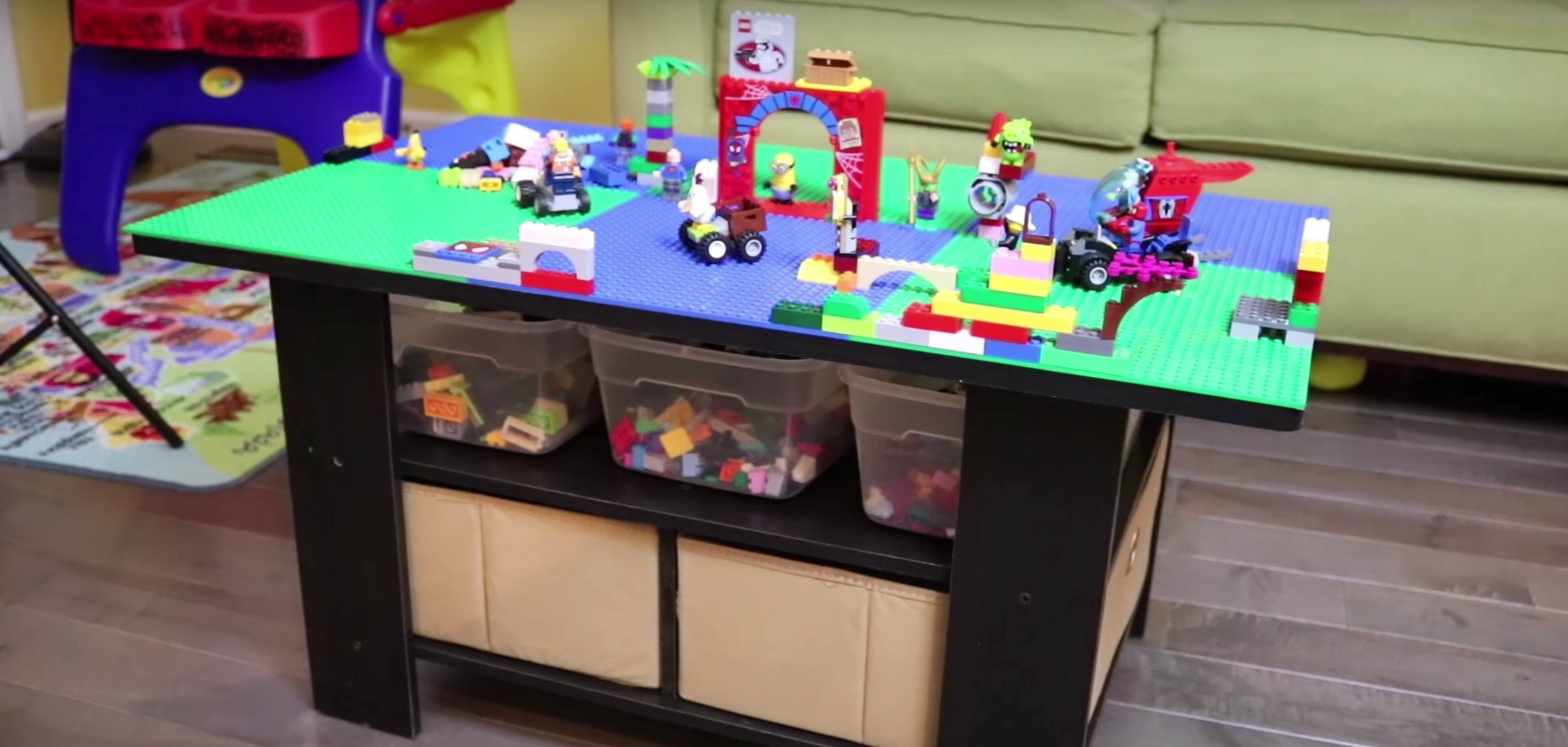 YouTube DIYer Uncle Jessy found instructions online for a custom Lego table that starts with an inexpensive coffee table purchased on Amazon. As you can see in the video, the table itself comes together pretty quickly. The tricky part is cutting down the Lego base plates so they fit the table top before being glued down. Uncle Jessy found a special plastic-cutting tool to complete the task. The instructions recommend rubber cement to adhere the plates to the table, but Uncle Jessy used an adhesive spray that worked just fine.
Any parent or Lego lover can tell you the importance of storage, so it's a nice bonus that this table comes with two canvas cubes and space for additional bins. The table seems like a great size for small homes and apartments, it's easy enough for a novice DIYer, and it costs less than $50 for the full build.
2) The IKEA hack Lego table
Who doesn't love a good IKEA hack? For this build, YouTuber Ben Brandt combines two IKEA shelving units to create a spacious play space with plenty of storage underneath. After assembling the shelves according to the instructions, Brandt makes a few smart tweaks. Because he's positioning the two shelves back-to-back, he adds stoppers so the plastic bins can't be pushed out the opposite side. (Catastrophic Lego mess averted.)
You could probably just size your Lego plates and affix them to the top of the shelves (though there will be a crevice where the two shelves meet), but Brandt goes the extra mile to create a new tabletop that's framed with a rim to keep little pieces from flying everywhere. Most builders glue their Lego plates down on the surface, but Brandt simply painted his surface instead. You can do the same if you want to make the table more multi-purpose, or go ahead and glue your Lego plates down if the table will be a dedicated Lego space.
You can check out another interesting Lego Table using IKEA furniture here. This build includes storage bins dropped into the top of the table, which seems nice for easy access to your bricks.
3) The Lego pool table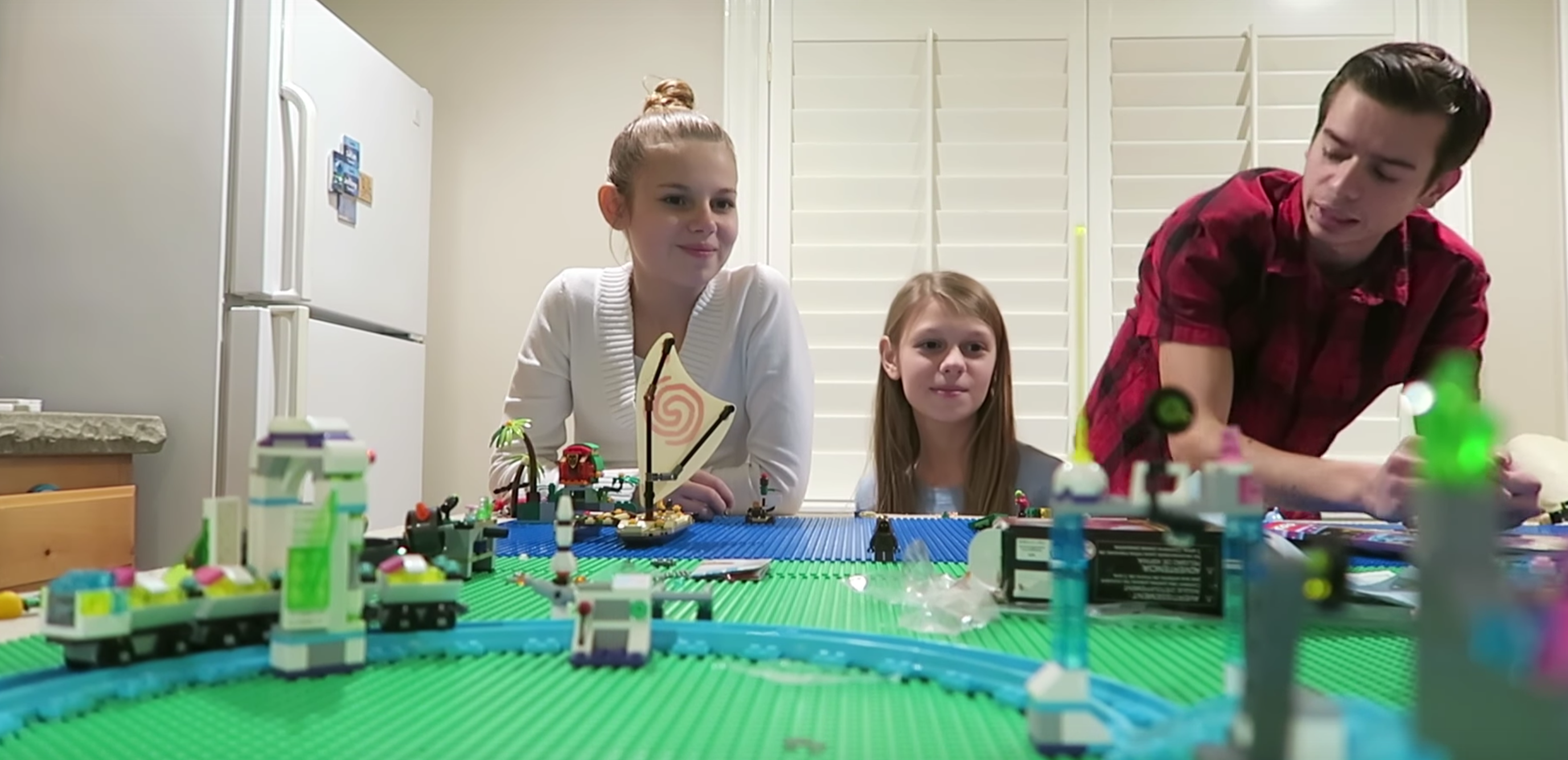 This Lego table idea is neat because it gives you a removable Lego surface on top of a preexisting piece of home furniture. Everyone loves a good two-for-one. YouTuber Johnny from the Tannerites channel built this Lego-friendly topper for his family's full-size pool table. This build takes a little carpentry know-how, so Johnny enlisted the help of a friend.
Unlike other builds featured on this list, there are no exacting directions for folks who want to try to make one. We included it anyway, however, because we thought it was smart use of space and could be applied to other seldom-used surfaces in your home. We also liked Johnny's idea of putting soft felt around the edges of the table to make a nice elbow rest. Adding a thin layer of foam padding would make it even cushier for those long build sessions. If you're leery of winging it, this build probably isn't for you, but it's good inspiration for more ambitious DIYers.
4) The slide-top table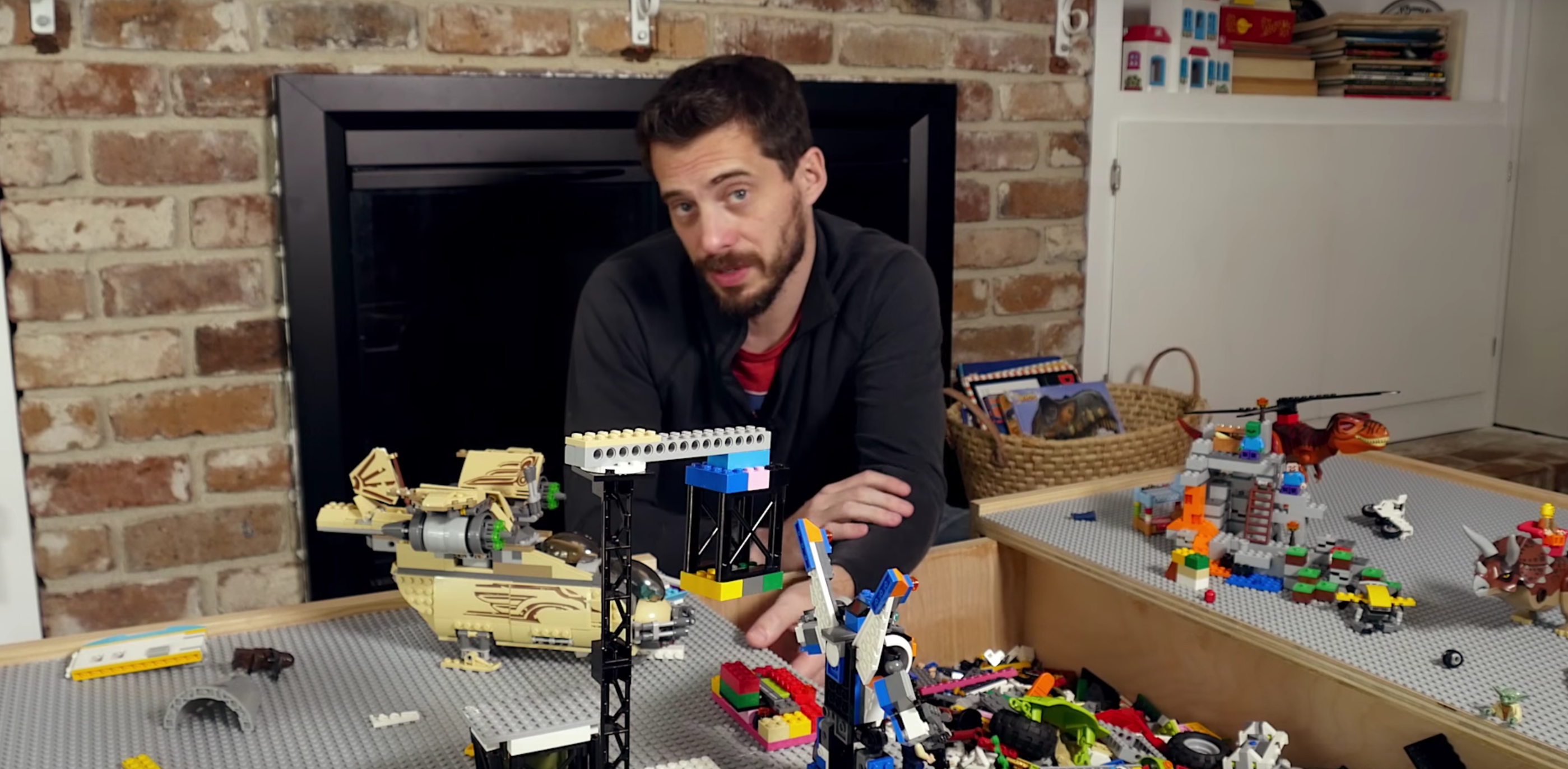 This Lego table has an incredibly cool sliding top that opens to reveal a big storage space underneath. The only catch? You need some power tools and carpentry skills to pull it off. Bob at the YouTube channel I Like to Make Stuff made this table from scratch, starting with plywood and some pine boards. We felt a little intimidated by this build at first, but Bob is great at explaining each step with clear instructions. The key to the build is precision, so remember to follow the old adage about measuring twice and cutting once. You'll see Bob test the fit of all of his pieces before he commits to gluing them in place.
Bob ran into three issues with his table build that you should look out for. First, the 15 x 15 Lego plates are actually a little bigger than advertised, so he had to sand down a sixteenth of an inch from each to get them to fit on the table space. Second, he didn't love the sliders he picked for the sliding top because they ended up being too wobbly, so be careful when you choose yours. Lastly, his kids have way more Lego bricks than fit in the built-in storage. Fortunately, that's easily remedied by adding more plastic bins under the table. Bob didn't give a figure as to how much the build cost, but you can pick up his plans for the table for $5 on his website.
5) The Lego tray table
As we said before, there's no one-size-fits-all Lego table, and that's especially true for families on the go. This build comes to you from Kara at thejoysofboys.com. Her novice-friendly DIY project includes gluing some Lego plates onto the surface of a tray table, making a small but mobile surface the kids can tote anywhere in her home.
While Kara's build is great for home, using these plastic lap trays (available here on Amazon) could be an even better route. Not only will the plastic be lighter than wood, these tray tables include built-in storage bins to keep little parts organized and close at hand. We could see throwing this table in the car for a road trip to give kids (or you!) a break from your tablet or phone screen. Just be aware the rounded edges of these plastic tables will present more of a challenge when cutting the Lego plates down to size.