After 40,000 words and months of argument, common sense can eventually prevail on Wikipedia. But the effects of the crowd-sourced encyclopedia's excessive, mistaken pedantry can linger for months afterward. Just ask Google.
For months, Wikipedians argued over a single bit of style in the title of the new Star Trek movie. The film is called Star Trek Into Darkness. For reasons that remain impenetrable to most neutral observers, Wikipedians changed the name to Star Trek into Darkness (usually written as Star Trek Into Darkness). They replaced a capital "I" with a lowercase "i."
Eventually, after some less-than-flattering media attention, a brave Wikipedia editor made an executive decision and reverted the entry back to the actual movie title. In the end, sanity won out.
Unfortunately, Google's poor inhuman algorithm is still living in the past, unaware of that moment of Wikipedia bravery. 
Anyone who searches for the movie on the world's most popular search engine will be fed back the inaccurate title.
It looks like this: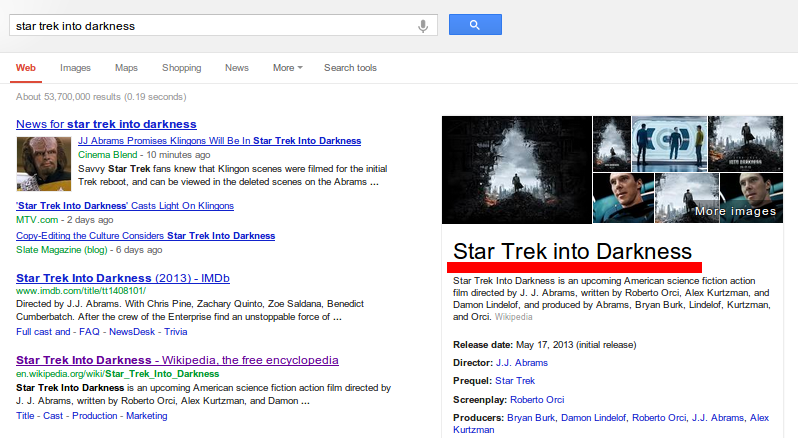 In other words, the arguments of a small group of pedantic editors on Wikipedia has more influence over Google—the most popular website in the world—than the movie's own creators. On Wikipedia, small mistakes really do matter. And not just when they're about capital letters. 
Google isn't the only company or person to take the encyclopedia's facts at face value. Just last year, a prominent British judge embarrassed himself after parroting false information from Wikipedia in a high-profile report.
Photo via x-ray delta one/Flickr