The transsexual porn star whose videos were recently spotted being pirated by an unidentified downloader in Vatican City was psyched to find out that someone in the Catholic Church's holiest city was getting off to her work.
"I was quite surprised," 2012 Nightmoves magazine transexual performer of the year Tiffany Starr told the Daily Dot. "I woke up in the morning, and someone told me right away that the news was in the New York Post. I think it's funny, and I think it's really cool. I really like that my work is reaching out so far that even people in the Vatican are enjoying my work."
The adult performer—along with a harem of others—was recently discovered to be the apple of the Vatican City's collective eye after TorrentFreak took a look under the hood of the download histories belonging to a series of IP addresses that traced back to the Holy See.
The Daily Dot wrote about the discovery on Monday. A few hours later, Tiffany reached out to us on Twitter through her publicist and agreed to a phone interview.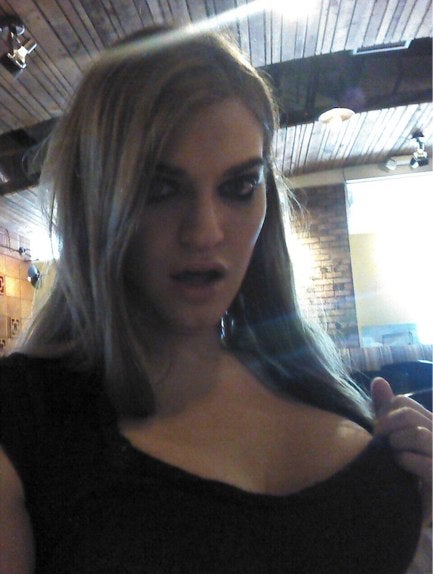 Photo via TiffanyStarrXXX/Twitter
Tiffany Starr lives in Dallas, Texas and seems like a pretty nice person. If transsexual porn's your thing, we highly recommend her work—based solely on the content of her character.
We can't say anything about the quality of her porn.
Daily Dot: The video in question is called "TSPH: Tiffany Starr and Sheena Shaw." (Transsexual Pussy Hunters.) Of all the videos you've made in the adult business, is this the one you're most excited to see get downloaded within the Vatican?
That's a good clip to view. It's a great scene that's hot and sexy. It's off one of my favorite sites, and I would have been fine if it was any scene from TSPH.
DD: Do you believe that the Catholic Church should amend their stance towards sex and pornography?
I think it should. It just seems like some of the Christian values seem aggressive, but you look at others and it seems like they're taking two steps back. I feel like, if they were a little more open about it, that they'd find it's better and healthier to express their sexuality. I'm hoping that, as time passes, sexuality will become more and more accepted within the Christian community.
DD: I love that your official statement included the phrase 'thou shalt not steal.'
 It's true. What they're doing is stealing. It's throwing it back in their face, but it's true. Practice what you preach.
DD: What do you do to combat the piracy?
On my personal site, I have a few people who help me look around online and eliminate pirated content. We have one guy who does nothing but look around for illegally hosted content. Personally, I try to provide my fans with free content that they can't illegally download, like free weekly shows for members and events that encourage people to join the site.
DD: Have you turned to Vine? Porn stars are really getting into Vine lately.
No, I'm not even sure what it is.
DD: You might want to think about Vine.
I will get on Vine.
Photo via Tiffany Starr TS/Facebook