People inside the Vatican are pirating porn.
Thanks to some sleuthing from TorrentFreak, the world can rest comfortably knowing that someone within the Vatican—Swiss guards, tourists with good Wi-Fi, people in the priesthood—now doubles as a porn pirate. 
After a look under the downloading history hood of all the IP addresses within the highly religious city-state, it's safe to say that people populating the tremendously holy city have more than just an interest in God. They also take quite kindly to porn stars like Sheena Shaw and the transexual performer Tiffany Starr.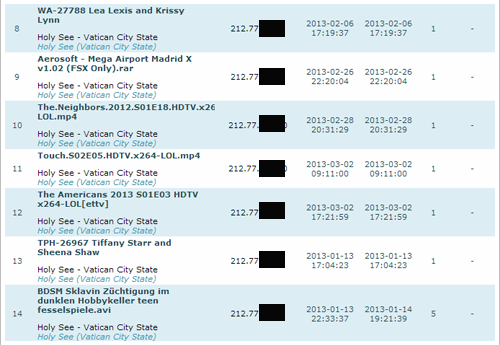 That's all that's really known about the issue at hand—unfortunately, spokespeople from the Vatican did not respond to our request for comment—but the writing's on the wall: Between episodes of The Americans and other great TV programs, a few of these folks like to get into a little BDSM.
Good for them. And good for them that there's no weird smut kiddie porn on that lineup. Piracy notwithstanding, it's nice to see people within the city-state stick to what's legal.
Update: Tiffany Starr released the following statement Monday evening. 
I have always identified as a Transsexual Woman and got into porn to be able to express my open views of sex.  I consider myself bi-sexual but really enjoy women and other transsexual women.  My scene with Sheena Shaw was steamy, affectionate and raunchy so I can see why whomever at the Vatican watched picked us.  Porn isn't as taboo as many people try and make it out to be.  For someone to know what they enjoy and pleases them isn't taboo but a great form of self expression.  I am sure Christians feel it was sinful as part of their morals but I think its great that this person was taking time to enjoy himself.  What I don't agree with is downloading it from a tube site.  Tube Sites steal the work of producers and stars who work and spend money to produce them only to have them illegally downloaded from a site, thus "thou shall not steal".  So as much as I am pleased that he enjoys my body of work, no pun attended, I wish it was done the correct way.  So with that being said I must show my compassion and charity work and if  the person himself wants to email me [email protected] then I would be happy to send him a free autographed DVD and a personal thank you.
Photo via Sheena Shaw/Twitter