Accusations are swirling that plans to animate Tumblr's beloved Miss Officer and Mr Truffles fanart meme could be smoke and mirrors. Fanartist Ami Guillen, lemonteaflower on Tumblr, saw her adorable fanart of a real Canadian policewoman and her bear companion go viral earlier this year.
But after launching a Kickstarter to turn the meme into an animated series earlier this week, Guillen has come under fire from Tumblr users who are suspicious that the project may be a scam.
The project is seeking an ambitious $80,000 in order to fund the creation of a single seven-minute promotional short, to be used as a launchpad to pitch a full-length series aimed at kids ages eight to 12. Guillen and her project team state they've spent months researching the cost involved with producing the animated short, and have proposed an itemized breakdown of their expenditures.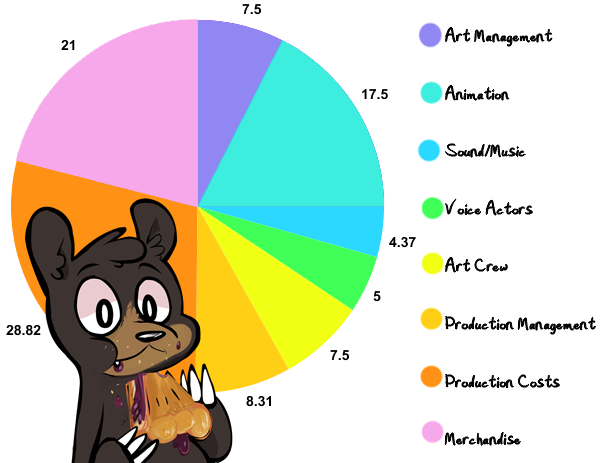 But many Tumblr users are upset with the Kickstarter. The point-and-mock Tumblr Your Kickstarter Sucks detailed a few of the issues, calling it "a big mess of the thing." So what has outraged them?
For starters, before she had the username lemonteaflower, Guillen went by the name livethefaggotry. Her Society 6 shop and her Redbubble shop, at which she sells products from the Miss Officer and Mr Truffles project, both still use the old handle in the url. For obvious reasons, Tumblr's diverse community is less-than-thrilled about supporting a project that seems to come with unrepentant use of a homophobic slur.
But there are other perhaps even more alarming accusations being leveled at the project. Artist potentialforart posted to her Tumblr Tuesday to speak out on behalf of artists whom she claimed had been abused, overworked, and underpaid as part of the project:
Guys I super super super never usually do this but I really gotta speak out about this project.
A bunch of my friends used to work for this project and I emphasize USED TO because the people working on the project bullied one out of working, made another quit due to their hypocritical and disgusting work ethic and is withholding/refusing payment for the work they've done (which is a lot). They've even sent a termination letter that was basically a personal attack on my friend and threatened that if they said anything slanderous, they wouldn't get paid.

Another was promised a certain sum of money to animate and clean up the previews and is WONDERFULLY DONE only to be thrown out and substituted with the work officially shown in the previews after previously demanding work to be done on a fast turnaround, despite her having a full time job. Even after completing all of her work within the time she promised, she was only offered less than a fifth of what was previously agreed on.

The writer that attended VanCaf lied to get sales claiming that certain works were done by the creator when it was done by someone else in the group.

Guys, do not support the project for the sake of my friends who were cast aside and bullied from this project as well as the absolutely shoddy quality of what's presented here [sic]
The problems don't end there. Though at the moment the Kickstarter is nowhere near its $80,000 goal, it's listed a fun stretch goal: At the $100,000 mark, "Our friends at Squishable.com have agreed to prototype a super special seven-inch Mr. Truffles Plushie!"
Except according to Tumblr user vuroro, they haven't. Vuroro claimed that after getting suspicious, they emailed Squishable about the Kickstarter. The company allegedly responded that the project had not contacted them and did not have plans to develop a Squishable prototype. At press time, the company had not returned a request for comment.
Guillen stated on Kickstarter earlier today that "We are in communications with Squishables about our prototype and will be handling this internally since they have asked us to keep this private." Since the prototype has already been made public, this seems an odd statement. At press time, a request for comment to the project had returned a form email but no official response.
On the project's official Tumblr yesterday, Guillen explained that she had previously apologized for her earlier use of slurs. But in her previous apology, before the Kickstarter launched, Guillen, who is only 18, seemed unable to articulate what she was apologizing for and what readers could expect from her in the future. And since the Society 6 and Redbubble shops where the products are sold are both still using the url, however, this explanation has not satisfied many Tumblr users.
In response, Tumblr users critical of the project were scouring Guillen's Internet trail to add fodder to their claims that the Kickstarter was bad news. Though some of the claims around the project seem far-fetched, like an unsubstantiated rumor that the animation crew was trying to profit from the unverified death of the original bear, there are enough concerns that the project has lost momentum. The Kickstarter has only reached about 10 percent of its $80,000 goal so far, and readers seem reluctant to put more money behind a project whose creator is so young and which has raised so many red flags. 
Update:  The Daily Dot has received an email from the project responding to and clarifying many of the points raised in this article.
Thanks for touching base with us. Just wanted to let you know we have shed light on some of these issues on our blog but we are more than happy to address all of them here with you.

Ami is in the process of deleting all stores still using the name 'livethefaggotry'. After attempting numerous times to change the name with Society6 and RedBubble, all of us, including Ami, feel this is the best option. Ami identifies as bisexual and chose the name when she was younger and expressed herself differently, but she deeply regrets upsetting and offending people and wishes to start over. We have all been on the same page that the name needed to change, we are glad to move forward with this, and we deeply apologize for any offense.

 

We have been communicating with Squishables since May 14 about Miss Officer and Mr Truffles, but due to legal and manufacturing reasons involved with a Kickstarter that we were unaware of, we are pursuing other options. This is on us and we're sorry for the misunderstanding, and have since changed things accordingly. They have allowed us to share this statement:

 

"Miss Officer and Mr. Truffles contacted us for details about making a custom plush in May, which we responded to. It sounds like there was a misunderstanding about how the development process works and what is required to include a Squishable in a Kickstarter campaign, and no formal development plans were put into place at that time. We are certain this was nothing more than a miscommunication on both sides, and that no malice nor ill will was intended by the Miss Officer & Mr. Truffles team."

 

We are a collective of artists, producers, and animators who have all been donating their free time with the understanding that we would all be paid if the Kickstarter is successful. Our team has been rotating due to production demands and personal lives, which is completely reasonable. We had some temp hires who could not deliver the quality we needed or the retakes we asked for and they left the production. We were unaware there were problems until after the Kickstarter launch, and we resolved the matter privately with them. The rest is speculation by second parties uninvolved with the project. All of our staff are working professionals in animation and gaming who have delivered above and beyond without any problems and around their current work schedules. If anyone has been unable to deliver, we never asked them to do more than they could handle and we have worked around it. If the Kickstarter is funded, everyone who has contributed work to Miss Officer and Mr Truffles, regardless of their current standing with the production or if that work was used, will be paid for their time and work.

 

Thank you for reaching out to us as these rumors are just as concerning to everyone on our team. I hope this clears up any problems. Our artists, producers, and actors are currently working on posts to display their involvement in the MOAMT project since they feel strongly about the production and want to clear up these misconceptions. I am enormously proud to be part of this team because we have all been drawing, compositing and marketing as much as we can with whatever resources we have. We hope to see our hard work pay off and make something great while doing it.

 

Kate (producer)
Photo via officialmoamt/tumblr