One of the more mysterious Avatars of Avatar: The Last Airbender is getting her own series of young adult novels.
Nickelodeon has teamed up with Abrams Children's Books for two YA novels centering around Avatar Kyoshi, a character from Avatar: The Last Airbender, the beloved Nickelodeon series that ran from 2005 to 2008 and has garnered a strong fandom (which includes Serena Williams) that still thrives online more than a decade later. While Avatar and its sequel series, The Legend of Korra, have both inspired comic book series that continued each show's respective story, this is the first time Avatar has gotten a tie-in novel.
The first book, which is titled The Rise of Kyoshi, and plans to explore Kyoshi's origins. F.C. Yee will write both books while Avatar: The Last Airbender and Legend of Korra co-creator Michael Dante DiMartino will consult on both projects.
"Avatar Kyoshi is one of the characters fans often ask me about, so I'm excited to have the opportunity to help expand on her legend," DiMartino said in a statement.
Little is known about Avatar Kyoshi, who lived hundreds of years before the birth of Aang, an Airbender who's the current Avatar in Avatar: The Last Airbender; the show focused more on Kyoshi's successor, Avatar Roku. Kyoshi died at age 230, making her the longest-living Avatar, which gives the book plenty of time to work with. (The show exists in a world where some people can control an element such as fire, water, earth, and air while the Avatar, who can control all four elements, is tasked with keeping balance in the world.)
But what we do glimpse from the show makes her loom large in the eyes of Aang and the show's other characters. She separated her home from the mainland to turn it into an island to save it from a tyrant, which resulted in his death. She formed the Kyoshi Warriors, a group of women who dressed and fought like Kyoshi, to protect that island. But she was also behind the formation of the Dai Li, a police force that was supposed to protect the cultural integrity of the Earth Kingdom city Ba Sing Se but eventually became corrupt.
We also know very little about her personal life throughout that time. The Legend of Korra comics has a line about Kyoshi's sexuality, with Aang's daughter Kya informing Avatar Korra and her girlfriend Asami Sato that Kyoshi "by all accounts loved men and women" in a conversation on how the Four Nations viewed same-sex relationships.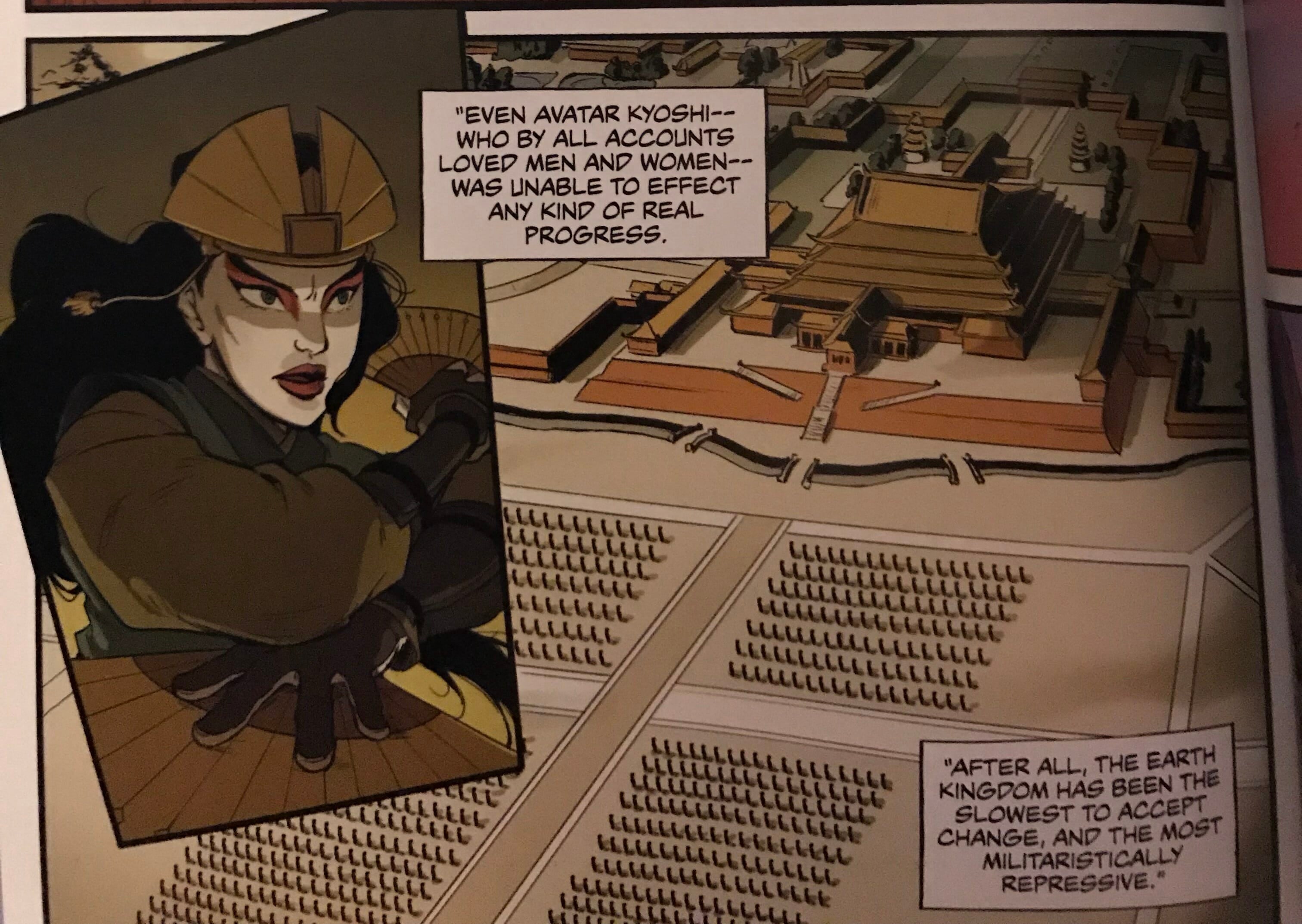 "We're thrilled to be partnering with Michael Dante DiMartino, Nickelodeon, and critically acclaimed author F.C. Yee to add to the canon of Avatar: The Last Airbender," senior vice president and publisher of Abrams Children's Books Andrew Smith told Entertainment Weekly. "Bringing Kyoshi's previously untold story to life in original novels will be a major pop culture event, not only for fans of the show, but also for readers hungry for a new epic YA saga. The Rise of Kyoshi has all the hallmarks of what YA readers love—bold storytelling set in a rich landscape with a strong heroine at the forefront!"
Fans are still craving more Avatar: The Last Airbender stories long after the series' end. While the comics have been able to expand the world formed in Avatar: The Last Airbender and Legend of Korra, a YA novel is not only able to push those boundaries but give readers more insight into Kyoshi's mind in ways a comic cannot.
The Rise of Kyoshi will be released in July 2019.