Since its founding in the early 1990s, Bel Ami has defined the twink genre. The porn site's talent is all young, hairless, and almost always white. Simply mentioning the name of the company conjures a precise image of a certain type of slender youth, tweezed to within an inch of his life.
With a quarter century of experience producing twink porn, Bel Ami is a seminal contributor to online erotica. But is it worth the monthly cost to become a member of one of the world's most successful porn sites? We broke it down.
What does a Bel Ami membership cost?
Bel Ami's monthly membership starts at $29.95, which is on the higher end of a porn subscription—but then again, it's got a reputation as the best game in town. If you're in it for the long haul, you can buy in bulk for small savings; a three-month membership works out to about $27 per month, and a 6-month membership is about $25 per month.
All memberships automatically renew at the $29.95 per month level, so even if you get one of the ever-so-slightly cheaper packages, you'll eventually pay the same amount as everyone else.
There's also an option to get a one-month non-recurring membership for $49.95, which is convenient if you're bad at remembering to cancel things.
As with most porn sites, there's a gentle up-sell when you sign up—a polite recommendation to get a subscription to "Freshmen" for an additional $19.95. That box is not automatically checked, so at least Bel Ami is a little less sneaky about packing the add-ons onto your credit card.
On the topic of payment, the site provides several options: You can use a credit card, PayPal, or a pre-paid card depending on what country you're in. (The pre-paid method is not available in the U.S., though you could get your own prepaid card from a separate company like Netspend.)
Because payment processing is always a bit of an ordeal with adult sites, Bel Ami will direct you to a backup processor if your first attempt doesn't go through. When it comes to separating you from your money, they've thought of everything.
Canceling membership—in our case, through the processor OrbitalPay—is a quick and easy process. Simply provide your username and password, and the recurring payments are stopped. You'll still be able to access the site for the remainder of your membership period.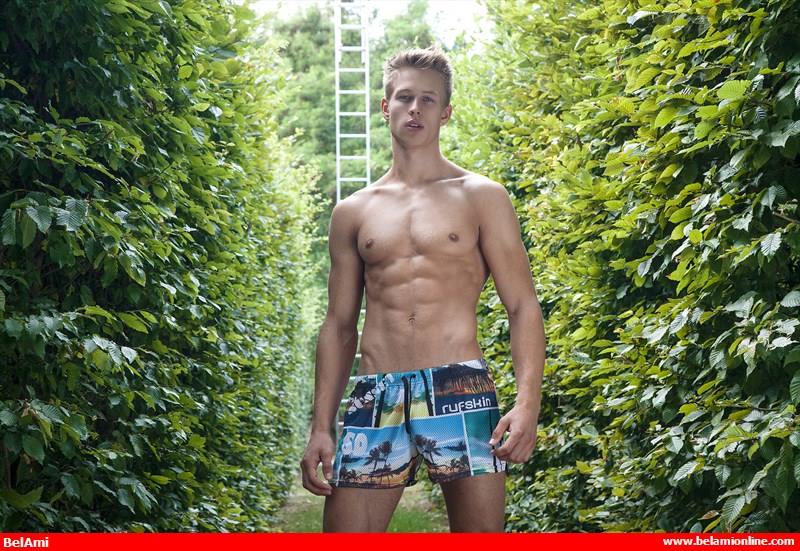 Bel Ami membership benefits
For around $30 a month, you'll get access to a vast library of some the world's most iconic pornography. There are hundreds of videos, and the site appears to be updated with a new scene every day. The categories are pretty much what you'd expect: Condom, Oral, Night Scenes, and so on.
Membership also comes with 120 "credits" that you can use for live cam shows. A note on the cam site says "70 credits per minute," so enjoy your whopping one minute of free viewing.
The library of videos goes all the way back to the earliest days of Bel Ami, with 1990s era titles featuring some truly garish cargo shorts and goofy haircuts. If you like vintage porn—and if it doesn't horrify you to realize that the '90s now qualifies under that label—browsing through the oldest titles is a fun journey through history. (That is, when the videos actually play. Many of them return an error message about HTML5 and installing Flash.)
It's impossible not to notice that everyone on the site is white. Whether you're watching "Hungarian Goulash," "Freshman Tuesday," or "Offensively Large," there isn't a single person of color to be seen—even in the series entitled, and this real, "Jambo Africa."
The exclusive casting of white models has been a defining quality of Bel Ami's work since its founding, and it continues to this day. The "sex scenes" directory contains over a thousand nearly-all-white scenes; the photo section features over 800 white galleries; and elsewhere on the site, you can browse a selection of over 200 white models.
Because they farm their models from Eastern Europe, Bel Ami's casting options are somewhat limited. Still, it's hard to believe that there aren't any young Black men willing to disrobe for a camera in all of Hungary.
To be fair, Bel Ami certainly isn't the only company making whites-only porn. But it's arguably the best at it.
'

The Bel Ami experience
There's a surprisingly active discussion board for the site where, on occasion, someone will ask about Bel Ami's lack of diversity. Responses tend to point out that the whole point of the site is to offer a consistent look. Other defenders point out that retailers are free to offer whatever products they like, and that you wouldn't harangue a hardware store for not carrying groceries. That's a telling line of defense in that it reduces the models from people to commercial commodities, something that has never before in human history been done on the basis of race.
Not only that, but about two-thirds of the movies fail to play, yielding an "unsupported video format" error. Hard to say which is worse: The technical glitches, or contributing to and profiting from a centuries-old system of oppression.
Is a Bel Ami membership worth it?
We all have preferences when it comes to porn, and some people have preferences for a certain age range, level of hairiness, or color of skin. Deciding not to ask why those preferences exist is a choice, as is deciding where you'll spend your $29.95 a month.
No matter what your personal preferences are, it takes real mental effort to spend time in a space where certain groups are so obviously unwelcome without being reminded constantly of the history of prioritizing people on the basis of their skin color.
There are a lot of words that one could use to describe that experience. "Sexy" isn't one of them.
The Daily Dot may receive a payment in connection with purchases of products or services featured in this article. Click here to learn more.