Jade Santiago had just gotten out of class at the University of South Florida's School of Music when her boyfriend told her the school had banned the use of TikTok on its Wi-Fi network.
And not just her school: On April 6, TikTok was banned from use on university Wi-Fi at all 40 of the state's public colleges and universities.
"Just straight-up shock," Santiago, 20, told the Daily Dot of her and her friends' reactions to the ban.
Now, she's using TikTok much less than she did before. Santiago says she used to scroll the app while walking to class, but now she has to wait until she can use a virtual private network (VPN), which conceals her internet activity on university Wi-Fi, to access it.
"Sometimes the VPN is wonky, it'll mess with the connection," Santiago said. She usually watches a dozen ads in order to access 24 hours of privacy on Wi-Fi, which she says is "ridiculous."
So now Santiago only watches TikToks right before bed and settles for other video-focused social media platforms, like YouTube and Instagram, during the day.
"I just use the other apps until I can use TikTok in peace," Santiago said of her bedtime TikTok ritual.
Though a national TikTok ban has only been introduced in Congress, the use of TikTok on university Wi-Fi is now banned at schools in 11 states across the country, affecting over 1.3 million students nationwide.
School administrators have cited national security risks as reasons for the bans. But for students—who can still use TikTok via cellular data or a VPN—the extra hurdle to access the app can be tedious, frustrating, and disempowering.
The claim that TikTok is a national security risk is hotly debated, and internet researchers have rebuffed it. In a March report on the RESTRICT Act, the proposed law that would ban TikTok nationally, Georgia Tech University's Internet Governance Project stressed that "there is simply no reliable correlation between serious cybersecurity incidents and foreign-owned entities participating in U.S. markets."
Other experts don't even think a national ban is possible. Nonetheless, bans on public university college campuses still stand.
Like Santiago, Rebecca Chassin, an incoming senior at Florida Atlantic University, uses a VPN to access TikTok, which she says is inconvenient. Having to use alternate methods to access TikTok, she says, feels like her "privacy has been breached."
"[I'm] shocked that I [can't] use my personal device how I want," Chassin told the Daily Dot. "I should be allowed to use the apps on the phone that I pay for."
Chassin said that her cellphone bill has also increased because of the amount of time she spends using TikTok via cellular data. Because she makes money via brand partnerships on TikTok—including with Comcast and Her Campus—using TikTok on cellular data means Chassin is making money to pay money.
And the bans are affecting more than just students' ability to access TikTok. Miranda Liguez, 19, a student at the University of Texas at Austin, said that the bans have stymied her ability to stay connected with friends who go to schools where TikTok isn't banned.
"Even if it is just a short video, it's still the interaction that you have with somebody online," said Liguez, who has been communicating with her friends via TikTok since she was in eighth grade. "You don't respond until months later, you kind of lose that connection."
The ban has resulted in Liguez feeling left behind in some of her high school friendships, and she's excited to get back to her family's house and watch videos that her friends have sent her. She's also planning on living off campus next year so she doesn't have to "deal with" the ban again.
For now, while she's living in freshman dorms, she watches Instagram reels instead of TikToks.
Her family is a big reason why Liguez doesn't access TikTok on cellular data at school: She is on a family data plan. Though her family has unlimited data, once they've used a certain amount, data speed decreases.
"It'd be really selfish if I was just using all the data to watch TikToks," Liguez said. "I have family back home in San Antonio who need it more than I do."
Access to TikTok now straddles the lines of privilege, Abbie Richards, a misinformation expert who specializes in TikTok, told the Daily Dot.
"If you're somebody who is relying on Wi-Fi, which is overwhelmingly people who are already marginalized in some way, shape or form," Richards said, banning TikTok on university Wi-Fi is "going to limit their access to the information that's on TikTok, and to some extent, participation in collective culture."
Bans on TikTok are particularly detrimental to college students because the app is a bottom-up information system, meaning that users of the app can go viral by setting trends and contributing to larger conversations, thanks to TikTok's unique and powerful algorithm.
Top-down information systems, like Instagram and Facebook, don't allow individual users to have the same type of power: Richards says that those apps were built to platform groups that are already powerful, like legacy news organizations and celebrities.
"[TikTok] is really good for amplifying voices that would otherwise be typically ignored," Richards told the Daily Dot. "Videos find people who are interested in the information that they are putting out, and [users are] able to build a community like that."
As for why TikTok is being banned on public university Wi-Fi networks despite unclear evidence of any actual national security threat, Richards thinks that elements of xenophobia are at play.
"There's animosity towards anything related to China, without necessarily even understanding to what extent it's related to China," Richards told the Daily Dot. The bans are "a very marketable action step that then you can turn to your constituents and be like, 'Look, we took action against the Chinese.'"
The email sent to the University of Texas at Austin students in January, which announced that TikTok would be banned on their Wi-Fi network in line with a directive from Gov. Greg Abbott, specifically mentioned China.
"TikTok harvests vast amounts of data from its users' devices—including when, where and how they conduct internet activity—and offers this trove of potentially sensitive information to the Chinese government," Jeff Neyland, advisor to the president for technology strategy at the University of Texas, wrote in the email provided to the Daily Dot by Liguez.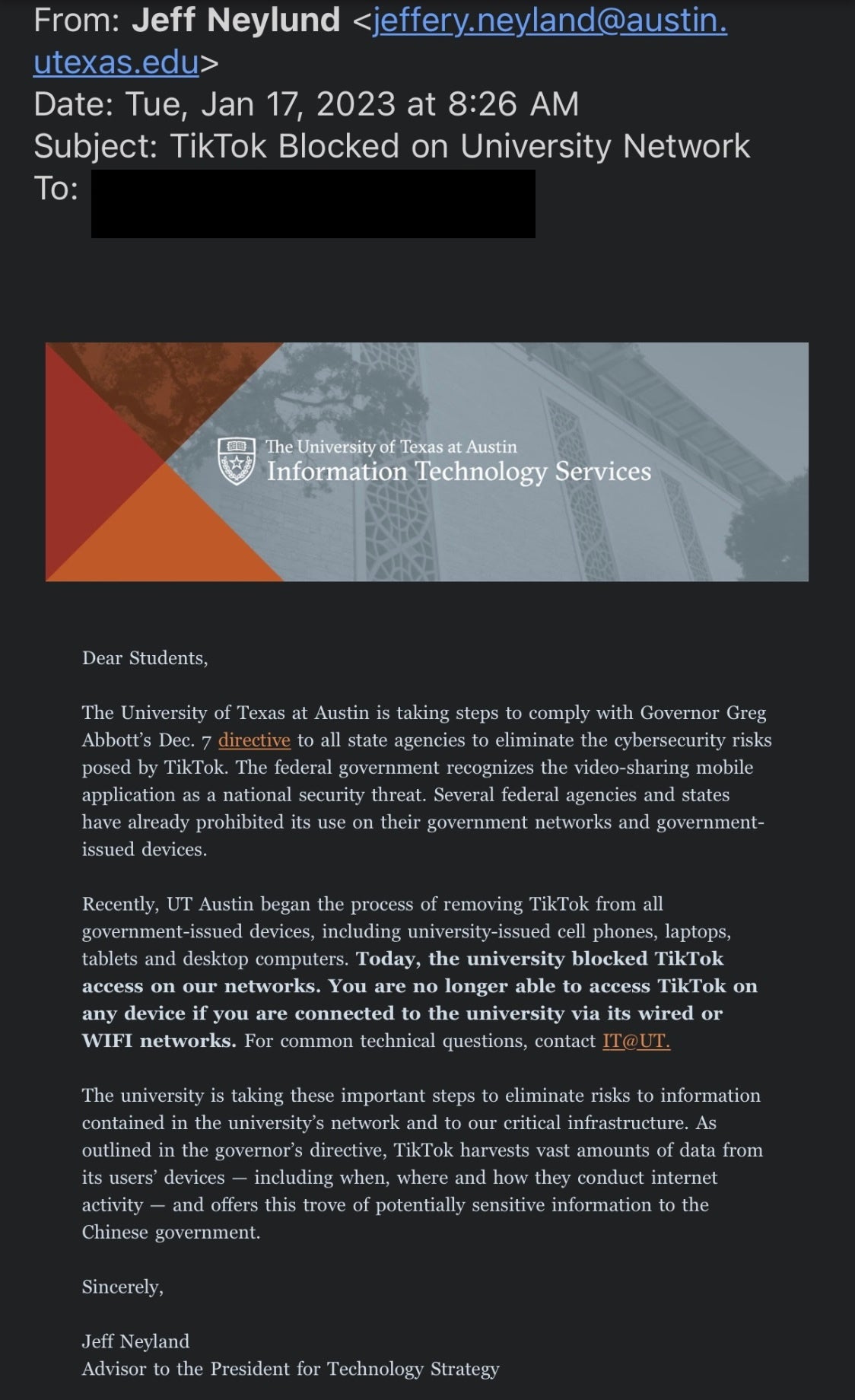 Isabel Alvarez, another University of Texas at Austin student, said she was bothered that surveillance from China was mentioned in Neyland's email and worried that the phrasing would stoke xenophobic sentiment among the campus community, similar to that at the beginning of the COVID pandemic.
"They didn't have to say that," Alvarez, 20, told the Daily Dot. "I didn't like it. It brought back people having fears of China."
Santiago, the rising junior at the University of South Florida, said that the Florida government puts a lot of "pressure" on the state's public universities.
Citing Florida Gov. Ron DeSantis' requests that all public universities release the medical data of transgender students who "sought gender-affirming care at the institutions," Santiago said she's scared of what's next now that she's been "directly affected" by the state's "astonishing" and upsetting policies.
"Things are just going to continue to get worse and worse and worse and worse, especially at public universities. It starts with a TikTok ban," Santiago told the Daily Dot. "I don't know what's to come."
Like what you are reading?
Sign up to receive web_crawlr, a daily newsletter
from the Daily Dot, in your inbox each morning.