Forget Marriage Story. The most heartwrenching romantic film of 2019 is a series of posts on Miranda July's Instagram account featuring actress and dancer Margaret Qualley.
The series, which presents itself as reality, stars filmmaker artist and writer July alongside Qualley. Using FaceTime calls, text messages, Instagram comments, a captivating final ritual—not to mention an extended guest appearance by Jaden Smith—July weaves a thoroughly modern unrequited love story.
It's so perfect that writing about it feels a little bit dangerous. But a story this meticulous and so steeped in minutiae begs to be explained. So here goes.
Part of the pleasure of watching this bit of cinema is that it requires a sort of digital scavenger hunt. The scenes and components are interspersed between posts on both July's and her would-be lover Qualley's Instagram pages. If you want to experience it in its best and purest form, you should start at the end and then work your way back through July's and Qualley's Instagram accounts to piece together the story of this strange and beautiful ritual. Seriously. Stop reading this article right now. Click on that link above. And then try to find your way back to the start.
OK, now that you've consumed it piecemeal, here's a linear version of events.
The Miranda July-Margaret Qualley Instagram love story, explained
1) The FaceTime call
It all starts with a FaceTime call that July posted to Instagram on Nov. 8. Qualley appears to be crying from the start. She wipes away her tears and insists that she isn't, but it's clear that there is a lot at stake here. She's happy and sad at the same time. July is reticent and nervous but yearning. They exchange some kind words, but throughout they hint at a past love that ended painfully. 
Qualley brags that she was in a movie with Brad Pitt! July knows; she saw. But when she clarifies that she didn't actually see the movie, she just saw that Qualley was in it, Qualley's face falls. She asks to see July. Her demands become urgent. She gets up and does a funny little dance, insisting that they can be less serious and have fun together. But July protests. She's married. She has a family. 
In a last-ditch effort, a desperate Qualley shows her foot. She dropped her computer on it this morning and there's an injury, you can see where the skin has broken. July says she wants to kiss it, then immediately tells her to put it away. "Put your sock on!" she orders. Qualley laughs at her sternness, and then July hangs up on her.
Like Qualley, we are left hanging and wondering what we can hope for.
2) The water bottle video
Posted on Nov. 14, and set to a Ray Davies demo of I Go to Sleep, this devastatingly sexy video features nothing but July, a water bottle, and the artsiest striptease dance you've ever seen. July takes a sip from her water bottle then places it in front of the camera, distorting the striptease that follows so her body appears to merge with itself. July doesn't speak, but the song's lyrics tell a story of deep longing: "When I look up from my pillow I dream you are there, with me." The caption reads, "I'm sorry I hung up on you @margaretqualley."
About a week after this video was posted, Qualley commented, "This cut right to my soul."
Qualley continued to respond to her own comment.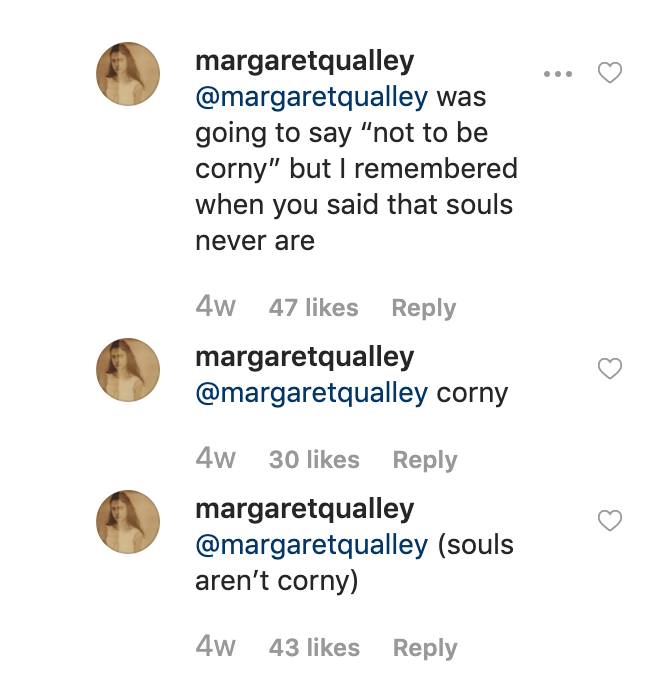 Until, finally, July responded.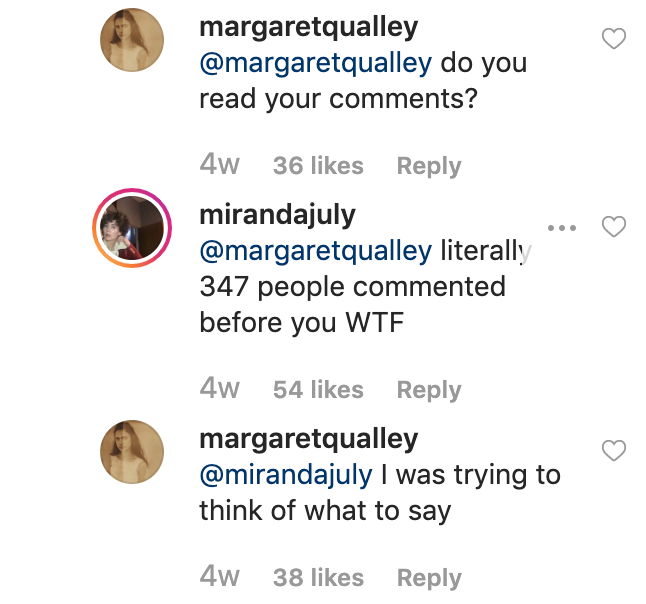 The two then had a comment exchange that ended with July saying she was calling Qualley right now.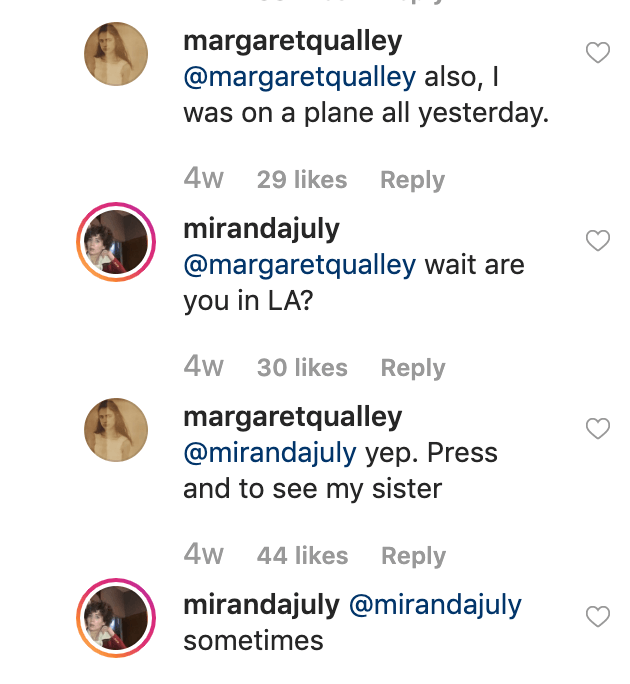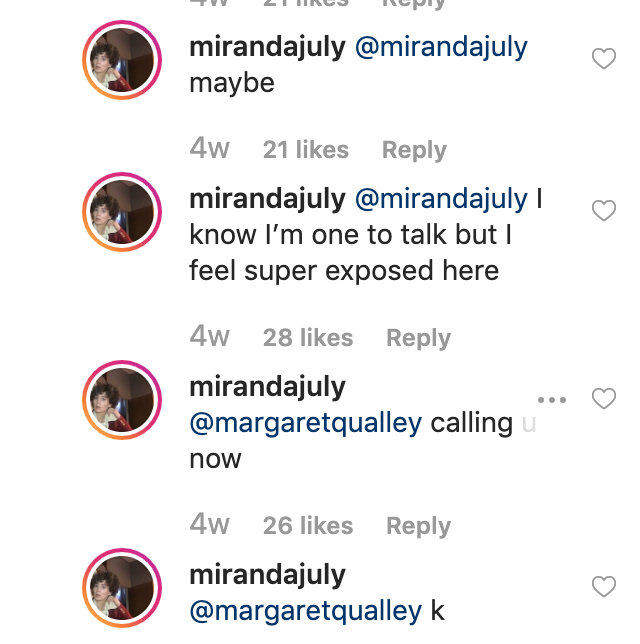 Oh, sweet relief. Oh, sweet torture.
3) "Just marry me. Miranda, will you marry me?"
https://www.instagram.com/p/B5J4qSRBOmu/
The next video, dated Nov. 21, depicts a ruminating Qualley at a Hollywood event. Music booms in the background while Qualley confesses that she watched the water bottle video "a stupid amount of times." Qualley reflects that maybe July is suggesting they can love each other through their art. But that's not what she wants. "I don't wanna watch you on my phone, like everybody else," she explains. 
Qualley regrets that her video isn't as artful as July's. When she steps back to show July her dress, she does an endearing little stomp and sticks her tongue out before confessing, "I get dressed for you every day." It's almost too painful to watch—but it's impossible to look away. Finally, Qualley forces a smile and asks Miranda to marry her, if only in secret.
The video solidifies what's so captivating about the series. It's a secret, but one we can watch unfold in real-time. And of course, we want more.
4) Jaden Smith wants to help
Shortly after Qualley posted the video, Jaden Smith commented, tagging July and saying he believed he could help the two.
But instead of diving right in, July expertly teased this conversation, too.
Eventually, she posted some cryptic instructions for something called a Hazion Circle.
https://www.instagram.com/p/B5gLAcwh5pI/
Finally, on Dec. 1, July posted a FaceTime call with Smith.
https://www.instagram.com/p/B5jL6ZuhZPX/
Smith explains that there are many types of love and that there used to be many rituals to honor different types of love. He thinks the one that will help July and Qualley most is one that involves a ring of pennies, a ribbon, and a call and response activity. When July asks if this is just something Smith made up, he promises this is the real deal and that once she does it, she will feel lit from within.
You can search the internet far and wide for evidence of the ceremonies Smith described, but you won't find anything about "Hazion circles" or "Sharmayne's tower." That said, there are histories not stored on the internet. The ritual he prescribes involves a ring of pennies. While pennies didn't exist in ancient times, there were certainly other coins made of copper. According to Witchipedia, copper was sacred to many love goddesses because it was originally mined in Cypria, the birthplace of Aphrodite. Like July, I want to believe that the magic he prescribes is real, and could really help them.
Smith also posted the conversation to his own Instagram feed captioned, "I'm rooting for you @mirandajuly & @margaretqualley."
5) "Let's do it," a missed connection
https://www.instagram.com/p/B5l66IaBNNT/
On Dec. 2, it really becomes torture. It's only been a day since the Jaden Smith convo, and we see that Qualley has sent July a picture of pennies on the ground with the words, "Let's do it!" Yes! Let's do this crazy love ceremony! 
But no. Turns out July has texted her too late. She's at the airport. She's going to Paris. In another post, July asks when she'll return.
Qualley sends her a couple of videos. She's out dancing with Rashida Jones, who taunts July about their "little love art sex project." 
It starts to feel like Qualley, who was so recently so desperate for Miranda's love, is evaporating and will never take solid form again.
6) "I don't know if I need it." 
A FaceTime call! This post makes it feel like we're back in business. Finally, July and Qualley are face-to-face again. But something is off. Qualley is not as spellbound by the details of the ritual as July. Their connection feels broken. When Qualley tells her "I don't know if I need the Hazion circle anymore," you can practically hear July's heartbreak.
7) A song to win her back
Dec. 9. It's been over a month since that first FaceTime call. This is no longer a love story. It's a mission. We see July pacing and speaking rapidly to singer/songwriter Sharon Van Etten. She needs a song that will move Qualley, and she turns to the ritual Smith prescribed for inspiration. The ritual's call and response is supposed to begin with an exclamation of shock or disbelief. July fumbles to find her words, but Van Etten has no such trouble. "Holy shit!" she says. Van Etten plays the piano as she croons, "Hoo-oly shiiit!"
Then we see a video screenshot of July texting Qualley the recorded song, including texts she composes but does not send. 
https://www.instagram.com/p/B56Wp8FhCeE/
Will Qualley come back to her? We wait.
8) The Hazion Circle
The conclusion. July and Qualley perform the ritual, and it is perfect in every way. It includes some strange and beautiful surprises. Van Etten's song plays in the background as July and Qualley carefully and dutifully perform a ritual to honor and bind their impossible love. 
Epilogue: Was this real?
Holy shit! Was it real? There is really no way of knowing. If you're like me, you will keep combing Instagram for more. But try as you might, you won't find prior evidence of a connection between the pair.
Here's what we know about Qualley. She's a dancer and the 25-year-old daughter of actress Andie MacDowell.
https://www.instagram.com/p/Bh2KYQHB4aZ/
She was in a really cool Kenzo ad directed by Spike Jonze where she has superpowers that she can't quite control.
https://www.instagram.com/p/BMrZgDsjoxk/
Did July see the Kenzo ad and ask Spike Jonze to introduce them? Did they hang out and make silly dance videos together and fall in love? They do both seem to have a penchant for setting up a camera and exploring both goofy and artful dance moves.
Here's one of Qualley dancing to Francis and the Lights in jeans and a Mickey Mouse tee.
https://www.instagram.com/p/BPQzNTxhYyl/
And here's one of July doing her best imitation of a ribbon.
It's not hard to imagine a very real love kindling between these two. But it is also entirely possible that July is playing with the limits of a new medium and crafting a whole new kind of cinema. Perhaps it's just an art project, no matter how much we want it to be real. But maybe it is real and they are hiding their love in plain sight!
One thing's for sure: Their Instagram love is a magical story worth visiting.
READ MORE: