The champagne facial has been a staple of rap music videos since the beginning of MTV.
The sight of buxom women being drenched in expensive booze—epitomized in Jay-Z's "Big Pimpin"—conjured up controversy and has since inspired a whole new generation of young people to shower in champagne.
And there to catch it all on camera has been Kirill Bichutsky, 27, a New York City-based photographer.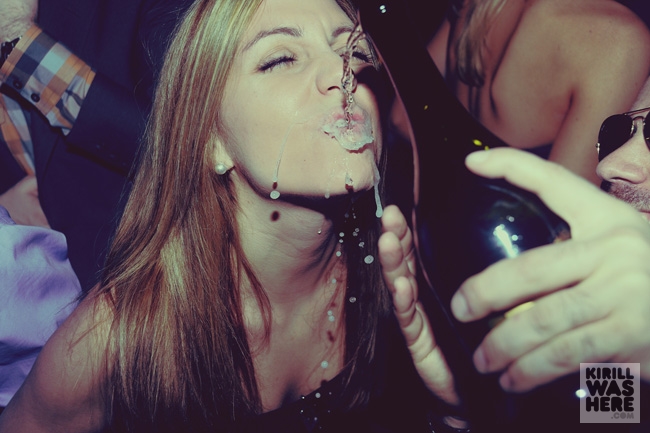 Over the last three years Bichutsky has run KirillWasHere.com, a simple site featuring hundreds of photos of ordinary partiers (and some celebrities) gyrating around New York. Yet despite the thumping beats and flashing lights, the parties often got a bit dull, Bichutsky told the Daily Dot.
"Anytime I was bored at a party, I'd entertain myself by seeing how many girls I could unload a bottle of champagne onto," Bichutsky said. "A few weeks ago I was getting bored with my Tumblr (I would just post random photos) and decided to revamp it with a single theme. And then it came to me. I had all these pseudo-sexual funny photos of hot chicks getting what I called 'champagne facials.' The rest is history."
Bichutsky started Champagne Facials about three weeks ago and has already collected about 250,000 unique visitors and more than 80 photographs of women, and the occasional man, getting doused in alcohol.
We caught up with Bichutsky to find out about the art of the champagne facial and his favorite technique.
Daily Dot: I've been to my fair share of clubs but hardly ever see people begging for a champagne shower. Is this something you see regularly at the parties you attend?
Nah. Nobody wants to be soaking wet at a party. You have to instigate it yourself. When you have a camera & a bottle of champagne in your hands, for some reason drunk girls listen to you.
DD: What are your thoughts on champagne facials in general?
I think they're hilarious. It's just fun. I've gotten plenty myself. You're hanging out with friends, drinking and then somebody dumps a bottle on your head… Sure you smell like shit afterwards, but you're so lost in how much fun you're having, that nobody cares. Anyone who passes judgement on it, shouldn't be at the party in the first place.
DD: Do you have a favorite photo or style of receiving facial (tongue out, eyes open, full body, etc.)?
The best facial is when there's lots of foam, droplets and splash in the photo. I just love capturing that split-second moment where you see a liquid frozen in time… on a hot chick's face.
DD: It looks like you got some shots people receiving beer facials. Is this passe or does anything go when people are begging for booze in their face?
The site is champagne facials. But I've done everything from beer to Red Bull. I do it just because it's funny to me and makes for a great photo. Maybe I should do a spin-off site where we see how far we can take it with random facials.
DD: What have you made of the Tumblr reactions? Have you had any of the women in the photos email you upset?
I honestly don't give a shit. If you think it's funny, you're right. If you're offended, you need to reassess your priorities. Not one girl has complained yet.
Photo via Kirill Bichutsky/KirillWasHere