A Black artist found out through Instagram that Walmart is selling her artwork without her consent. She said she identified her artwork through a watermark Walmart apparently failed to remove.
The artist, Jeresneyka Rose, told the Daily Dot on Wednesday that she is in the process of taking legal action against the retail giant.
In early February, Rose called Walmart out on Twitter over her painting of late rapper Nipsey Hussle. According to a message she received on Instagram, the print was being sold at a Walmart in Smyrna, Georgia.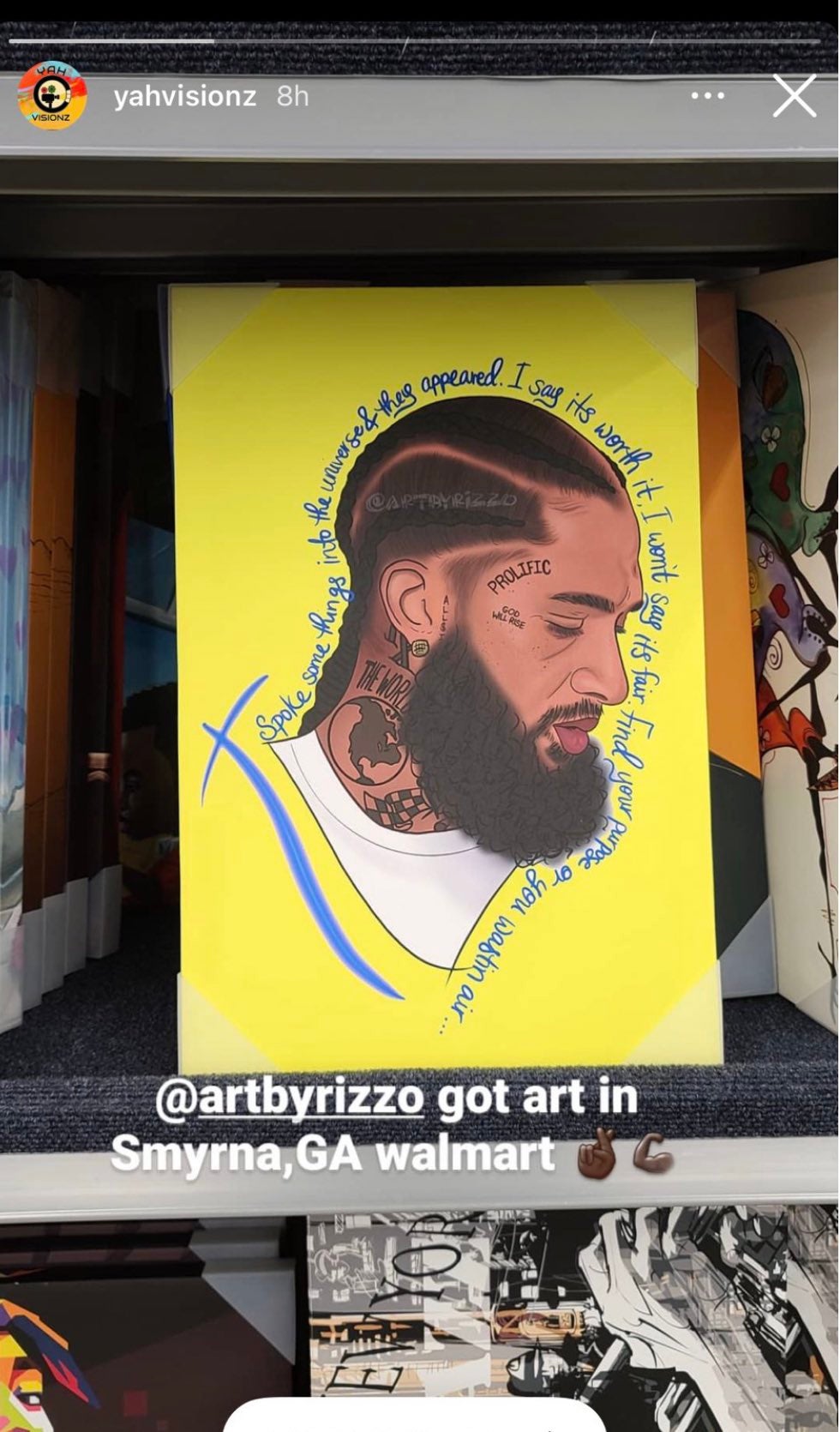 "Happy Black History Month to me. Just another day in the life of billionaire companies stealing from small black businesses like mine," Rose wrote at the time. "Next time remove the watermark and don't profit off of people's deaths weirdos."
Rose found out Walmart was selling the print after being tagged in a photograph of it on Instagram. The person who tagged her figured it was a "collaboration" and congratulated her, she told the Southeast Express.
She noticed one of her watermarks was still attached to the print. She reportedly had five watermarks on the artwork, which she posted to Twitter, and she said Walmart removed all of them but one, leading her to identify the piece as hers.
Rose told the Daily Dot she has no idea how many copies of her work have been sold by Walmart, adding that she would usually sell the print for $100.
"We have to be mindful that most artists and small businesses do not have the funds and resources to mass produce work to sell them for lower prices," she said.
Rose, who has been an artist her whole life, started her own business a few years ago via her website, Art By Rizzo.
"Artists, especially Black Artists, have their content stolen every single day by major corporations, usually with little to no repercussion," she told the Daily Dot. "The burden should never fall on the oppressed. Corporations must be held accountable for their actions."
"When purchasing art, goods, etc, I hope you take a moment to weigh your options and choose to support small businesses every chance you can," she added.
Walmart has not responded to Rose's tweet, which is almost a month old, despite many people bringing it to the store's attention.
The Daily Dot has reached out to Walmart and will update this report if it responds.
---
Today's top stories