This article contains sexually explicit content. 
At a glance, Ceara Lynch seems like your typical 29-year-old living in Portland, Oregon: She likes reading, backpacking, and raising chickens. Except instead of working at a coffee shop or hosting avant-garde literary events, she earns six figures treating men like shit.
"A humiliatrix is like a dominatrix, but instead of using whips and chains, I use my words," Lynch explains. "I abuse men verbally, not physically. The internet is my dungeon."
The online location of her "dungeon" makes a big difference—the entirety of Lynch's work takes place and depends on the axis of the World Wide Web. She never meets any clients, all of whom are male, in person, instead cashing in via point-of-view videos, live webcam shows, photos, and sales of personal items. Her list of specialties includes, but is not limited to, cuckolding, financial domination, small penis humiliation, giantess (being crushed), vore (being eaten alive), and forced bi (exactly as it sounds).
"I think the internet has made a new kind of dominatrix possible," says Lynch. "One that's safer for women, since they don't have to meet or touch anyone, and more empowering because there's no middleman or dungeon owner they have to pay a percentage of their income to. It's also nicer for a certain kind of guy who is too scared to do in-person sessions for whatever reason."
That certain kind of guy is one who gets off on feeling unworthy of seeing Lynch naked. While her office attire may rely on tiny lingerie, none of her sex work involves nudity, masturbation, or pornography of any kind. Jerk off instructions and foot fetishes are her most high-demand video and cam themes, and on any given day, Lynch says she can find herself ordering subs to do a range of humiliating tasks from oinking like a pig to sticking a carrot up their ass to ejaculating on their own faces.
It doesn't stop there. Her body's trash is another man's treasure—she can earn anywhere from $100 to $200 off her toenail clippings, spit, used tampons, or hair from her brush. The humiliatrix also occasionally sells what the rest of us literally flush down the toilet multiple times a day. She first made $250 off a 12-ounce bottle of her piss when she was just 17, and since then has sold her shit to the same man twice, to the whopping tune of $4,000 a pop.
"Weird is normal to me," Lynch says. "But I do, at times, consciously step outside myself and try to appreciate how surreal and amazing my life is."
Apart from these types of unique requests, she also auctions off items on ebanned.com, an eBay for those with kinky and deviant interests. Used panties, which go for around $150-$300 a piece, are her top sellers because, as she puts it, "most guys are into pussy and ass than they are feet, snot, or spit." She estimates she's sold more than 300 pairs of underwear over the course of her career.
The reasons why a profession such as Lynch's exists are as vast and varied as there are humans on this planet, but the bottom line is the market demands it. Sexual arousal from humiliation is far from a new trend, and whether it's a learned behavior, a form of escapism, or the result of some deep-seated issues is not her concern. Her job is to fulfill these men's fantasies, be it allowing them to shower her with money or forcing them to draw dicks on their faces.
"I don't think my work is empowering to my subs, I don't think it's disempowering either," Lynch says. "It's just something they jerk off to."
The pleasure she gives them is evident. Frank (who would prefer to use his first name only) has been a client of Lynch's for the past two years and has an entire blog and Twitter feed dedicated to her. He describes his fetishes as humiliation-light and a little more vanilla than perhaps some of her other clients, and in total says he's spent and gifted Lynch more than $100K. Their relationship is now exclusive because she's that good, and after 12 years on the scene—and that much money—Frank's opinion seems credible.
"The submissiveness, the tease and denial, the words… they're all part of a virtual fantasy playground that Lynch enables better than anyone else I've met online," he explains. "You've heard the old saying about how a person's largest sex organ is their brain? Well, for a person my age, that's particularly true. When it comes to crafting and perpetrating an arousing fetish fantasy, Lynch is an artist."
A master of her craft indeed, Lynch didn't get her website to the top of a Google search for "humiliatrix" by simply sitting around her house passively dirtying undies, though. To reach the level of success she has—which, by the way, has made her the proud owner of not one, but two homes—has required dedication and what she calls boring productivity: "I don't drink or go out much, I work all the time, and I stick to a strict diet and exercise regime."
That's because at least five times a week Lynch uploads new videos that go for about a dollar a minute, and she hosts hour-long cam shows twice a month for clients who pay a $39.99 a month membership fee. She also regularly adds new photographs to her site, writes posts for her blog, and hosts her own podcast. All of which is in addition to fielding requests for private one-on-one cam time ($10 a minute), filming personalized humiliation videos ($200 and up), and answering her "ignore" phone line ($2 a minute).
Her cam sessions and videos are point of view, meaning that Lynch speaks directly to the recipient. For one custom video, at the buyer's direction, Lynch played a bratty sister who mocked her brother (the sub) because he was getting a late-in-life circumcision. She wielded a pair of scissors and laughed about how he wouldn't be able to masturbate for six weeks because of all the pain he was going to be in.
This video is actually the closest Lynch's ever come to having a female client. The woman, whom she describes as "a super rad and indulging girlfriend," ordered the video for her boyfriend, and apparently the two get off on watching it together.
There are also men, like Frank, with what you might call simpler tastes. Rather than eating her toe jam or being told their unworthy cocks are skinnier than the heel of her stiletto, they get sexual pleasure from financial domination. In a recent post on her blog, Lynch discusses this lucrative subgenre in depth, defining it as, "When a submissive pays a dominant money for the sheer pleasure of paying her in it of itself. i.e., no direct transaction is assumed."
She's not shy about how much she makes off these subs, providing tangible evidence in the form of screenshots of deposits totaling more than $17,000. She explains that she has a few clients who pay her thousands a month, and recently bled one "white whale" out of $30,00 in a day. She calls these payments "tributes" because that's exactly what they are—gifts, not transactions. She makes it clear, however, that while this is a "fucking rad" way to make money, it's also "fucking rare."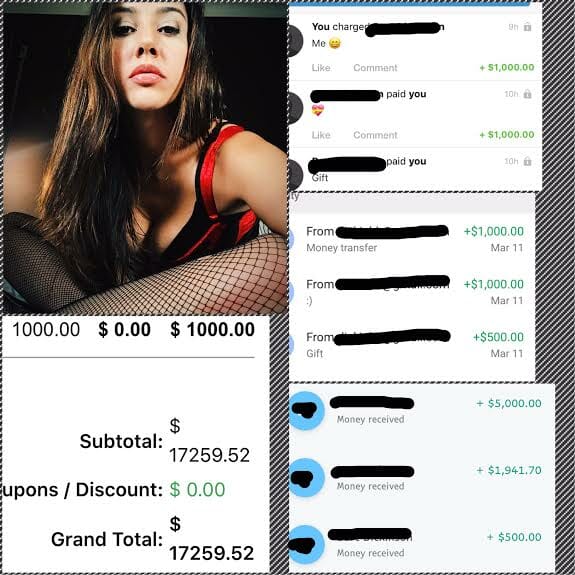 "Make no mistake about it: If for the past 10 years I only had the money I earned through financial domination, I'd be living in poverty," she writes.
As with anything, beyond her tough grind, there are multiple factors to the equation that has resulted in Lynch reaching the highest tiers of the humiliatrix industry. She believes luck and timing played a role—when she first got started there were only a few women specializing in this particular field.
"I've had the luxury of time to build my brand and get really good at it," she says. "It also helps, of course, that I'm attractive and have a genuine interest and curiosity about what makes men tick."
It's the latter two aspects that seem especially important to Lynch's niche corner of the market. As opposed to just simply being "hot" in the porn star sense of the word, she's natural where others may lean toward tacky. With silky brown hair and natural makeup, Lynch is the epitome of the beautiful girl-next-door—seemingly within reach, yet too perfect to attain. Which isn't stretching the truth much. Lynch, the real-life woman, is that wet dream of a neighbor, happy at home with her two cats, Hypatia and Kimiko, and her flock of chickens, Tofu, Monstanto, Satan, and Becky.
And then there's the actual interest she takes in her subs, the way in which she normalizes and respects their fetishes and fantasies. "She's an artist with morals. I trust her to play with me and not cause suffering… to not cause mental, emotional, or financial damage," Frank says. "She pushes the envelope up to the edge sometimes, but seems to have an innate sense of where my limits are and doesn't cross them."
Perhaps her undergraduate degree in psychology helps her toe that line. Whatever it may be, Lynch's gravitation to what most folks would categorize as bizarre, partnered with a penchant for understanding other people's thought processes, has crowned her the internet's reigning humiliatrix.
"The only reason I get paid to act like an arrogant bitch is because I learned that there are people out there willing to pay for that," Lynch explains. "They can't help it, it's just their fetish.
"I don't think I'm inherently better than anyone because I'm a woman or deserve all this money because I'm 'fucking awesome.' It's just a role I'm playing to cater to men's fantasies," she continues. "It's sex work… At the end of the day, I'm just helping guys jerk off, and that's OK. It's neither extraordinary nor degrading."