You feel a burning and tingling sensation and notice uncomfortable bumps on your skin. Where do you turn? Friends might gossip. Lovers might freak. WebMD might leap to cancer. Yahoo! Answers is written by 12 year olds. Googling around will just give the NSA something to laugh at. If you think you have herpes, your best bet (before a doctor or STD clinic) might just be Tumblr.
They call it "Herpblr."
Tumblr has a growing, safe, and supportive community for people with HSV1 or HSV2 to talk to others with the same diagnosis, get reliable information, vent their frustrations, and work to end the stigma surrounding herpes.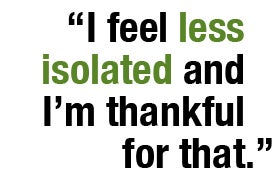 Herpes is arguably the most shamed and mocked of the STDs. As the old and oft-quoted Demetri Martin joke goes, "glitter is the herpes of arts and crafts," because both glitter and herpes never go away. It's treated like an airborne virus, as if merely touching the hand of someone with herpes will infect you. Those diagnosed often feel like lepers, doomed to never have sex again and unworthy of love.
But there's so much misinformation. For example, herpes simplex virus can be oral (most typically HSV1) and genital (most typically HSV2). They are both contagious and can be spread most easily during outbreaks (cold sores, genital lesions).
Wanting to flip that script on the stigma, DxGlitter created a Tumblr blog after she was diagnosed with HSV2 in 2011. At first, she spent all her time googling "herpes." She found overwhelming material: medical articles with inconsistent information, scary "facts," herpes "cure" product placement, and user-generated content with people contemplating suicide because of their diagnosis. Eventually she found a post by a woman in England describing herpes as a "common, mild skin condition" and her "positive, not-the-end-of-the-world voice" resonated with her.
"I decided that fuck it, I wasn't going to fall into a pit of despair," she said. "I was sad and scared, and it was true that I felt betrayed by my body, like I couldn't trust it. I wasn't happy, but I sure as heck wasn't going to buy into the idea that my life was over."
She called her blog, which she began in 2012, Diagnosis Glitter and made her icon into two unicorns having a glitter fight to put a positive spin on her new lifelong companion. "Less sparkly. Fortunately?" she joked of HSV. She didn't like the harshness of the word "herpes," and the blog's name was, she admits, a defense mechanism. DxGlitter refers to her support system as her "glitter sponsors."
"I went to her with frustrations and questions and freakouts and successes," she said.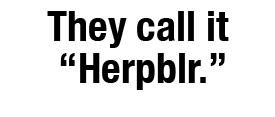 At the time, there weren't a lot of other herpes-related Tumblrs, but the ones that existed were fairly popular. Now she follows at least a dozen, and whenever somebody new shows up scared and looking for answers, there's a warm welcome wagon to show them they're not alone.
Because of the lack of personal and useful information about herpes online, the popular HSV Tumblr blogs, like DxGlitter, get an influx of mail from people seeking answers. The cleverly named Tumblr Earth, Wind, and Herpes (EWH) frequently doles out advice to panicking sufferers and includes a link on the side of the Tumblr titled "I Just Found Out I Have HSV! Help!"
DxGlitter said she also keeps an eye on Tumblr's #herpes tag so she can participate in conversations on other HSV blogs, reblog interesting HSV resources or links, and provide accurate information in a sea of stigma and knee-jerk terror.
"I repost a lot of feminist, sex-positive, body-positive stuff, because I think it's all related," she said. "How can I or anybody else shrug off the stigma about herpes if we're afraid of sex, of our own bodies, and if we can't talk about those things and take control of those parts of our lives?"
Another user, ViralHSV2, was diagnosed with herpes 23 years ago and has been sharing on Tumblr since last year. Only five people in his real life know about his disease. Tumblr, he realized, was a good place to cultivate a community of people with like minds and interests, the same way others do around Doctor Who or pop culture. During an HSV outbreak, ViralHSV2 decided to journal anonymously and honestly about his experience.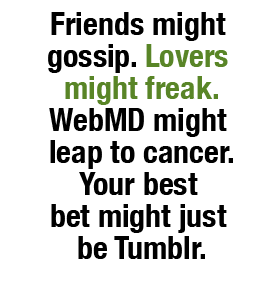 "Having access to the Herpblr community really opens up the statistically expansiveness of the condition," he wrote in an email. For example, one out of five people, adolescents and above, in the U.S. have some form of herpes. He figures that where he works, there are 20 other people, so statistically speaking, three of them likely have herpes.
"We'd never talk about it because of the stigma," he lamented. "With the Herpblr community, I will say I feel less isolated and I'm thankful for that."
EWH is, by all accounts, the ringleader on Tumblr. She follows and interacts with most of the other HSV blogs. She started hers two years ago after seeing that most herpes blogs were run by people in their 30s with families.
"Being 21, single, and still in college, it was difficult for me to relate and feel at home," she said. Many of the scared people sending questions to EWH are young. "After a while more blogs began popping up, more stories began to be shared and the community started thriving."
Privacy is a big issue for Herpblr users, and Tumblr gets it right in some aspects—and fails in others. ViralHSV2 didn't appreciate his Tumblr likes showing up for all to see on his non-herpes-related, personal blog. If someone were paying close attention, they'd notice his liking of HSV-related material. But he's so far made that aspect private. EWH said she enjoys how Tumblr allows different blogs to be linked to one main account, so that users can have a personal blog and a herpes-related blog and have no one be the wiser.
Tumblr excels at maintaining anonymity—so much so that more stigmatized groups, like those living with mental illness, have a strong, creative Tumblr presence. It's about creating a safe space that allows people to address real, personal issues without fear of judgment or shame.  
"When I was diagnosed, I didn't have anyone," EWH said. "Everyone close to me disappeared so all I had was the blog. I know how lonely the journey with HSV can be, and if I can just remind others feeling alone that there's someone out there that will listen, that understands, and that has not only gone through it but that lives a happy life years after her diagnosis, that's enough."
Illustration by Jason Reed