"You will be arrested and jailed for gay propaganda in Sochi," reads an anonymous message sent to Russians and visitors trying to access the Grindr-like app Hunters on Saturday.
Towleroad is reporting that the app was hacked and is now blocked for all users in Sochi and nearby city Adler. Additionally, over 70,000 user profiles were destroyed. Users were also told their password were incorrect and that they were banned from accessing the site for the next "55,260 minutes" (or 38 days). The app's founder, Dmitry T (last name withheld due to security concerns), blamed the Russian government for the hacking.
The full message users received when they opened the app on Feb. 1 warned them that they could be prosecuted under a controversial 2013 Russian anti-gay law. The law, which bans anyone from publicly advocating being homosexual, or distributing pro-homosexual "propaganda" to minors, has been the subject of heated debate in the buildup to the Sochi Olympics, with numerous gay rights activists staging various forms of protest against the Russian government for enacting the laws.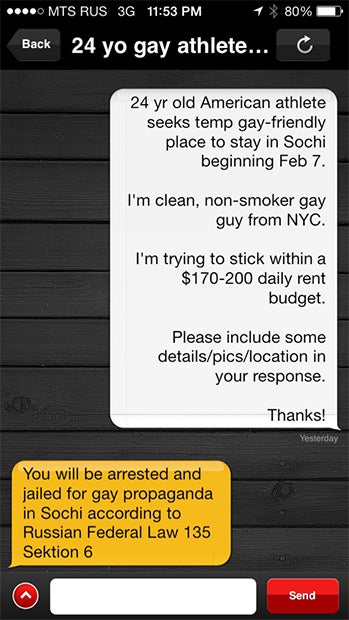 Dmitry T. claimed that Hunters staff had managed to restore about a fourth of the deleted and blocked profiles, and that over the next few days, the company would be moving from Russian to European servers. In a comment to Towleroad, he lashed out at the government for its anti-gay stance and urged the public to boycott Russian products in protest:
"I urge the entire gay community and all of those who consider the Internet to be a free zone to boycott not only Russian vodka but also everything that is linked to the Olympics and not to buy any Olympic souvenirs.
This attack should be looked at as an attack on the worldwide gay community with the goal of blocking any gay interactions during the Winter Games in Sochi, including those between athletes and locals."
Dmitry T. connected the hacking to increased censorship of gay-related websites following the passage of the anti-gay legislation, and warned that "very soon other gay dating resources in Russia will face similar problems."
Meanwhile, although there is no evidence the government was behind the hacking, another Russian site that has been used as a way to target and harass gay men remains online. Russian social media site VK has become a site used to trap and lure young gay men into situations where they are captured, humiliated, and in some cases tortured by neo-Nazis and other anti-gay extremist groups. In August, a young Muslim man was beaten to death after VK was used to lure him into captivity. By and large, the Russian police reportedly refuse to investigate such incidents as a way of showing tacit approval of the harassment of the victims.
If the government is really behind the hacking of Hunters, then it seems as though such harassment of the Russian queer population shows no sign of stopping any time soon.