A Texas doctor is facing backlash after he claimed Black Lives Matter activists attacked his daughter and her boyfriend, but a different story emerged from audio recording of 911 calls.
Dr. Andrea Natale, a cardiologist whose Twitter account was unavailable on Tuesday, posted a tweet on Sunday that was retweeted more than 21,000 times before being removed.
"My daughter called in tears. She was driving w her boyfriend in Baltimore & their car was attacked by a group of BLM," Natale wrote in the tweet, according to a screenshot shared by users.
"It was damaged & her BF was beaten. She filmed it & called the police but they cannot do anything bc they are African American. Is this the America we want?"
Twitter user @suchaputz, whose display name is Jasen, posted an audio recording of a 911 call that told a different story. The dispatch call was not independently verified by the Daily Dot.
The call begins with a woman seemingly speaking to a dispatcher, and she tells him that she was informed there's an "armed person" by Lombard and President streets in Baltimore.
"This lady Veronica is calling and says they are attacking the car," the woman says. "Thinks one of them is holding a knife. Then she says a Black male wearing a white tank top and black pants, and [inaudible] throwing rocks at the car, he got on a scooter and [inaudible]."
"They all threw rocks at her car and broke the car window," she says later in the recording.
The dispatchers are then back on the call, and the woman says a male driver and female passenger were "fighting with the squeegee kids at location. Then the vehicle got damaged and they got out and started arguing and fighting with them."
"Squeegee kids" refers to young men in Baltimore who try to earn cash by washing windshields of cars stopped in traffic. It's their way of doing "work that doesn't involve the drugs or gang violence that plague much of the city," according to ABC News. Many of these kids are Black.
In response to Natale's post, Jasen posted a link to the audio and wrote, "See I archive police radio in Baltimore. This appears to be audio of your daughter's incident, and either she or you are full of shit."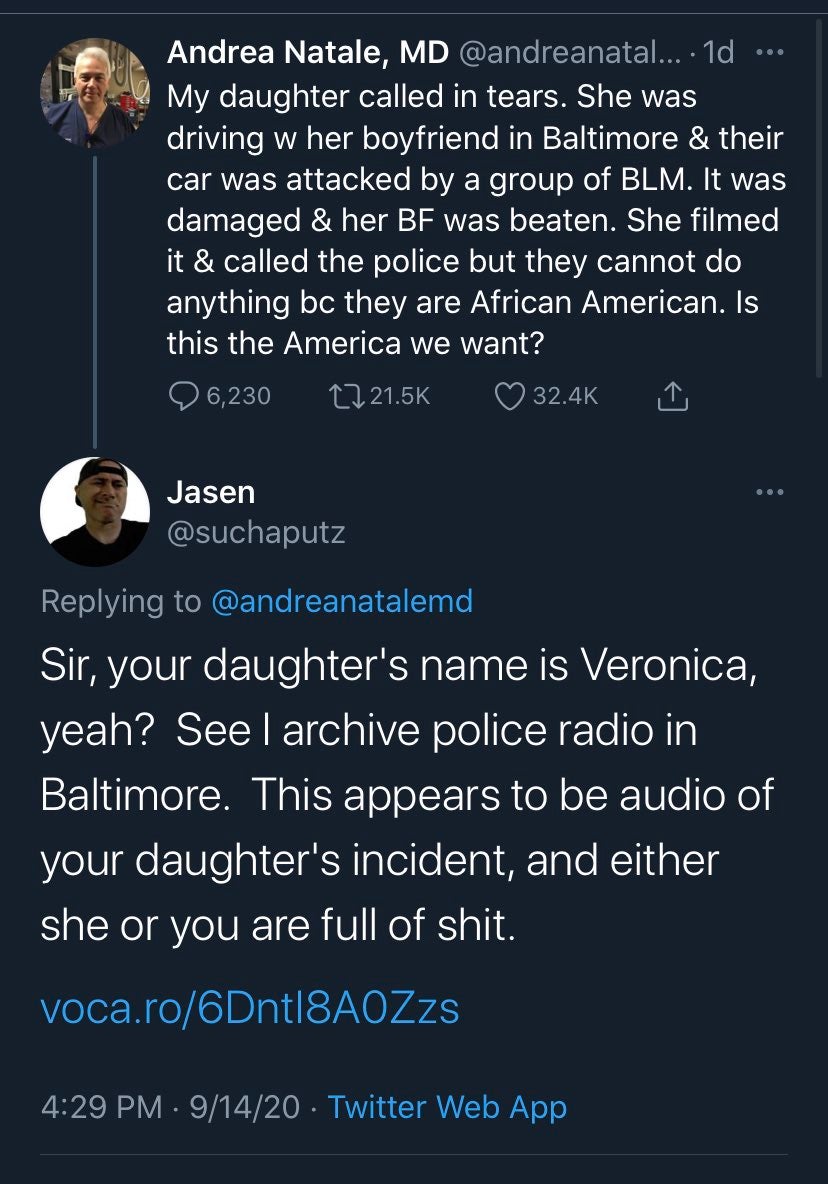 Jasen did not respond to the Daily Dot's request for comments.
For many, it was an alarm bell of a false accusation and raised concerns about Natale's treatment of patients of color and Black patients. Some called for his license to be reviewed.
"If anyone is so inclined, my mans employer might be encouraged to open an investigation into the way he has treated his Black patients over the years," wrote one user.
Update 6:36pm CT, Sept. 15: St. David's Medical Center in Austin, Texas, where Natale is an executive director, told the Daily Dot in a statement that it "takes great pride in caring for and serving its community. The healthcare system has long been dedicated to providing exceptional care to every patient every day – and that care is based on a foundation of inclusion, compassion and respect for everyone."
However, it did not respond to the Daily Dot's multiple queries about whether it's looking into the issue or considering a review of Natale's license.
Meanwhile, Twitter users criticized Natale's statement that the cops were African-American, implying their race exempted them from committing police brutality against Black individuals.
"That should've been the first tip off that this story was bullshit even to other racists," one user wrote in response. "They know ain't shit stopping them from doing whatever they want to us."
In an email to the Daily Dot, St. David's Healthcare referenced an apology issued by Natale.
"I was worried about my daughter, and I jumped to a conclusion based on the information I had at the time," Natale said, per the email. "I've dedicated my entire professional career to healing people from all backgrounds, and I regret that my words were misinterpreted and created hurt and pain. It was not my intention."
---
Must-reads on the Daily Dot