A former Abercrombie & Fitch model exposed the company's alleged hierarchical labor practices and described working there as being a "glorified living fixture" in a series of viral TikTok videos.
Joris Lechêne, a TikTok influencer with almost 85,000 followers, created a multi-part series exposing the alleged secrets he learned while working at Abercrombie & Fitch for five years. Lechêne describes the brand's image in the 2010s as anyone who was young and fit the conventions of what was attractive and elitist at the time.
In his first video, Lechêne says he just moved to London in 2011 in pursuit of his dreams to be a model. After getting turned down by the top London modeling agencies, he was approached by someone while walking down a major shopping street in London. They asked him if he wanted to work for Abercrombie & Fitch. He says he never stepped foot in the store before that day, but there was a group interview at the store in five minutes.
"The interview was actually bullshit," Lechêne says in the video. "You could answer literally anything. If you looked like a model, you'd get hired."
Lechêne describes the store experience as resembling a theme park rather than an actual shop as people lined up to take photos with the half-naked models.
"The rides… well, that was us," Lechêne says.
He goes on to describe the working environment of Abercrombie & Fitch: dim lights, loud music, bright-colored clothes, and Abercrombie & Fitch perfume being sprayed every 15 minutes. But more than that, Lechêne alleges that working as a model meant your performance rank was evaluated purely on your looks.
"You were positioned at strategic points in the store and expected to just stand there looking good and doing absolutely nothing," Lechêne says. "The more you fit the Abercrombie standards, the closer to the door you'd be placed."
Lechêne says that one particular position dreaded by most store employees was known as "The Rail." Models, the TikToker says, had to face the store entrance and dance for the entire day beside a female colleague. Regarded by most as a punishment, Lechêne says he looked forward to working the shift. As someone with ADHD who could not stand still all day doing nothing, he says he got to move his body in the way he wanted and talk to a colleague.
"That's how I escaped the soul-crushing Abercrombie beauty ranking system for most of my time there," Lechêne says.
When Lechêne applied to work as a manager, he says "looking back" that he was way "too poor, too foreign, not enough of a geezer, too neurodivergent, too gay" to get the position, despite his excellent performance record.
"Both the brand and internal structure of the company were designed to reproduce privilege," Lechêne says. "Abercrombie & Fitch was the embodiment of nepotism."
The comments on his videos were filled with people recounting memories about working at or going to the store.
"When I would walk by that shop in the mall, I would take a wide arch away cuz the perfume was aggressive," one user commented.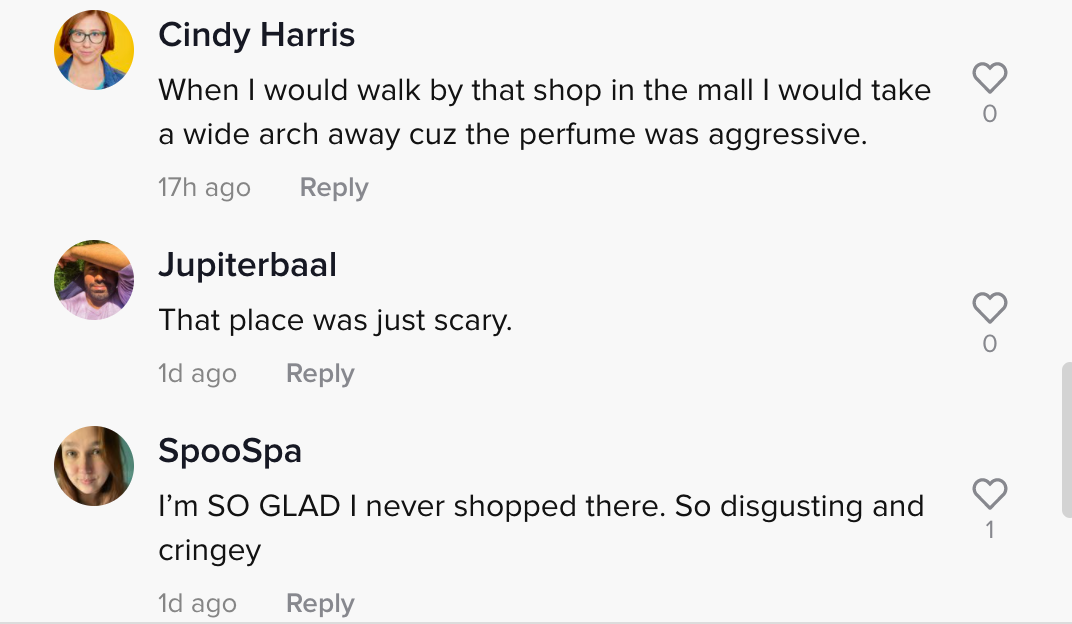 Others commented on the apparent whiteness of the company's beauty standards at the time. "And A+F would never hire trans POC for their shop floor," one user commented.

Update 2:45pm CT, May 13: In response to Lechêne's videos, Abercrombie & Fitch released a statement to the Daily Dot, saying the company acquired new leadership in 2015 and has since focused on "encouraging a culture of belonging and brands that celebrate the individuality and authenticity of our associates and customers." 
"Since 2015, A&F Co. has ushered in the spirit of inclusiveness and equity you see today across our brands," it continued. "The look policy was removed in 2015 and we're proud of the progress we've made over the past six years — we have evolved our marketing, sizing, store policies, brand partnerships, and more to be more inclusive and put our customers at the center of everything we do."
Lechêne, who worked at Abercrombie & Fitch until 2016, told the Daily Dot that since leaving the company, Abercrombie & Fitch has rebranded itself completely and that its new consumers are too young to know about the past labor practices.
"Mentalities have changed so much since," Lechêne said. "I know people now would be shocked to hear what was deemed not just acceptable, but cool and trendy at the time."
He said that he was inspired to share his experience as he is now an anti-racism trainer and discusses topics such as privilege, implicit bias, and elitism.
"After 15 years of modeling, I can now speak up on fashion and retail practices without fearing of losing my livelihood," Lechêne said. "Even though I didn't have those lenses at the time, I can now look back and apply theory to my own experience."
This story has been updated to included comments by Abercrombie & Fitch and Lechêne.
---
Today's top stories