While it is still not rolled out to all users, you may have heard about a slowly-rolling out new feature from Twitter: Spaces.
The social media platform launched a chatroom like feature called Twitter Spaces in December of last year to a small group of users. It allows users to add followers to a Space where participants can send voice messages and more.
"aye we're live! what up y'all, we're the team behind Spaces––a small experiment focused on the intimacy of the human voice," Spaces tweeted in mid-December last year.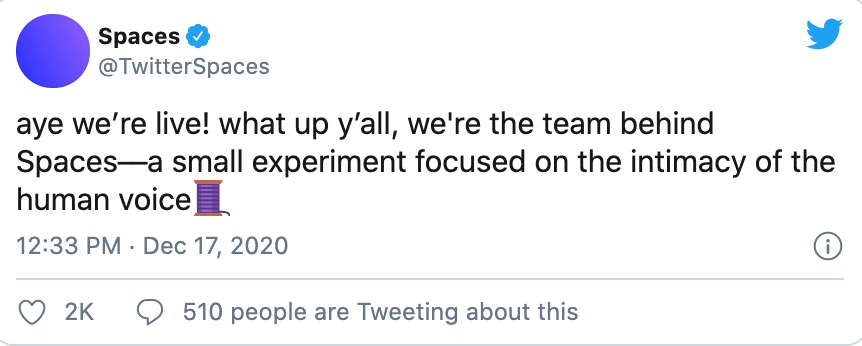 Twitter says Spaces is for longer conversations on the app that surpass the word count of a tweet.
"Sometimes, 280 isn't enough," the account wrote in its bio.
Due to the audio-centric nature of Spaces, many people have compared the feature to Clubhouse, an exclusive chatroom-like app. But, unlike Clubhouse, Spaces will soon be available to a larger group of people.
Here's what we know about Twitter Spaces.
What are Twitter Spaces?
The new feature brings a chatroom like space to Twitter. Up to 10 members can chat with text, audio messages, and emoji reactions.
It looks like an add-on to Fleets (another new tool that Twitter added in November). Fleets are 24 hour stories, similar to Snapchat or Instagram, that appear at the top of user's feed. Spaces will also join Fleets at the top of Twitter's interface.
Once in a Space, members can talk, listen, and react.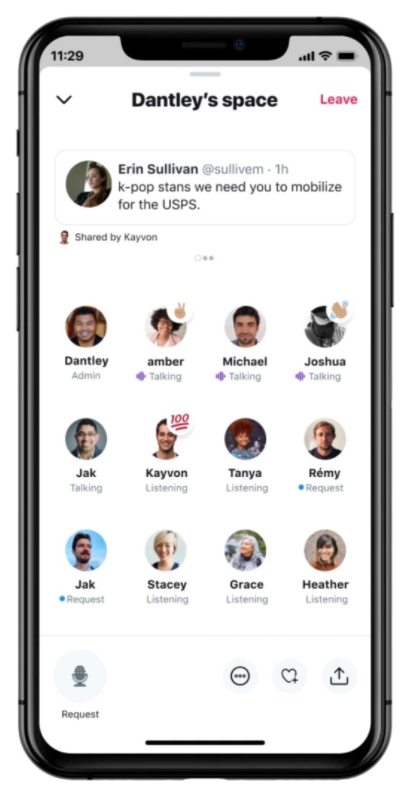 The Space is open to the public unless the creator closes the Space to the members they choose. This way, users can protect their privacy from anyone entering their Space.
When can you use Twitter Spaces?
Right now, Twitter is only allowing a small group of users to use Spaces in a beta, but the company says it will allow more people to use it "gradually."
"The team is still testing Spaces with a smaller group of underrepresented voices on the platform, and we plan on gradually expanding this group as we learn more. As of now, there are about 400 people testing the beta," a Twitter spokesperson told the Daily Dot.
Some people are noticing when they have access to the new feature.
"Twitter spaces just popped up for me," tech content creator Tomi Adebayo tweeted.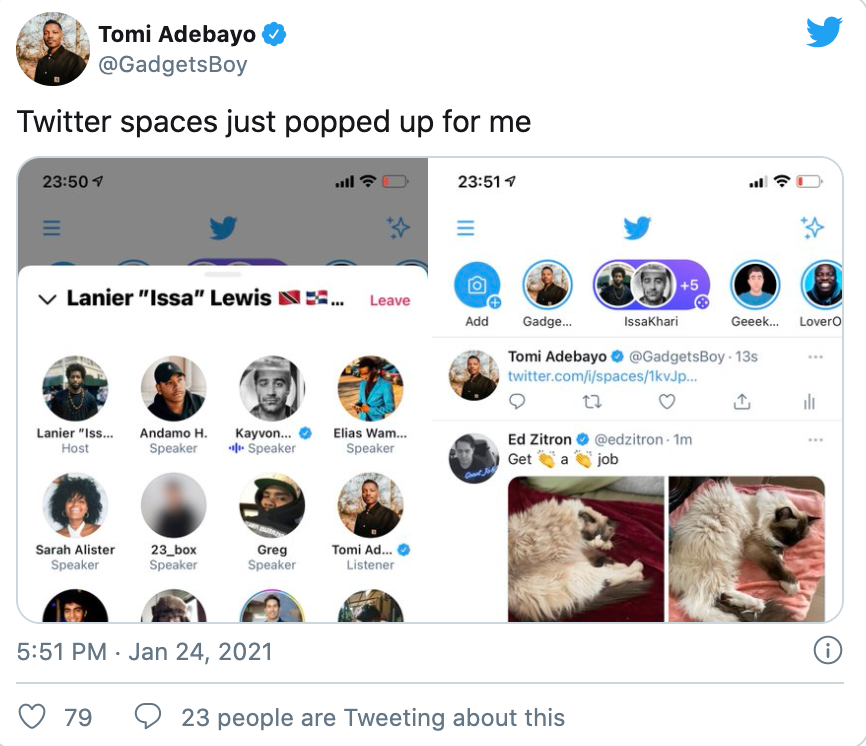 How do you make a Twitter Space?
Once widely available, a Space will be able to be created right on the app. Twitter outlines how exactly to start a Space, but here's a quick rundown.
There are two ways to start one: either by pressing and holding the compose tweet button, which will bring up a prompt to create a new Space or clicking your profile image in Fleets, scroll to the right and tap on "Spaces."
Once on the Spaces page, a user can add up to 10 people. Depending on settings, the creator can add people via an invite link or set it to an open invite for followers or the public.
Here, members can send text messages, emojis, and audio messages.
"Listeners told us they want to chime in to conversations on @TwitterSpaces without having to grab the mic and one of the ways to do this was with more emojis We are adding to Spaces soon and wondering what other interactions should we be exploring?" Twitter employee Danny Singh tweeted.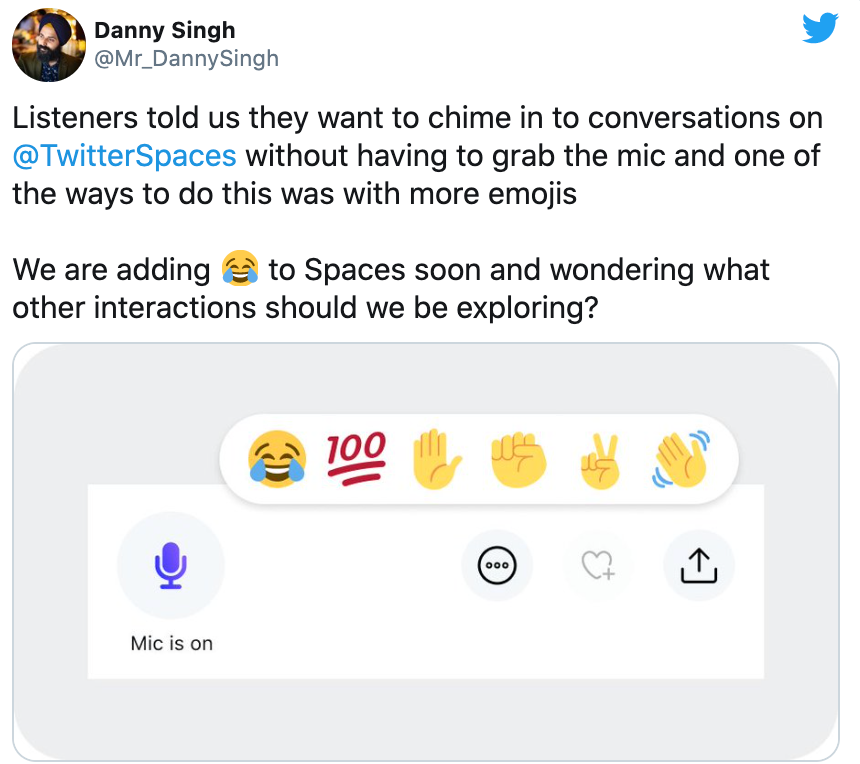 The creator can select certain settings for the Space including speaking privileges. Speaking options include everyone, people you follow, or only invites.
"hosts can directly invite other listeners to speak in the conversation…" Spaces tweeted.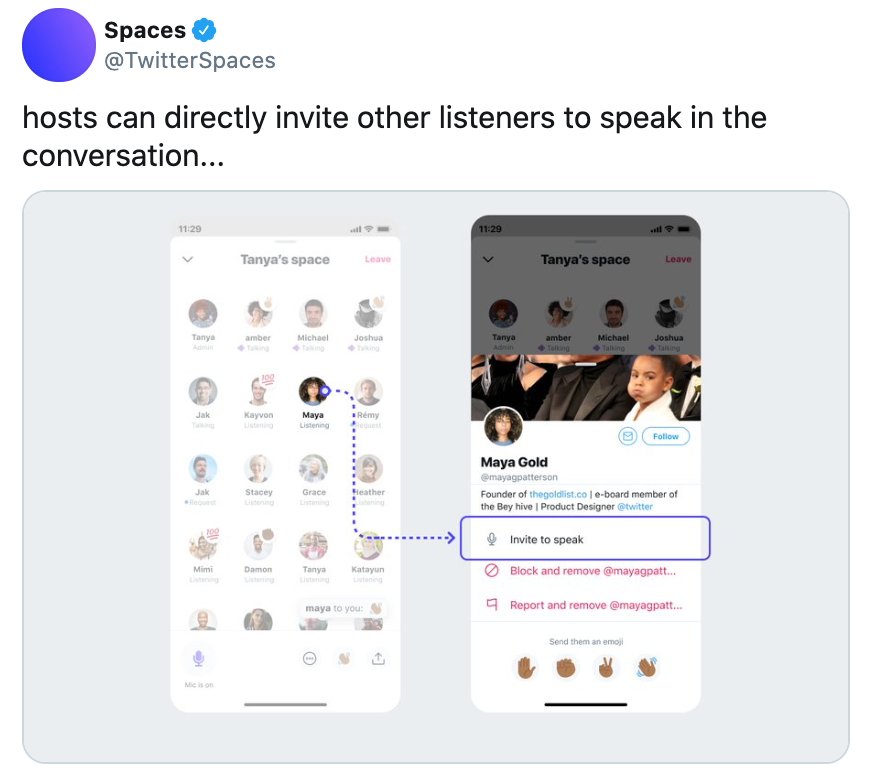 Meanwhile, microphone access is automatically set to off, but it can be turned on by toggling it on. In addition, audio files can be saved if the creator turns 'share transcriptions' on.
Is Twitter Spaces the new Clubhouse?
There have been comparisons between Twitter Spaces and Clubhouse, a popular social media app. While they are similar, there are some notable differences.
Clubhouse is an invite-only chatroom filled with influencers and celebrities. The app launched mid-pandemic as an audio-based social media platform. Users send and listen to audio messages in chatrooms that disappear once ended.
While the messages disappear, there has been some controversy.
Actor Tom Hank's son Chet Hanks was accused of imitating a Black accent on Clubhouse. People were calling it "verbal blackface." Meanwhile, comedian Tiffany Haddish was criticized for doxing a Black female doctor and spreading coronavirus misinformation.
So, even though the audio files disappear, Clubhouse users are not safe from criticism and backlash from other invited users.
The exclusivity brought a lot of clout to the site. On the other hand, Twitter Spaces are available for the public or a private user's followers at least for now, Twitter says.
If the feature changes to a more private room, then Twitter Spaces would more likely resemble Clubhouse.
Keep an eye out for the new feature as it rolls out for all Twitter users.
---
Read more of the Daily Dot's tech and politics coverage