As one of the most polarizing elections in recent history comes to a merciful close, the majority of ballots from the 2016 presidential election have been counted, and the turnout isn't bad… for the United States.
After President-elect Donald Trump won the presidency despite Hillary Clinton conquering the popular vote, the results reveal that millions of eligible voters once again decided to bury their heads in the sand.
According to the United States Election Project, an average of 59.7 percent of eligible voters cast their ballots. (The turnout number is lower when you just look at voting-age Americans, but not all Americans over 18 can vote, for various reasons.) Compare that to President Barack Obama's re-election in 2012, when 58.6 percent of eligible voters cast ballots—or 2000's presidential election, which saw just 54.2 percent turn out to the polls—and the 2016 results aren't too shabby.
Voter turnout in 2016
So, many Americans choosing to not actively help decide the country's future leaders. Why? There are probably as many answers to that as there are eligible voters staying out of the polling booths. Here's a quick look at who actually does vote—and who they voted for.
READ MORE:
How did the states vote in 2016?
A total of 30 states leaned Republican, leaving the remaining 20 states Democrat. Swing states, which are states that influence the outcome of the election due to their history of learning both left and right, saw an increase in voter turnout in the 2016 election even though the overall result was still lower than in 2012.
According to CNN, Florida's voter turnout increased by 1.1 million from 2012 while North Carolina and Michigan both experienced a slight increase as well, all leaning Republican. Minnesota proved the highest turnout rate as a regular state, with a total of nearly 3 million ballots cast and an overall lean toward the Democrats.
The election also revealed a division in voter turnout among race, gender, and education. Trump won voters who are white non-Hispanic, middle to upper-class and the white without a degree, setting records as the largest gap since the 1980 election.
Race and voter turnout
Trump received a majority of the white vote (58 percent), putting him 21 percentage points over Clinton (37 percent)—just one point higher than Romney's share of the white vote. Clinton, meanwhile, held the black and Hispanic vote by large margins, with 88 percent of African-Americans voting for Clinton compared to just 8 percent for Trump. (Obama still outperformed Clinton among black voters, 93 percent of whom voted for the president in 2012.) Clinton also held a 36-point lead over Trump with Hispanic voters.
The gender gap in the 2016 election is among the broadest in exit polls since 1972, according to a study conducted by the Pew Research Center. Women were Clinton's largest voting block, claiming a lead of 54 percentage points over Trump.
Men, on the other hand, gravitated toward Trump, who led with male voters over Clinton by 53 percentage points. President-elect Trump won the vote from an overwhelming total of white males with or without a college degree. Nearly two-thirds of the white male population without a college degree took Trump's side, and 49 percent of males with a college degree cast their ballots for Trump.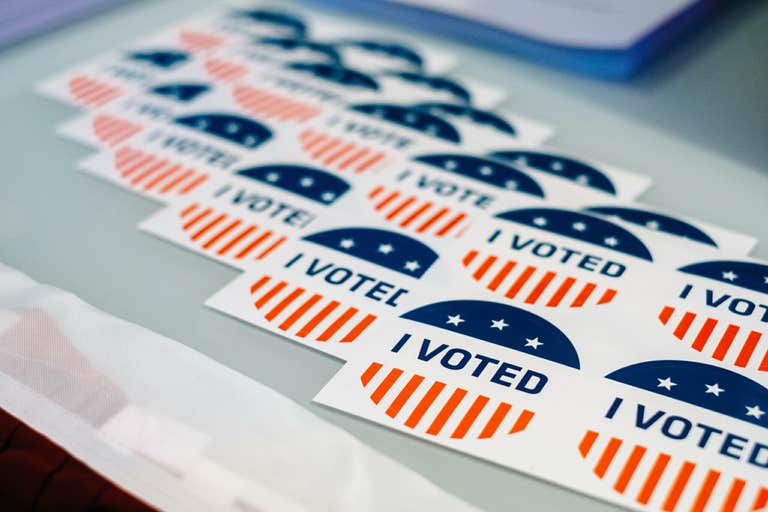 Why is the percentage so low?
In the U.S., participating in an election is not mandatory. Many people do not have the means or time to take off work for election day. Besides the Americans who presumably don't care to partake in deciding the country's future, there are obstacles such as formal education, convenience, and income. Plus, laws enacted by states that get in the way of voting for some people.
Polling locations are based on voting patterns set by the voter's home address. Areas where voter turnout is historically greater determine the location of voting machines and staff. This often provides a convenience factor for white, middle-to-upper class voters who live in homogeneous neighborhoods.
Poorer neighborhoods that have neither multiple polling locations nor enough functioning voting machines have long lines, which can discourage voters who are paid by the hour and don't have the time or money to wait to cast their ballots.
The 2016 election was also the first without the protection from the Voting Rights Act. A total of 34 states have restrictive voter laws, and nearly half of those states require voters to present a photo ID. These strict laws are not only confusing, but voter suppression became a serious issue in 2016 because these voter ID laws disproportionately affected minority groups such as Hispanics, African-Americans, and transgendered voters.
Editor's note: This article is regularly updated for relevance.