Children go missing every day in the United States. The vast majority are located, unharmed, within hours.
A few, however, end up homeless or worse. Law enforcement and Child Protective Services work together to locate and rescue those children from (more) harm.
Such tales of child rescues make for feel-good news stories and shine light on an important issue. News organizations know that the more dramatic the case or number of children rescued, the more attention the story receives.
Lately those stories especially appeal to people who believe the QAnon conspiracy theory that a global satanic pedophile cabal controls the world and is behind thousands of child abductions annually. They think President Donald Trump is at war with this cabal, otherwise known as the deep state or the Illuminati.
QAnon followers have begun seizing on headlines about child rescues as "proof" that the nonexistent cabal is real—and in some cases making up dramatic stories entirely. Today may be the first time Trump amplified a QAnon follower's false claim about a child rescue operation.
Unlike some of the more bizarre rescue yarns, like one last spring about 35,000 "mole children," this one may have a tiny kernel of truth.
On Friday, the U.S. Marshals Service announced that it had rescued eight "highly endangered" children in Indiana last week. According to a release, the operation, which involved multiple agencies, netted one arrest. The suspect was charged with crimes associated with parental kidnapping.
One of the outlets that covered the story added recent rescues in Georgia and Ohio to report that a cumulative 72 children had been rescued over several weeks.
"U.S. Marshals rescued 72 missing children across Indiana, Ohio, and Georgia in the past several weeks," Spectrum News 1's headline blared.

QAnon followers quickly seized on the story as proof that the pedophile cabal exists and runs a child sex trafficking ring. Some sharing the story included #SavetheChildren, a hashtag that has recently been appropriated by the conspiracy theorists.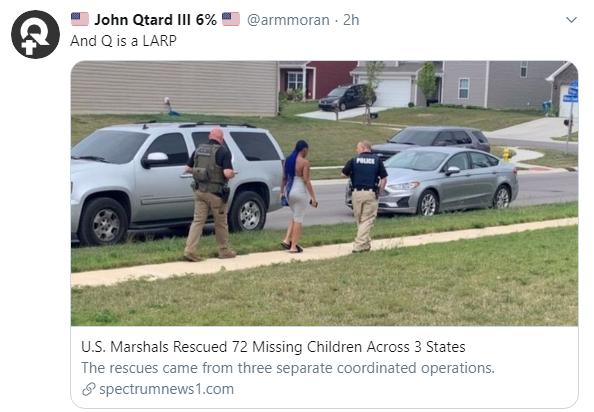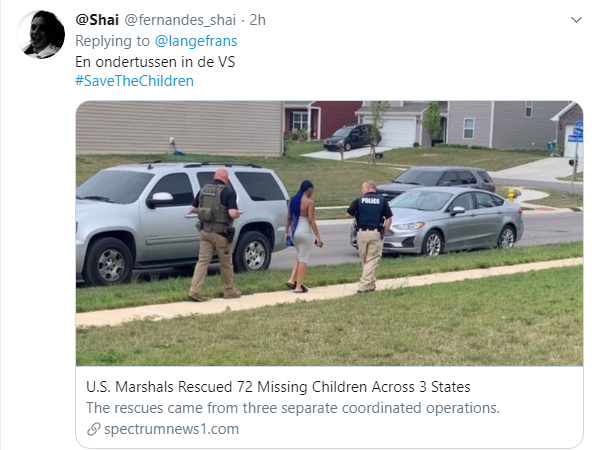 QAnon followers who saw the story assumed that the children were rescued from a single trafficking ring, which simply isn't true. A U.S. Marshals Service spokesperson told the Daily Dot that there was no trafficking ring; the cases were unrelated.
Curt Schilling has gone even further. On Sunday evening Schilling, who reportedly follows QAnon and has been a supporter of far-right scams, claimed on Twitter that 189 children had been rescued from a single child trafficking ring across three states over the weekend.
There's just one problem: It's not true.
The U.S. Marshals spokesperson had no idea what Schilling was talking about. There were nowhere near 189 children rescued by the agency last weekend, let alone across three states. And the 72 who actually were rescued from August through Sept. 4 were isolated cases, not part of a trafficking ring.
Nevertheless, with Trump's help, Schilling's story is spreading.
In his tweet, Schilling, a former Major League Baseball pitcher, thanked Trump and Attorney General William Barr for the rescue.
Ever susceptible to flattery, Trump amplified the baseless claim earlier today.

The tweet was already circulating among Schilling's quarter-million Twitter followers when Trump beamed it to his 86 million.
From there it spread far and side. Within hours of Trump's tweet, it had 10,000 retweets and 40,000 likes.
People turned out in droves to thank Trump, Barr and the U.S. Marshals. Many condemned the "mainstream media" for suppressing the false story. Scores of QAnon followers were among them.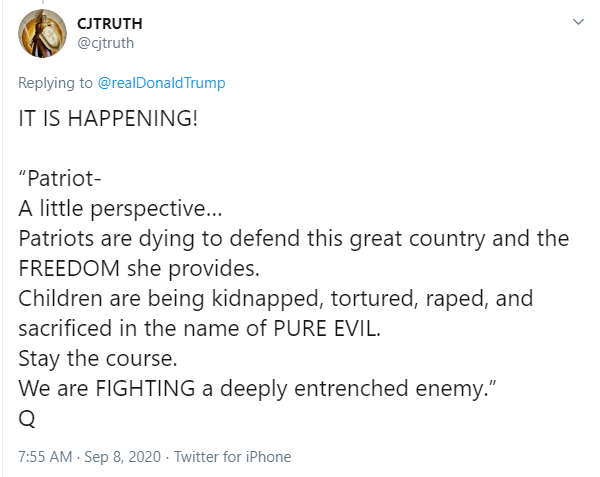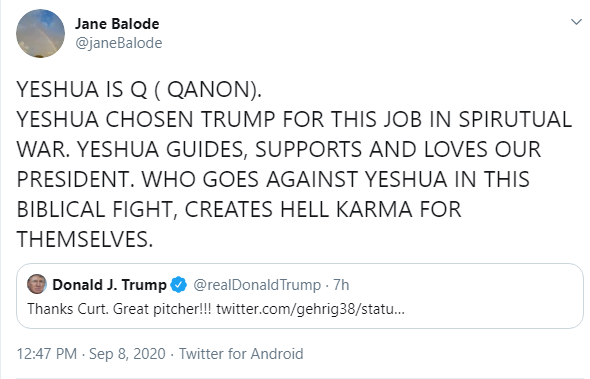 The amplification of this false story is episodic of a recent phenomenon occurring across right-wing social media.
As HuffPost reported yesterday, the granule of truth in last month's rescue of 39 missing children in Georgia was quickly whipped into a false tale about a dramatic rescue of all 39 from a sex trafficking ring in a double-wide trailer. While 39 children were rescued, the cases were unrelated and not tied to trafficking.
Just as is happening today, inaccurate versions of the story spread like wildfire on social media.
Even though not even right-wing media are reporting Schilling's claim as fact (at least not yet), those who believe it seem impossible to dissuade. Schilling himself mocked someone who pointed out that the Georgia rescues had been greatly exaggerated and misreported.

Others in the thread followed his lead. Many pointed to the Georgia rescues as proof. Some linked to the Spectrum News 1 story. One even posited that perhaps no one but Schilling had reported it because the rescues needed "to be semi stealth for ops reasons…"
There is seemingly nothing anyone could say to dissuade those who believed Schilling. As of this writing, 30,000 have retweeted it and 80,000 liked his tweet.
They say that a lie repeated often enough becomes fact. This one may be well on its way, especially now that the president is among those repeating it.