Rep. Alexandria Ocasio-Cortez's (D-N.Y.) quote-tweet of a producer from NowThis News caused numerous people to level Me Too allegations against him.
Following the barrage of tweets accusing NowThis associate producer Jackson Davis of sexual impropriety while he attended Emerson College, where he graduated in 2017, he was suspended from his position, the Wrap reports.
On Friday, Ocasio-Cortez quote-tweeted Davis' tweet pointing out that interns in her office are paid $15 an hour, while Sen. Mitch McConnell (R-Ky.) pays $8.25 an hour.
"Why intern for Mitch McConnell, who runs the ball for this racist, incompetent administration, when I will pay you nearly twice as much to help make the world a better place," Ocasio-Cortez tweeted over Davis' tweet about "A Tale of Two Internships."
The attention drawn by the congresswoman led to an onslaught of Twitter accusations of sexual misconduct against Davis. Multiple people called him "an abuser," said he "used his status in college to manipulate younger women," and said he assaulted them, or people they knew.
"When I was a freshman and he was an RA [resident assistant] on the film immersion floor, multiple older students told me to stay away from him," Morgan Sung, a former Emerson student, told the Daily Dot via direct message. "He was allowed to stay an RA for the next three years with an open title IX case."
"He was this conventionally attractive white guy who was charming and nice and in a frat and took really pretty pictures and videos and people loved it," said one accuser, who wished to remain anonymous. "…He had that complex for sure and it probably lended itself to making him feel he was untouchable."
Davis denied one allegation, which the Daily Dot could not independently corroborate. He declined to comment on other accusations, saying that a statement would be forthcoming tomorrow. This story will be updated if so.
A friend of Davis' provided the Daily Dot with screenshots of texts, purportedly from another accuser that cast doubt on the accusation. They were unwilling to give a statement on the record.
Many on Twitter urged Ocasio-Cortez to take down the quote-tweet.
"We need to stand with survivors and that includes not giving their abusers a platform," tweeted one.
Ocasio-Cortez heeded their calls. After deleting the tweet, on Saturday, she tweeted, "Hey all, note for transparency: yday I quote-tweeted someone noting that we pay interns a living wage.
"It has since been brought to my attn that multiple survivors are speaking up about this individual. My heart breaks for them, and I am deleting the quote tweet in solidarity."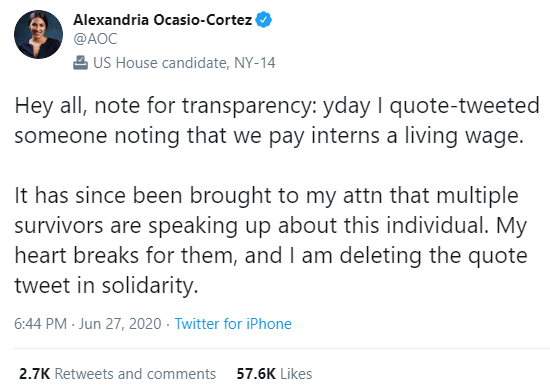 Numerous tweets tagged NowThis, urging it to fire Davis.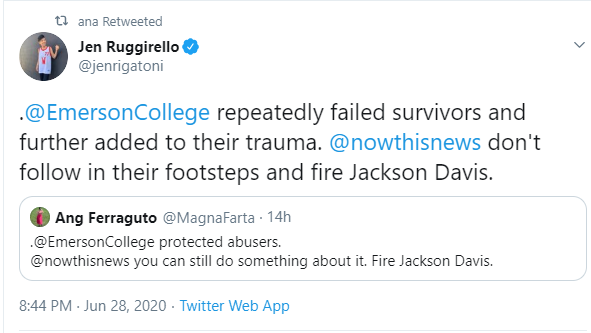 Over the weekend, NowThis suspended him.
"We take any allegations of sexual assault very seriously," a company spokesperson told the Wrap this morning. "The employee in question was immediately suspended and we have promptly launched an investigation. We have engaged outside counsel to take the lead on this."
People also tagged Emerson College, accusing it of improperly adjudicating sexual assault claims.
Emerson College did not respond to the Daily Dot's multiple requests for comment sent Monday.
The school has been dealing with accusations that it mishandles sexual assault allegations for years.
Several people have now joined together to form Emerson Alums Against Abuse.
"We organized after Emerson alumni began to share their stories about Jackson on Twitter, after AOC retweeted a graphic he made," they told the Daily Dot via email. "It was painful for many survivors to see a woman they admired boosting someone who many knew as a closeted abuser, as can be seen through numerous tweets that tag him on Twitter."
READ MORE: