There's nothing worse than taking a day trip to IKEA and assembling a piece of furniture only to find that it doesn't quite fit where you hoped it would go or that it doesn't really match with the rest of the room.
The Swedish furniture giant is hoping to change that with its new app, IKEA Places, which uses augmented reality (AR) to show you how (digital) furniture looks in your room before you buy it. If you've played Pokemon Go, then you're already familiar with the concept—except IKEA's app is focused on bookshelves instead of a virtual Charizard.
Hoping to spare ourselves a trip, we tried out IKEA's new Apple ARKit-based app. Here's how it works.
Step 1: Setting up your room
To download the IKEA Place app, you'll need a phone running Apple's iOS 11. (I used an iPhone 7 Plus.) After you download the free app, you'll be greeted by a Swedish chatbot that'll walk you through a few easy steps for setting up your environment.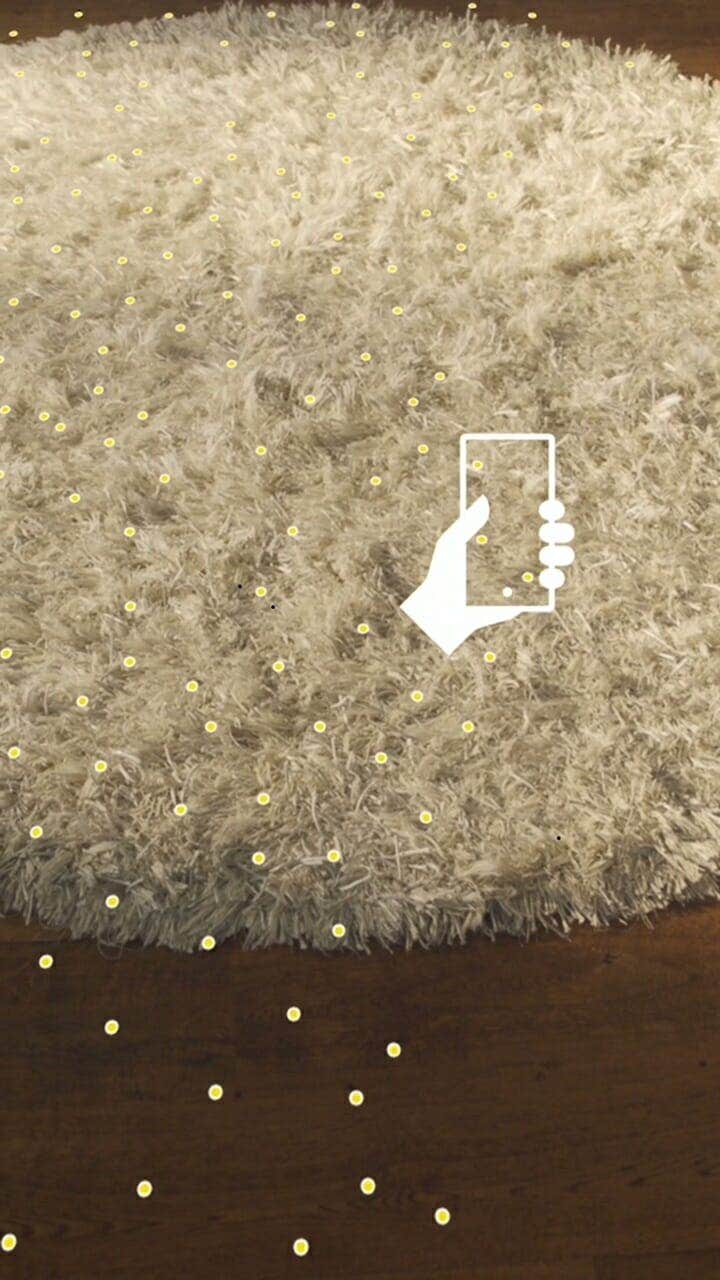 Once you give the app permission to use your camera, you'll be asked to scan your room. Just point your camera down at the ground until you see a bunch of yellow dots appear on your screen.  When the app is done mapping out your place, you'll be taken to the main interface, which features three circular buttons. The one on the left lets you take a screenshot of whatever you're looking at, the middle one lets you browse IKEA's furniture catalog, and the right button brings you to settings.
Overall, setup is simple as long as you have a stable internet connection. I do wish the icons were a bit more clear, but at least the interface is clean and unintrusive. There were a few times when the app stumbled while scanning, especially in low-light environments, so keep that in mind.
Step 2: Putting digital furniture into your home
After pressing the center + button, I was taken to IKEA's digital catalog where furniture pieces were waiting for me to test. The catalog is easy to navigate and filled with more than 100 oddly named items. I was pleasantly surprised by how everything is laid out. You can choose by category (chairs, desks, lighting, etc.), collection, look at all products, or search for a specific piece.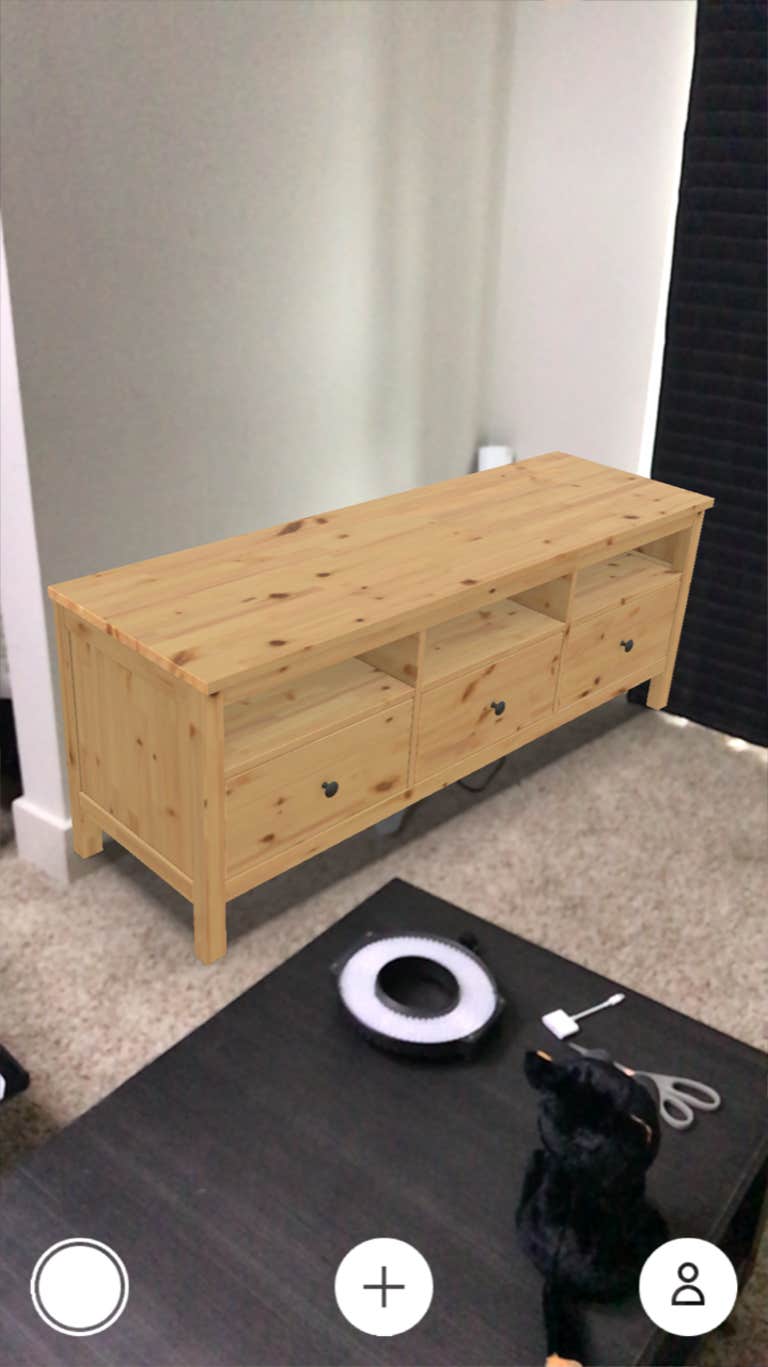 Once I chose a piece of furniture—a simple TV stand called Hemnes—an image appeared on my iPhone 7 Plus' display. There, in our office, was a convincing digital version of IKEA's furniture. While you wouldn't mistake it for a "real" entertainment center, the desk came to life with realistic colors and decent resolution. As I walked closer to it, I was able to see more detail, like the grain of the wood and general shape of the knobs.
Here are a few other items I placed around our office.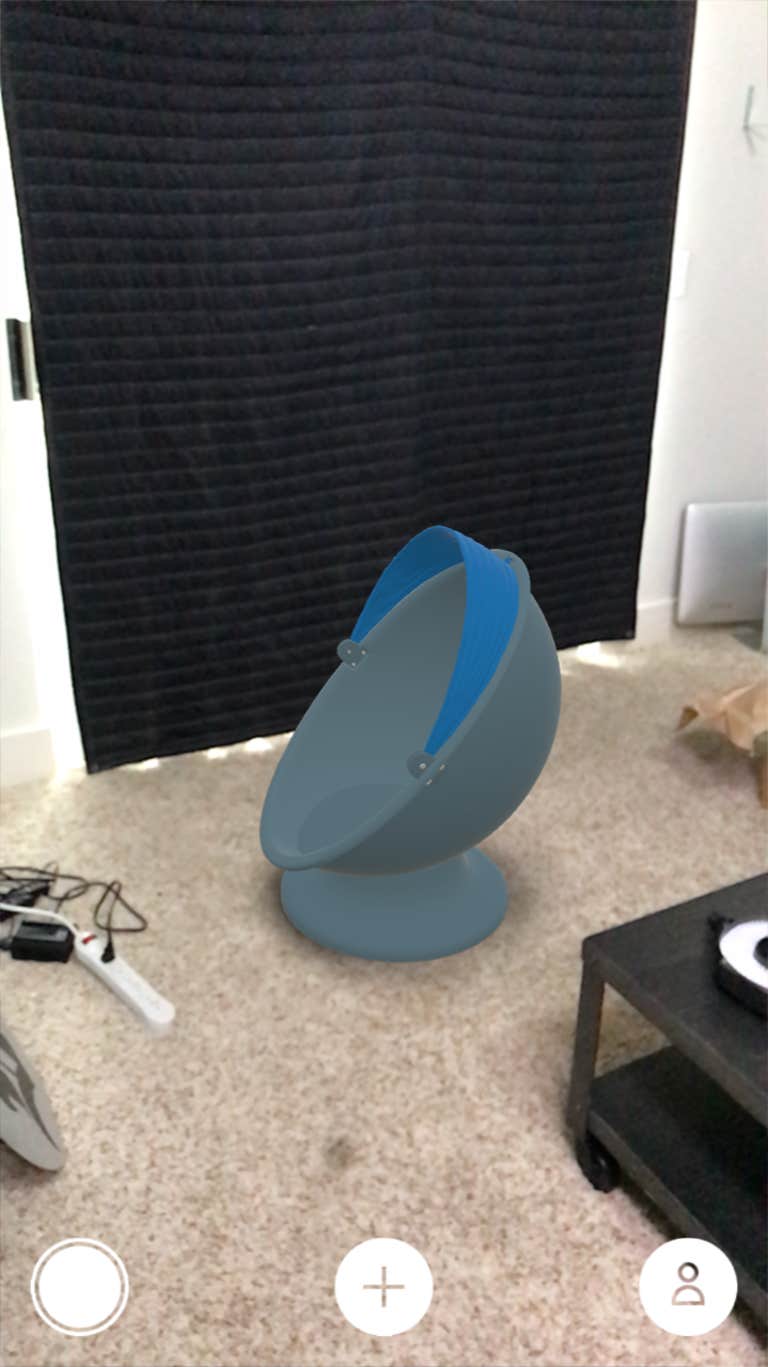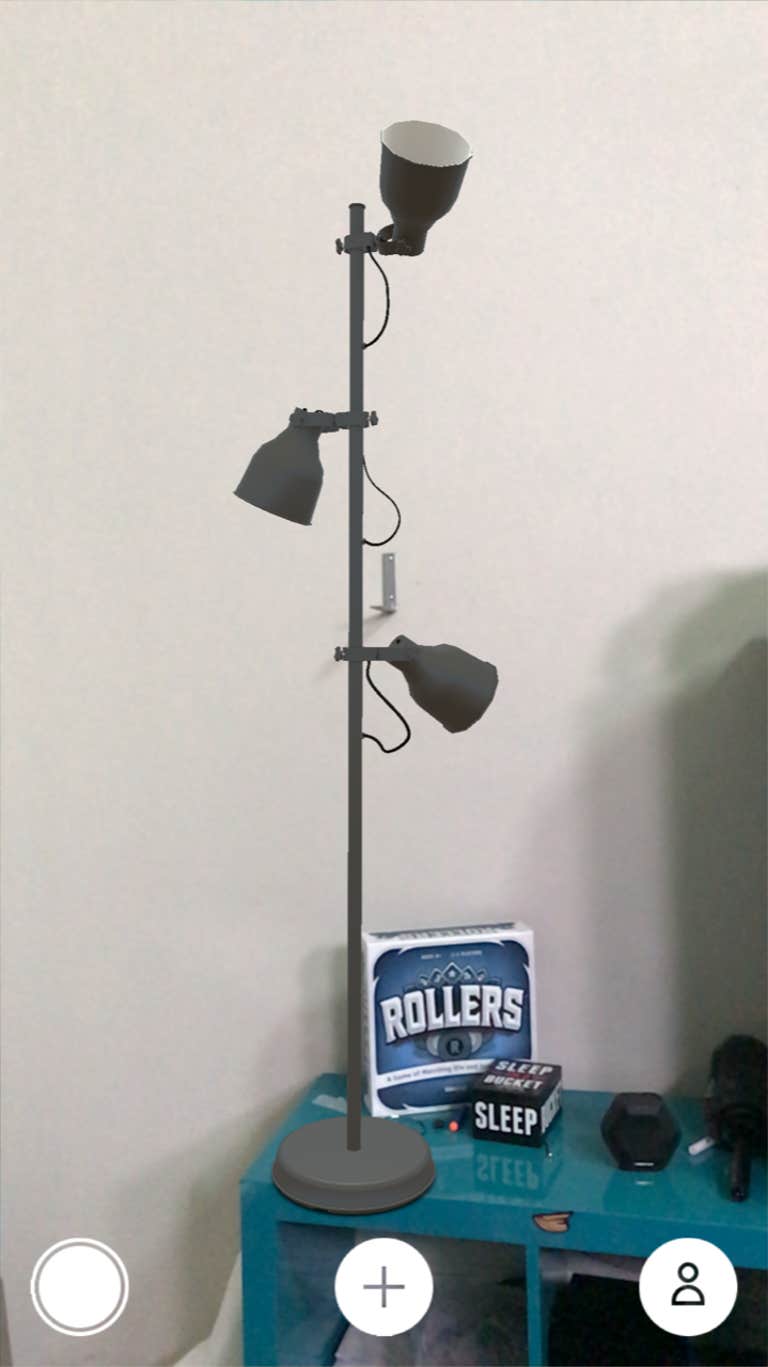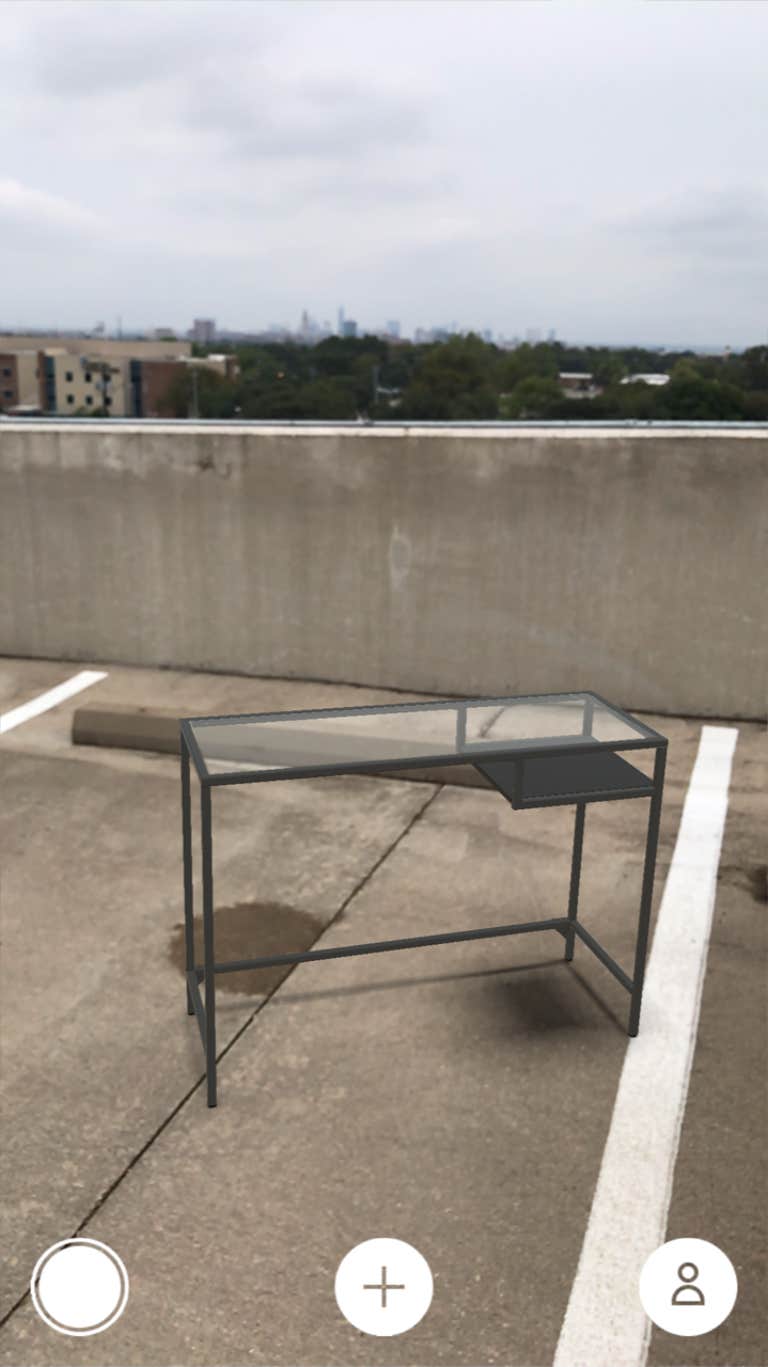 As I awkwardly roamed my workplace acting like I belonged on HGTV, some of IKEA Place's flaws started popping up.
First, it struggles with scale. Furniture ballooned from tiny to gigantic as I move them around our office space, making it impossible to determine how big they might look in person. I even shrunk a chair to fit on my coworker's desk (cute, sure, but not useful).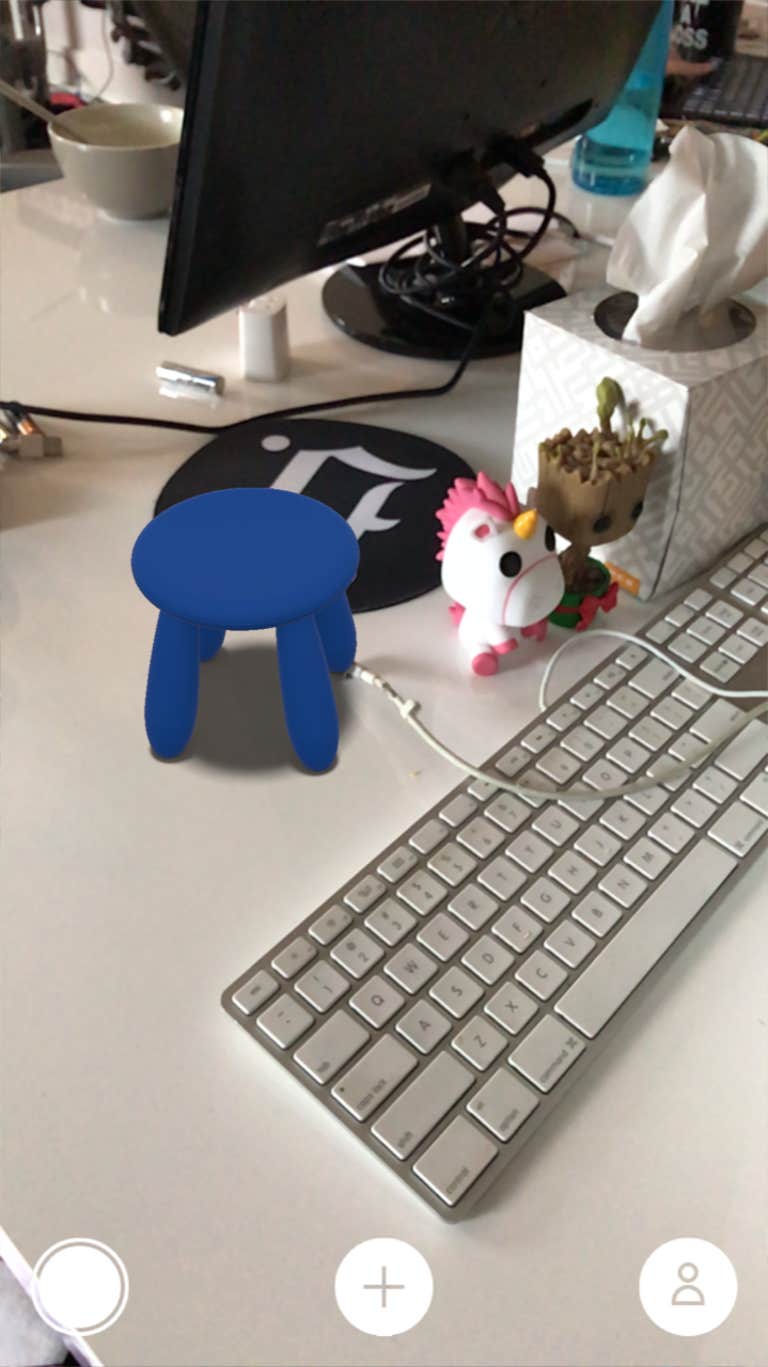 And while the app lets you rotate furniture, it doesn't let you inspect all of its pieces. For example, there was no way for me to see the inside of a desk's drawers or figure out if a couch's cushions are double-sided.
But those small qualms didn't take away the excitement and genuine usefulness of seeing an accurate representation of a product without stepping foot inside a store.
Gimmick or the future?
Despite its current limitations, I'm leaning toward the future. The app did exactly what it's supposed to do: allow me to see how IKEA furniture looks in my home without spending a dime (even if it wasn't always to scale).
You'll need to forgive IKEA for AR's inherent limitations. A digital image can't tell you the quality or craftsmanship of a product, and you'll have to physically move your existing furniture to see how new items look in their place. And of course, a picture on your smartphone doesn't let you test comfort, so you'll still need to make your way to the store if you want to buy something like a couch or chair.
But IKEA is on the right track. Would I base my purchasing decision on what I can see in the app? Definitely not. But I wouldn't hesitate using it to check if a piece of furniture will fit in with the rest of my things or show my friends the exciting possibilities of augmented reality.