In April 2020, Giancarlo Sopo said he was "honored" to announce his new job as the Trump campaign director of rapid response for Spanish-language media.
"Our country is in the midst of an unprecedented crisis and l'm going to do all I can to ensure President @realDonaldTrump's message of hope, strength, and renewal reaches America's diverse Latino communities," he tweeted at the time.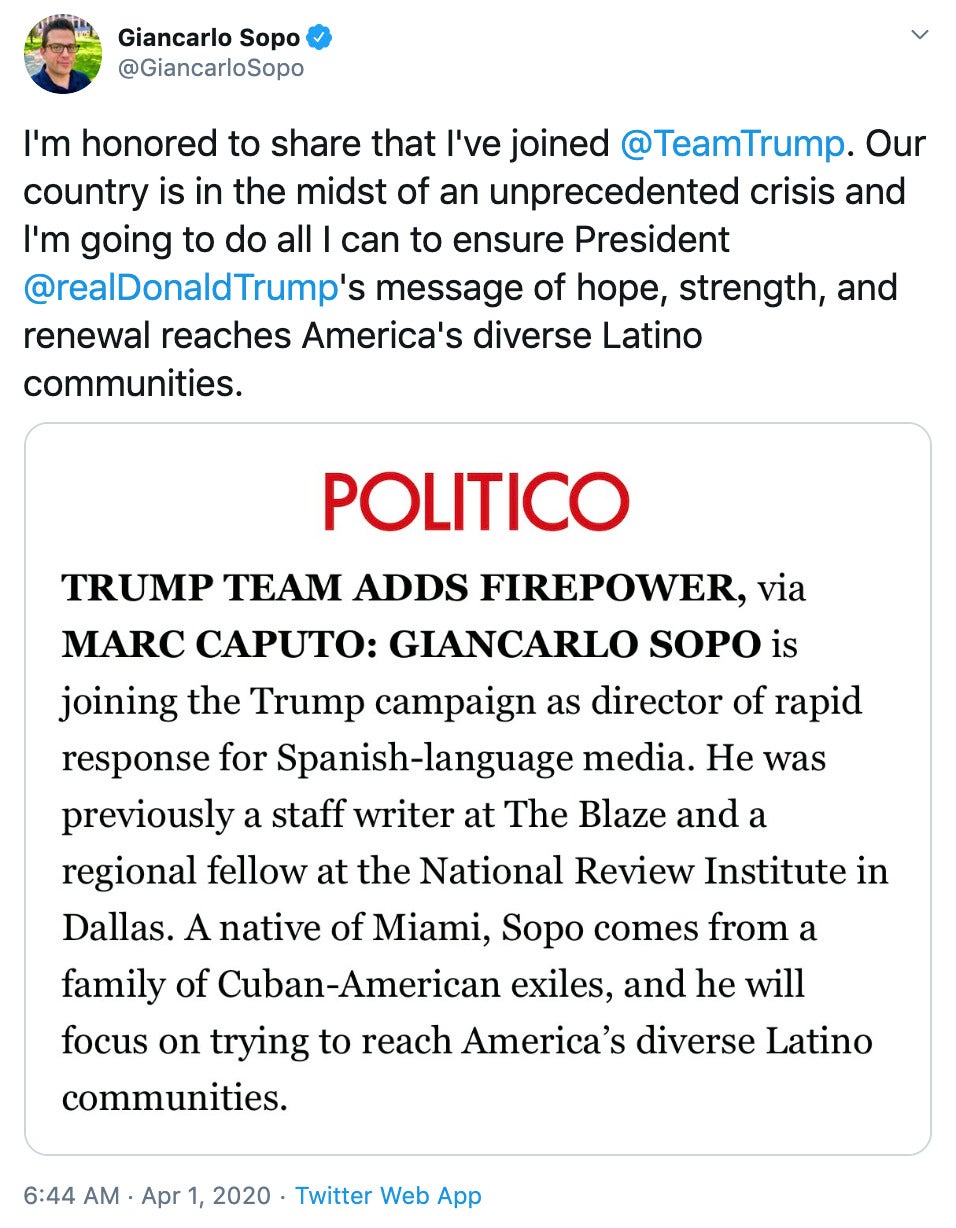 But leaked DMs from less than two years ago show Sopo having a much different opinion of the president. On Thursday, Alex Howard, a communications professional who has worked for Democratic politicians, tweeted out messages from 2018 showing Sopo heavily criticizing Trump.
The discussion between Sopo and account(s) Howard rendered anonymous centered around Cesar Sayoc, the "MAGA Bomber" who sent pipe bombs to media organizations and prominent Democrats. Sopo called the actions "disgusting," adding, "I've never seen the country like this."
"This has been happening for a long time," Sopo then continued, in response to speculation about the country's political polarization. "I think Trump has taken it to a whole new level and has disgraced the office with his conduct."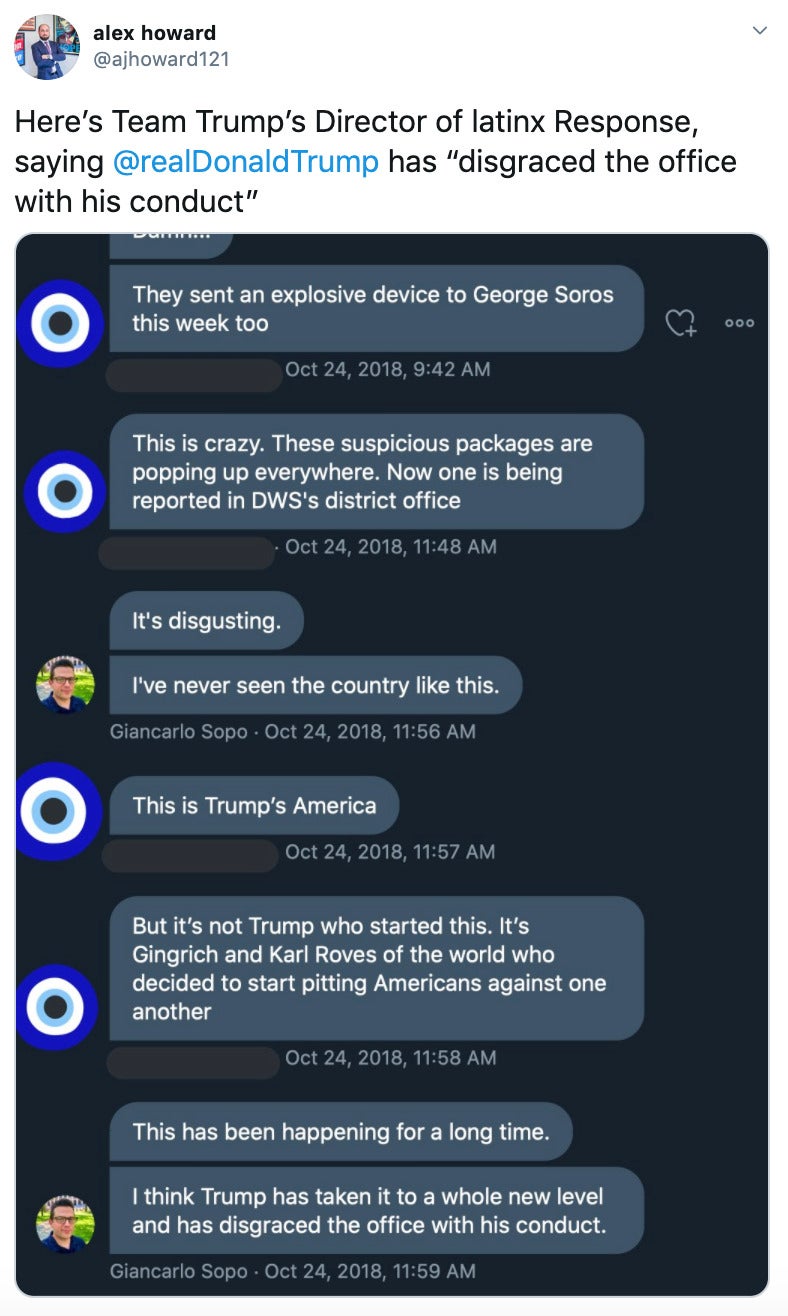 At the time of the messages, Sopo was a self-professed Democrat, according to an op-ed published in USA Today. In an interview that same year on a friend's podcast, he described volunteering and working for multiple Democratic presidential campaigns, including President Barack Obama's and Secretary of State Hillary Clinton's.
He commented on Trump in this conversation, as well, saying he thought the president's immigration policies were "horrible," though he did not believe Trump's fixation with building a wall between the United States and Mexico was "inherently racist."
"I think some of the other comments that Trump has made regarding race are, are much more incendiary and problematic," Sopo added.
In the years since, Sopo started writing for numerous conservative outlets, including the Federalist, the National Review, and most recently, the Blaze. A source familiar with Sopo told the Daily Dot he shifted away from the Democratic party after being virtually "exiled" due to his ties to a voter fraud scandal in Florida.
As Politico reported, Sopo was involved with the congressional campaign of Florida Democrat Joe Garcia in 2012, during which a top aide attempted to illegally request more than a thousand absentee ballots. That staffer, Jeffrey Garcia, was later sent to prison, and Sopo, who has not been charged with any wrongdoing, claimed he had been "tricked" into believing the requests were real. Soon after hiring Sopo, the Trump campaign pointed to this specific incident in an email denouncing mail-in voting.
Sopo has also been criticized in the past for statements he made about "old Cubans," which resurfaced again Thursday morning.
"…Trump's Hispanic Rapid Response Director @GiancarloSopo said in the past that 'old cubans should be prohibited from having political opinions' and that they 'fucked up their own country,'" tweeted Thomas Kennedy, including screenshots of a DM message with Sopo.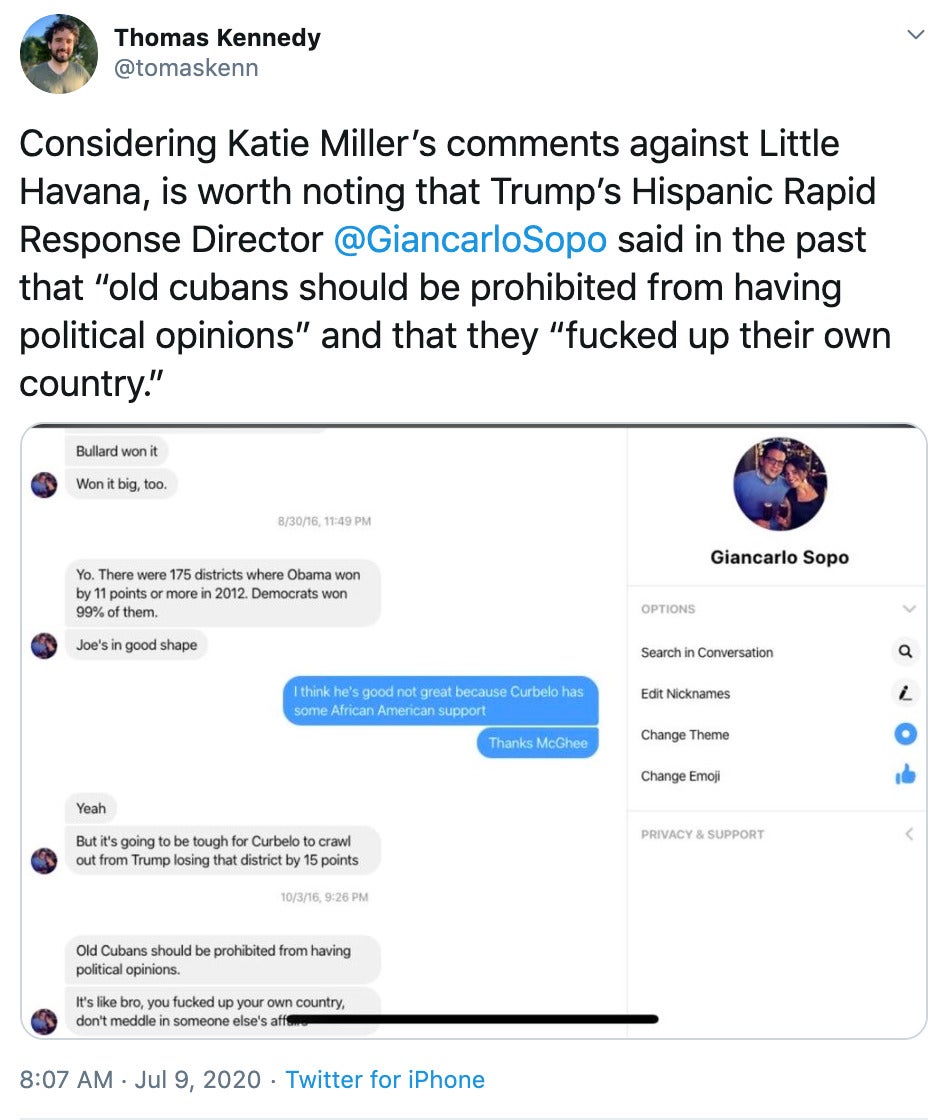 David Smiley, a political reporter with the Miami Herald, tweeted that he had previously asked Sopo about these messages, to which the Trump staffer responded, "I have always criticized the Castro regime and its enablers because my grandfather died in a political prison and my dad was nearly executed. I could not be more proud of my Cuban heritage, my grandparents' sacrifices, and the Miami exile community where I was born and raised."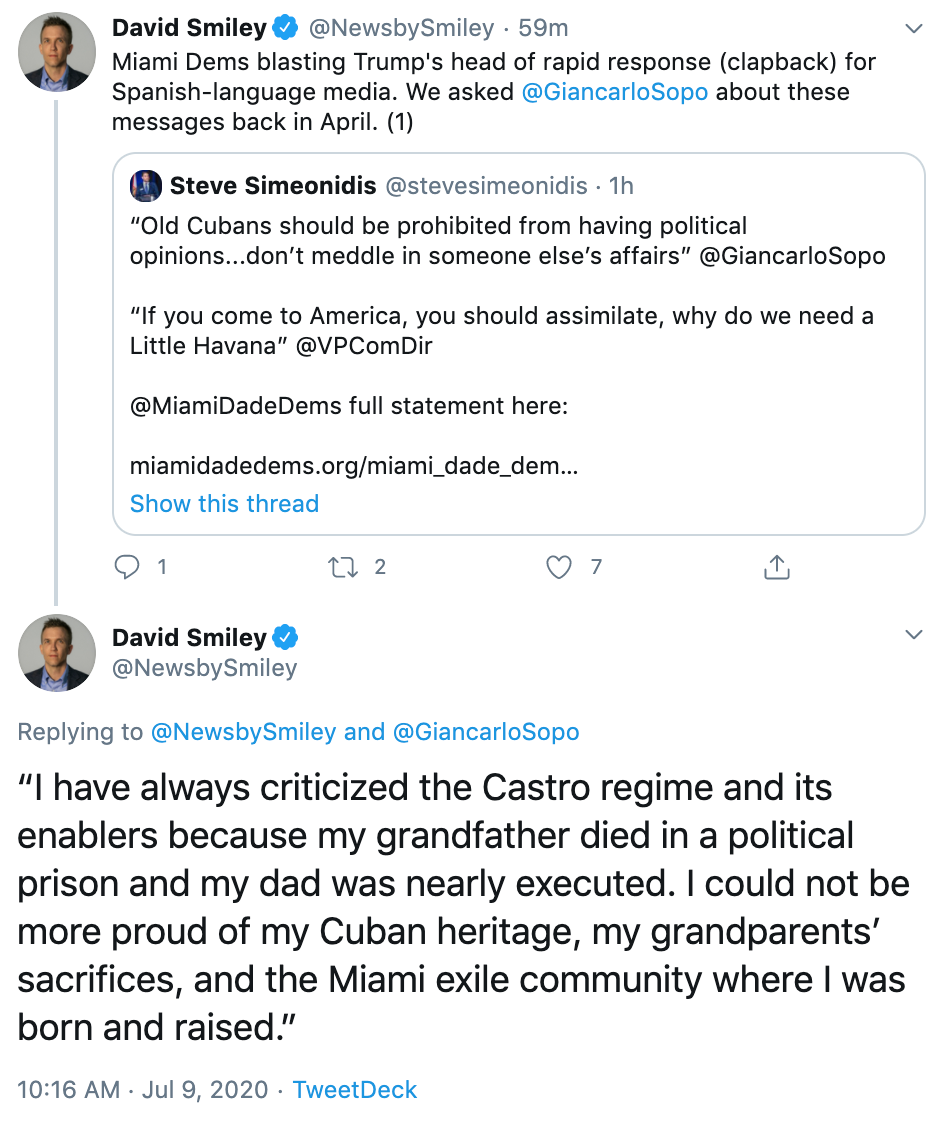 Sopo did not respond to the Daily Dot's request for comment.
READ MORE: