I remember standing on my San Francisco balcony that beautiful September night, admiring the crescent moon, when my partner got a phone call: Audrie Pott, just 15 years old, had killed herself.
We had no idea then what had happened. No one did. Audrie killed herself just days after she went to a party in Saratoga. What happened there is now subject to an investigation and a lawsuit. But the allegations are horrific: three of her classmates allegedly sexually assaulted her at a party while she was passed out drunk, scrawled words on her skin, grafitti-like, took pictures of her, and then shared them.
The three 16-year-old boys have since been charged with misdemeanor sexual battery, felony distribution of child pornography, and felony forcible sexual penetration. Audrie's mother, father and stepmother filed a civil wrongful death suit against the boys and the owner of the home where the alleged assault took place.
But on that night, all we knew was that Audrie—young, beautiful Audrie—had taken her own life.

My partner and I had met Audrie through her mom, Sheila Pott when we'd lived in the South Bay (a.k.a. Silicon Valley). We weren't what you'd call close, but we'd broken bread together and of course we couldn't help but care.
Audrie probably had no idea of this herself, but she was magnetic.
You know when you meet someone and you just feel connected—like you want to be around that person? That was Audrie.
I can still see her face, her kind eyes, her glowing cheeks, and even hear her laughter. I could sense her curiosity and intelligence. And passion.
When we heard that she'd killed herself, I immediately thought back to my own teen years.
I remember being 15. I remember feeling tortured—and yes, even suicidal. There were things that happened to me that I still don't want to talk about, let alone write about—but nothing close to what Audrie's family says she endured.  
I lived because, I don't know. I just did. Because I got older. Like teens do.
That's what my partner and I kept coming back to, staring out into the night.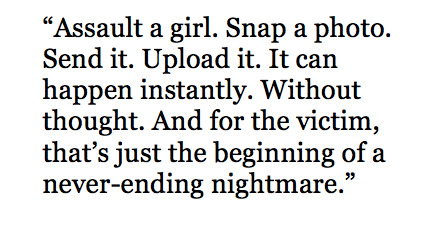 We stood out there on the balcony, overlooking San Francisco's downtown lights, and kept saying the same thing adults always say in these situations: if only. If only she'd waited. If only she'd reached out. If only we'd reached out.
I wished I could have been there and told her: "Oh Audrie, whatever is going wrong, whatever is making you feel like this is the end of the world and you can't cope anymore, whatever horrible poison has crept into your soul—as crazy as it sounds, it will get better. It will pass, you'll see it behind you. When you're older. I promise."
But it was too late to reach her. For anyone.
"I'm in hell," Audrie had written to a friend on Facebook. "Everyone knows about that night. The whole school is talking about it. My life is over."
When you're 14, 15, or 16, when things go bad, you feel it to the bottom of your being. You feel devastated, a failure. Like you're broken and can never be put back together again. And you also feel: I'm alone here. I'm all alone. Because when you're in that place, you can't see anything else.
Teens have always done bad things to each other. Bullies always hurt the vulnerable, like lions targeting a gazelle with a weak limb.
Today's kind of online shaming and persecution is different from anything I or anyone I knew had to face. In a way, it feels like an odd throwback to the 1950s, when girls were publicly shamed for being "loose." But instead of gossipy teens spreading rumors in whispers, they now spread them using technology. Far and wide. And fast. In a world before the Internet and text messaging, guys bragged plenty about their conquests. But now, in an instant— even before the assault is over—an offender can already be bragging about it. And then, it can go viral.
Would criminals of bygone eras have bragged publicly if they could have? Or has something changed—gotten more vicious, more vindictive? Is this a product of our new age, in which kids are reared on porn and socialized on screens? Or is it simply that they now have the tools?
Assault a girl. Snap a photo. Send it. Upload it. It can happen instantly. Without thought. And for the victim, that's just the beginning of a never-ending nightmare.
Media reports first suggested that pictures of Audrie were widely shared. Her high school newspaper reported that the pictures were only seen by a few.
Does it really matter which it is? A few, or hundreds, maybe thousands? It didn't to Audrie. She thought everyone knew. That was enough.
I keep wondering what it is that makes people do the kind of things that these boys were alleged to have done. Society? Hormones? Alcohol? Peer pressure? And why it keeps happening.
Why did the two Steubenville, Ohio football players rape a girl and then brag about it online?
Why did men torment young Amanda Todd online until she took her own life?
Why was Rehtaeh Parsons gang raped and then harassed for months online, with seemingly very little protection from authorities, finally culminating in her suicide?
Maybe the better question is not why these perpetrators did it; that will always be a mystery. The more salient question is: What are we doing about it?
Audrie's parents, even while deeply grieving, in only the way that parents who lose a child do, are nonetheless putting themselves squarely in the media spotlight for one reason. They want to do something. They want this to stop happening.
"We hope that in some small way that Audrie's story and death could help others or cause this epidemic of sexual assault, disseminating photographs, the cyber bullying and bullying to stop," her father Larry Pott said, his voice shaky, at a press conference.
Maybe her story will make some small sense out of something that really can't be made sense of. It's a cliche to say, but a lot of people loved Audrie. She couldn't feel that, that terrible Monday night alone in her house. She couldn't feel her future. She couldn't feel the love.
Maybe her story will help. Maybe the next time a boy thinks about assaulting a girl, snapping a pic, and sharing it, he'll think twice about the girl behind the lens.
Janet Kornblum, a media trainer and longtime journalist, misses Audrie and sends her love to girls like her. You can reach out to her in all the usual ways, including email: janet@janetkornblum.com.
Photo via Audrie Pott Foundation