It's the best weekend of the year if you're into borrowed dresses and little gold statuettes named Oscar.
The Academy Awards ceremony takes place Sunday. All the bright and beautiful faces of the film industry—and Russell Crowe—will be on the red carpet.
Ahead of the festivities, we took a look at how the Best Picture nominees stack up against one another on the Web to get a measure of their popularity beyond the box office (where Lincoln, Django Unchained, and Les Misérables top the domestic charts).
Facebook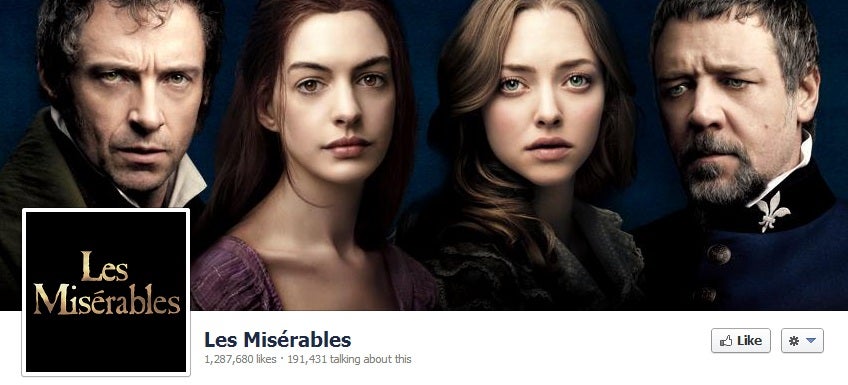 Amour: 18,831 likes
Argo: 220,090
Beasts of the Southern Wild: 56,974
Django Unchained: 865,256
Les Misérables: 1,287,022
Life of Pi: 560,523
Lincoln: 295,846
Silver Linings Playbook: 171,806
Zero Dark Thirty: 152,953
It's the musical that triumphs on Facebook, rising above runner-up Django like Anne Hathaway stretching to reach a high C. 
Twitter
Here's a peek at the number of followers on the official accounts for the nominees.
Amour: 648 followers
Argo: no official account
Beasts of the Southern Wild: 3,330
Django Unchained: 25,462
Les Misérables: 78,690
Life of Pi: 16,195
Lincoln: 9,204
Silver Linings Playbook: 11,777
Zero Dark Thirty: 4,889
Les Mis again punches out the competition. Michael Haneke's Amour has fewer than 1,000 followers, which is almost as sad as the film itself.
Meanwhile, Twitter, with the aid of Topsy, has been tracking sentiment (i.e. the degree of positivity) for Best Picture, Best Actress/Actor, and Best Director contenders. As of Thursday, Silver Linings Playbook is just edging out Argo when it comes to how much Twitter users like those films. Poor Zero Dark Thirty, though.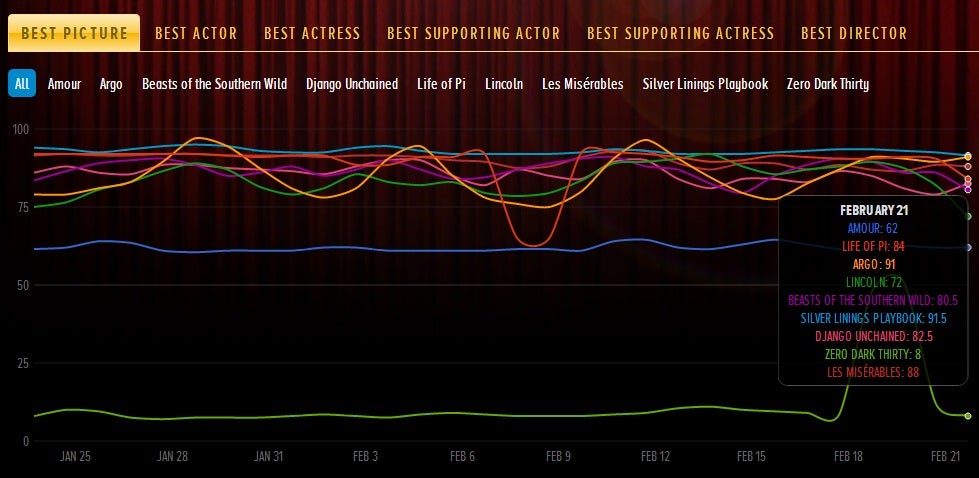 GetGlue
GetGlue is a community that allows fans to "check in" to what they're watching to let their friends know and earn neat stickers along the way. The site doesn't offer fully accurate stats for the number of check-ins in most topics; it counts by the thousand.
Amour: 9,951 check-ins
Argo: 77,000
Beasts of the Southern Wild: 22,000
Django Unchained: 100,000
Les Misérables: 199,000
Life of Pi: 65,000
Lincoln: 58,000
Silver Linings Playbook: 60,000
Zero Dark Thirty: 56,000
Tom Hooper's film once more soars like a Claude-Michel Schönberg ballad, taking almost double the number of check-ins of its nearest rival. 
Again, the low-key Amour can't compare to the bombast of high-profile flicks like Quentin Tarantino's Django.
IMDb
For each film, we've grabbed the user score and the number of votes received. IMDb scores are weighted averages to disregard anyone trying to game the system.
Amour: 8.0, 20,169 votes
Argo: 8.0, 117,560
Beasts of the Southern Wild: 7.4, 28,855
Django Unchained: 8.6, 215,316
Les Misérables: 7.9, 81,679
Life of Pi: 8.2, 108,841
Lincoln: 7.7, 60,829
Silver Linings Playbook: 8.0, 96,808
Zero Dark Thirty: 7.6, 56,830
Django is currently ranked in IMDb's Top 250 films of all time, in 41st place. Life of Pi is the only other Best Picture nominee from this year to make the cut, at 188th place.
Letterboxd
A hot new kid on the cinephile's Web block, Letterboxd is a social network for movie lovers, acting as a film journal, a (yet another) way to see what your friends are watching, and a place to share your opinions about what you've seen. Here's a look at how many Letterboxd users have seen the Best Picture nominees.
Amour: 2,330 people
Argo: 7,054
Beasts of the Southern Wild: 3,797
Django Unchained: 10,403
Les Misérables: 4,099
Life of Pi: 4,809
Lincoln: 4,005
Silver Linings Playbook: 5,887
Zero Dark Thirty: 4,827
It's little surprise that a Tarantino film sparked more curiosity among film buffs than the other candidates. 
YouTube
Perhaps the key measure of a film's popularity on the Web is trailer views. Movie trailers are perhaps the most effective way to get people interested in a film, as they boil the essence of the movie down to a couple of minutes (or at least try to).
To give a fair comparison of view counts, we've looked to distributor's official YouTube channels or the channel created to promote a film. Where a film has more than one distributor trailer, we've given the figure for the most-viewed one. We've also noted some view counts from other channels.
Amour: 23,676. A Movieclips version has 284,853 views.
Argo: 154,882. The FilmsActuTrailers upload has 3,900,184 views.
Beasts of the Southern Wild: 71,586. FilmTrailerZone's version has 1,216,534 views.
Django Unchained: 56,890. A trailer posted by JoBlo has 8,305,159 views.
Les Misérables: 13,266. On the film's channel, the same trailer has 1,146,185 views.
Life of Pi: 9,917,584. JoBlo has it at 6,042,882 views
Lincoln: 7,669,223 on the official lincolnmovie channel.
Silver Linings Playbook: 180,233. This one has 5,121,260.
Zero Dark Thirty: 1,686,231. JoBlo, the top result for the trailer on YouTube search, has 2,309,914 views.
Life of Pi and Lincoln run away with this one. The former certainly has more striking visuals than many of the other trailers, and it likely helps view counts that both of these have dedicated channels (which surely give them a bump in Google search results, too).
Meanwhile, we'll be around to livetweet and live-GIF the event on our Tumblr, so join us, won't you?
Photo by catmca/Flickr