After eight years, seven seasons, and two long years of waiting for a return, we are finally at the end of Game of Thrones. Cersei warned in season 1 that when you play this game, you win or you die—and boy, was she right.
Game of Thrones season 8 had multiple chances to be among the biggest events in TV history, starting with the premiere. Season 7 started with the most-watched season premiere of any HBO series to date, not including the 90 million times it was pirated. (*rings bell* "SHAME!")
Instead of illegally downloading, just watch the Game of Thrones season 8 premiere for free. We'll show you all the ways you can tune in without being a criminal, and answer some frequently asked questions below.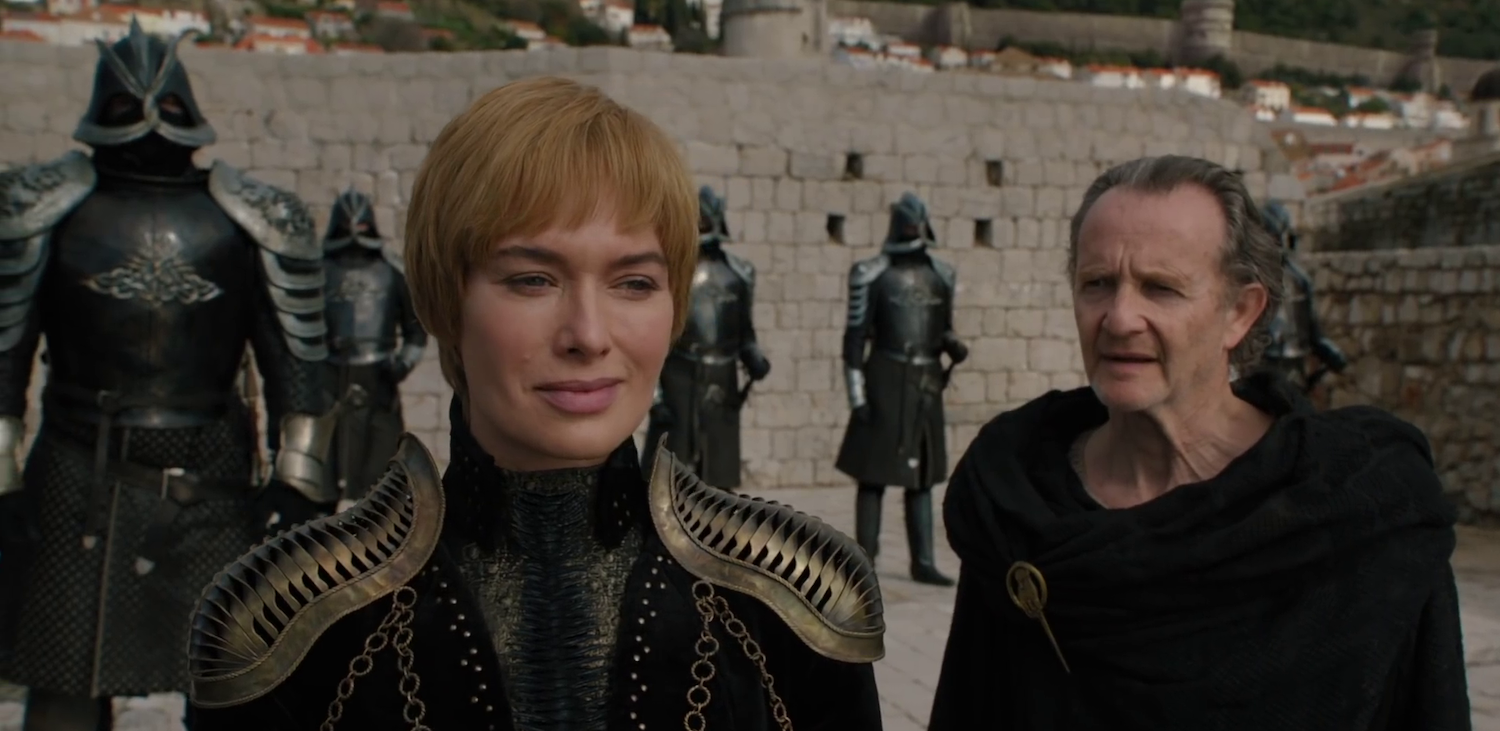 What channel is Game of Thrones on?
As always, Game of Thrones is available exclusively on HBO. So get ready for that pounding instrumental theme song to take its rightful place after HBO's static intro.
3 ways to watch Game of Thrones for free
How to watch Game of Thrones for free
Game of Thrones is only available on HBO. But there are plenty of options to access the premium cable channel for free. Each of these services offers a one-week trial so you can tune in live and avoid spoilers on social media.

Cost: $14.99 per month (after a 7-day free trial) for HBO | $119 per year for Prime
Devices:

Amazon Fire Stick, Fire TV, Fire tablets, and Fire phone; Roku, Google TV, TiVo, Nvidia Shield, PlayStation 3 and 4, Xbox One, Nintendo Wii
HBO is one of the best standalone channels available for purchase on Amazon Prime Video. If you're a Prime member, it's a convenient way to stream HBO hits like Veep, True Detective, and Game of Thrones. You'll have access to live streaming and on-demand, so you can catch up on old episodes if you need to rewatch.
---

Cost: $14.99 per month (after 7-day free trial)
Devices:

Amazon Fire TV, Fire TV Stick, and Fire TV Cube, Android TV, Apple TV, PlayStation 3 and PlayStation 4, Roku, Samsung Smart TV, Xbox One and Xbox 360.
If all you want is HBO, its proprietary on-demand service HBO Now will give you instant access to the channel's entire history of his shows, movies, and documentaries, along with the ability to live stream new shows and specials. You'll never run out of things to watch.
---

Cost: $5.99-$11.99 for Hulu or $54.99 per month (after a 7-day free trial) for Hulu with Live TV ($60.99 No Commercials) | $14.99 per month for HBO
Hulu devices: Roku, Apple TV, Google Chromecast, Amazon Fire Stick and Fire TV, Xbox One, Xbox 360, Nintendo Switch, and Samsung TV, LG TV, iOS and Android devices
Local channels: ABC, CBS, Fox, NBC, the CW (check your local availability here)
Adding HBO to your Hulu account is easy. If you're looking for an online cable package that comes with all that great Hulu on-demand content, Hulu with Live TV is a great offer at a great price. You'll have almost 60 channels to flip through, including HGTV, a full suite of ESPN channels, Cartoon Network, FX, and even deep cuts like Nat Geo Wild and Syfy. Whichever Hulu package you choose, adding HBO will cost $14.99 a month after your free trial expires. (Here's the complete list of Hulu Live TV channels.)
---
Game of Thrones recap before season 8
You can dive into our in-depth review of everything we know ahead of season 8, but here's the briefest possible version that will only make sense if you have watched up to season 7. Consider this your spoiler warning.
Jon Snow (The King in the North!) has made a formal alliance with queen Daenerys Targaryen and had sex with his aunt in a boat. Tyrion saw and is probably forcing Greyworm and Missandei to drink because of it. Varys is more concerned with Dany's Mad King vibes. Cersei Lannister remains on the Iron Throne and has no friends except Qyburn, Zombie Mountain, and Euron Greyjoy, who is bringing her an army and elephants. The Hound nearly confirms Cleganebowl is coming and could benefit from training with his new friend (and former enemy) Brienne. Jaime flees north to avoid baby mama drama.
*takes a giant breath*
Bran is a robot. Sansa and Arya are friends again. The Night King knocked down the wall with a zombie Viserion and somehow Tormund and Beric escaped an avalanche. Theon grew some…uh, courage and rallied the ironborn to go avenge his sister. Sam and Gilly are about to drop a genealogical bomb on Jon. Jorah got his skin back. Melisandre should be on her way back from Volantis to die. Gendry is probably still catching his breath from running. And we still don't know what Podrick did to those girls but that's probably why Bronn took him out of the dragon pit.
Regardless of where their alliances lie, everyone else is gearing up for several major battles. Or they're dead.
How to catch up on Game of Thrones episodes
Want to rewatch Game of Thrones episodes ahead of the final season? Your best bet is subscribing to HBO Now (covered above), but you can also buy old episodes.
Cost: $1.99

/episode, $19.99-24.99/season

Devices:

Amazon Fire Stick, Fire TV, Fire tablets, and Fire phone; Roku, Google TV, TiVo, Nvidia Shield, PlayStation 3 and 4, Xbox One, Nintendo Wii
Seasons 1-7 of Game of Thrones are available for purchase on Amazon Video starting at only $1.99 an episode or $19.99 a season.
---
Was Game of Thrones canceled?
Game of Thrones season 8 will be the final run for the series. All good things must come to an end, including the books that inspired the show.
Since season 6, Game of Thrones has outpaced A Song of Fire and Ice as George R.R. Martin is still racing to complete the sixth and seventh novels in the series. The show will air its final episode before Martin releases the highly anticipated Winds of Winter.
Fans of the books shouldn't fret about spoilers, though. In a Rolling Stone feature on Maisie Williams and Sophie Turner, Martin said, "The major points of the ending will be things I told them five or six years ago." The show has already diverged from the books over the years and the showrunners don't intend to share any details about the differences in season 8 once it's wrapped, according to Entertainment Weekly.
Game of Thrones cast
Peter Dinklage as Tyrion Lannister
Nikolaj Coster-Waldau as Jaime Lannister
Lena Headey as Cersei Lannister
Emilia Clarke as Daenerys Targaryen
Kit Harington as Jon Snow
Liam Cunningham as Davos Seaworth
Sophie Turner as Sansa Stark
Maisie Williams as Arya Stark
Alfie Allen as Theon Greyjoy
Nathalie Emmanuel as Missandei
Gwendoline Christie as Brienne of Tarth
John Bradley as Samwell Tarly
Isaac Hempstead Wright as Bran Stark
Rory McCann as Sandor "The Hound" Clegane
Conleth Hill as Varys
Carice van Houten as Melisandre
Kristofer Hivju as Tormund Giantsbane
Hannah Murray as Gilly
Jerome Flynn as Bronn
Joe Dempsie as Gendry
Iain Glen as Jorah Mormont
The Daily Dot may receive a payment in connection with purchases of products or services featured in this article. Click here to learn more.