After two years of untimely injuries and then watching Nick Foles save back-to-back seasons, the Eagles are all in with starting quarterback Carson Wentz. Philadelphia gave him a $128 million contract extension in the offseason, and the team said goodbye to Foles, who took over for an injured Wentz in both 2017 and 2018 and led them to the playoffs (and a Super Bowl win during the 2017 season). The Eagles preseason game vs. the Jaguars, which you can stream for free on NFL Game Pass on Thursday night, could be another chance for Wentz to get ready for a season where he won't have an experienced backup waiting in the wings in case he suffers yet another injury (or he might not play at all).
The Jaguars, meanwhile, are watching as Foles tries to elevate himself into the kind of starting quarterback that can last an entire season and still lead his team to the postseason. Foles—who signed an $88 million deal in the offseason with Jacksonville after walking away from Philadelphia—isn't expected to play Thursday, though, so there won't be any kind of Wentz vs. Foles drama.
Still, there's a game to be played. Here's everything you need to know to find an Eagles vs. Jaguars live stream.
Philadelphia Eagles vs. Jacksonville Jaguars
How to watch the Eagles vs Jaguars online
This game isn't available for national TV consumption via NFL Network, but if you need to watch a broadcast and you're not currently in either the Philadelphia or Jacksonville TV markets, the solution to streaming this game is NFL Game Pass.
The NFL Game Pass is a great value for NFL fans. It streams each out-of-market preseason game, and fans can watch and replay all NFL football games, full broadcasts, and condensed recaps 45 minutes after a regular-season game airs. You can also choose to watch the game like a ref with end-zone viewpoints or listen to the broadcast of your local radio team. The NFL Game Pass is subscription-based—it costs $99.99 for the entire season, and the annual subscription doesn't run out until July 31, 2020—but fans can get a free, seven-day trial to start just in time for the Eagles vs. Jaguars game.
NFL Game Pass also allows subscribers access to original NFL shows, including Hard Knocks, A Football Life, and Mic'd Up.
You can stream NFL Game Pass via Xbox, Amazon Fire TV, Apple TV, PS4, Roku, Android TV, iOS and Android devices, and Google Chromecast.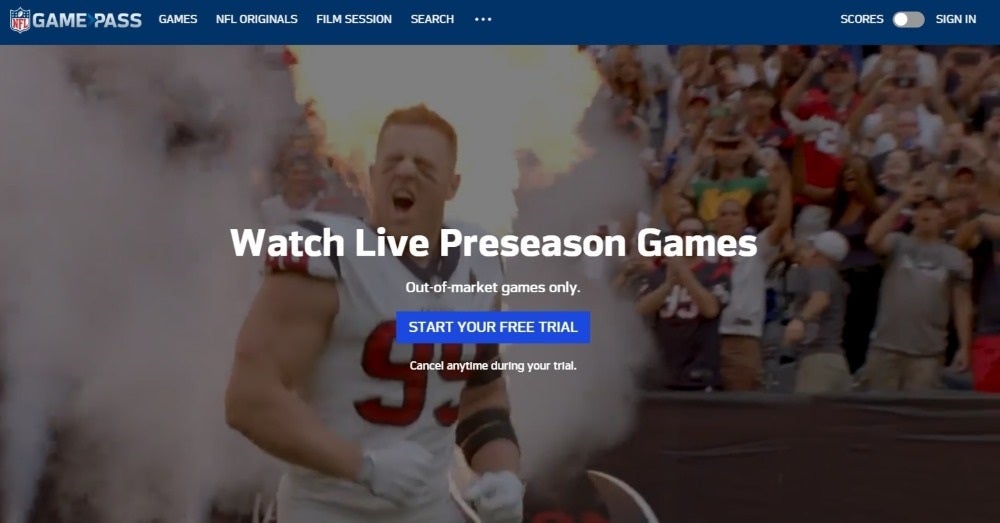 Eagles vs. Jaguars: Why it matters
Though it seems as if Jaguars coach Doug Marrone isn't keen on starting Foles and though Wentz probably won't play for the Eagles, there are still plenty of reasons to watch the exhibition.
The Eagles are coming off a 17-point drubbing by the Titans in the first preseason game, and they'll likely start Cody Kessler at quarterback in Wentz's place. One potential standout to watch is running back Miles Sanders, the second-round draft pick. He didn't get much playing time in the first exhibition game, but expect him to compete with Jordan Howard for reps in the regular season.
"That boy is a beast, man. You're going to see. Oooh, I like him," defensive end Brandon Graham told ESPN earlier this month.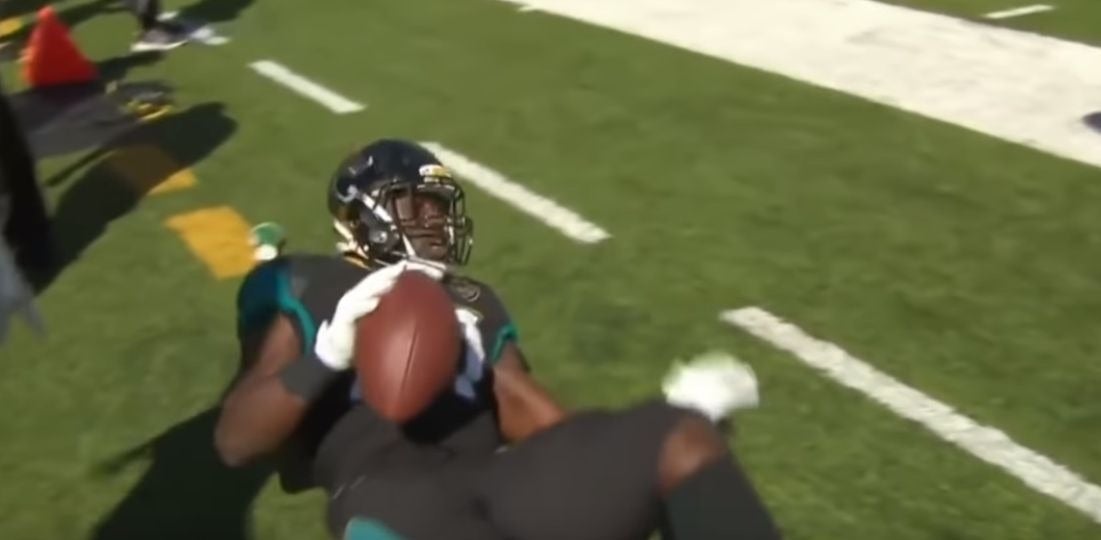 For the Jaguars, they'll probably take a long look at quarterback Gardner Minshew II, the team's sixth-round pick in this year's NFL Draft. Marrone talked this week about how Minshew has had good weeks of practice but that he needs to perform the same way during an actual game. The same, of course, could be said of most of Jacksonville's squad, which is coming off a 5-11 season but which is expected by many observers to make strides in 2019. Still, don't expect to see many of Jacksonville's starters on the field on Thursday. It sounds like Marrone is saving them all for next week.
"I [thought] this is good for our players and I think that I will take a good look at it after the day and probably not play some of the players [on Thursday]," Marrone told said the media Tuesday. "We will play [our starters] the third preseason game and the reason why, just so I'm clear on that, is because in the third preseason game, this is exactly what we do. We're going to do the exact schedule that we do during the year."
Either way, a game will be played between the Eagles and the Jaguars on Thursday. You just might not recognize very many of the people who will actually be playing.
For a year-round sports fix, sign up here to receive our weekly boxing newsletter. You'll hear about all the biggest fights and best knockouts from the Daily Dot's streaming sports guru Josh Katzowitz.
The Daily Dot may receive a payment in connection with purchases of products or services featured in this article. Click here to learn more.