With fan conventions getting canceled left and right due to the COVID-19 pandemic, Warner Bros. is taking its celebration of the DC universe online.
On Tuesday, Warner Bros. revealed that it's hosting DC FanDome, a 24-hour virtual fan convention on Aug. 22 that's aimed to "celebrate DC's past, present and future" all in one place. The event, which is free and doesn't require a badge, will start at 10am PT.
DC FanDome is essentially a one-stop location where a smorgasbord of DC properties—films, TV shows, video games, and comics are all set to be featured—as well as many of the casts and creative minds behind those properties are set to be featured. Among those making an appearance? Wonder Woman 1984 (which has been pushed back to an October 2020 theatrical release), The Batman, Superman & Lois, the SynderCut of Justice League, Harley Quinn, and Watchmen. There are also more localized elements to the event; much of the programming will be available in several languages including English, Spanish, French, Brazilian Portuguese, Chinese, German, Italian, Japanese, and Korean.
"There is no fan like a DC fan," Ann Sarnoff, Warner Bros.' Chair and Chief Executive Officer, said in a statement. "For more than 85 years, the world has turned to DC's inspiring heroes and stories to lift us up and entertain us, and this massive, immersive digital event will give everyone new ways to personalize their journey through the DC Universe without lines, without tickets and without boundaries. With DC FanDome, we're able to give fans from around the world an exciting and unparalleled way to connect with all their favorite DC characters, as well as the incredible talent who bring them to life on the page and screen."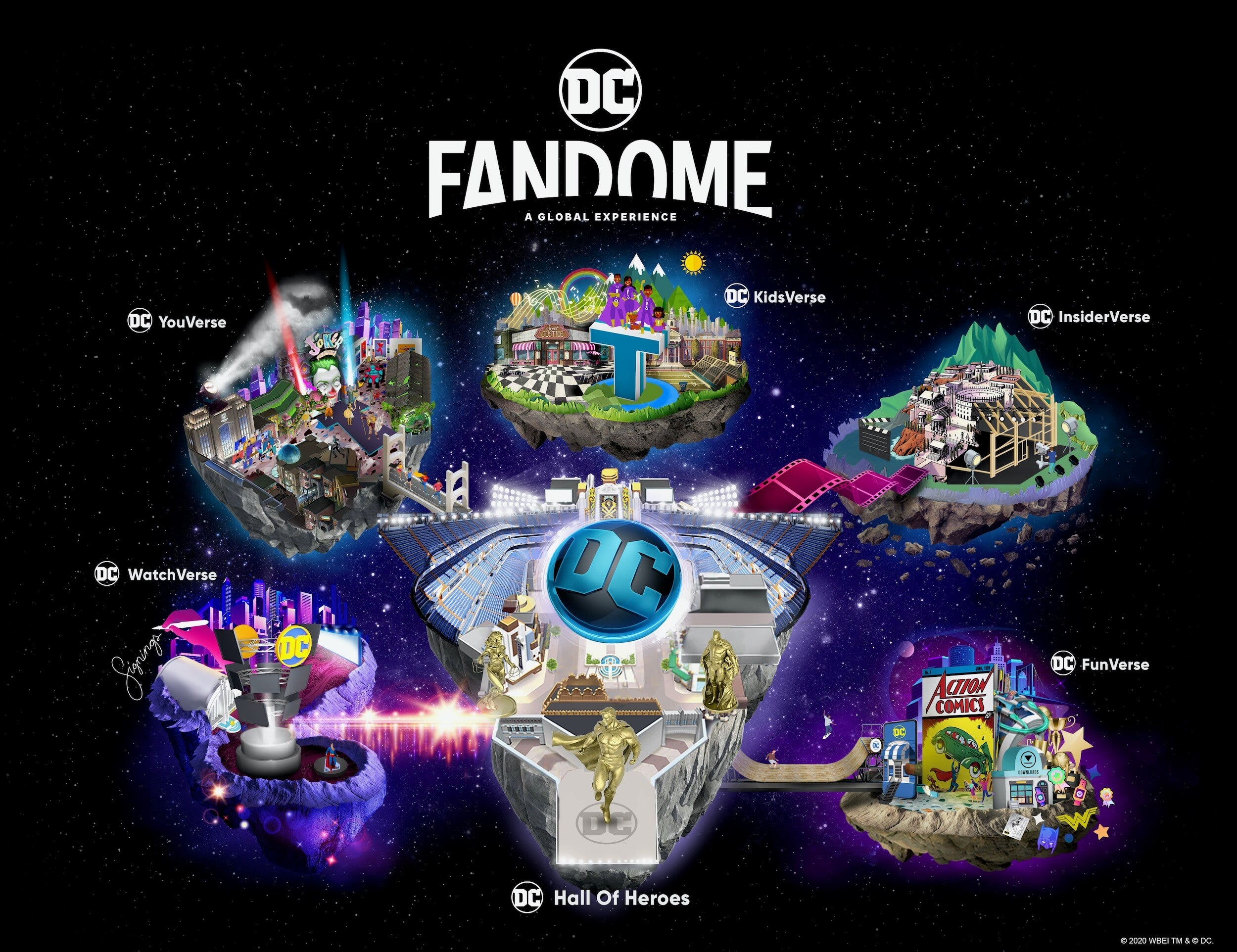 The DC FanDome isn't just a 24-hour livestream of major panels and screenings. It's just one of the locations called the DC WatchVerse. Other rooms include YouVerse (which celebrates cosplay and fanart), KidsVerse (more family-friendly content), InsiderVerse (an introduction to DC's expansive world), and FunVerse (where you can purchase merch, read comics, and access kits). The Blerd & Boujee House, which celebrates Black nerd culture, also promises to bring a good time.
Warner Bros.' plans for an all-day DC celebration are certainly ambitious, and a lot of the event's success will depend on whether it can physically keep the connection between fans all over the world going. But, presuming that at least some of what we're seeing is what we would've otherwise gotten previews of at in-person conventions, it's a good start to making a lot of it more accessible to everyone.