W. Kamau Bell wants you to know the president is certifiably racist.
"100 percent. It's provable," he states in his new one-hour Netflix standup special, Private School Negro. In an era where the media still struggles with criticizing President Donald Trump, comedian Bell has no problem choosing his words, and it's refreshing to hear someone in the entertainment industry not dance around the themes being played out in the headlines daily. That the current regime wheels and deals in racial tension (and that it should be a topic on the tip of everyone's tongue) is a given to Bell—who uses that friction as a foundation to explore topics like Blackness, fatherhood, and what it's like to be expecting a third child in the current political climate.
When he's not performing standup, Bell hosts a CNN show called United Shades Of America, so he's used to working a sociopolitical angle into his comedy. But with Private School Negro, you get the feeling he's enjoying the opportunity to blow off a little steam.
"Jeff Sessions was once found to be too racist to be a judge," he relays calmly in one joke. Then, in one seamless motion, he lowers his microphone to shout the punchline: "IN ALABAMA." Sometimes, to Bell, the plain facts are absurd enough to be funny on their own—and with his deft storytelling and acute sensitivity to what's on people's minds in 2018, he helps channel that absurdity into a thoughtful consideration of where we go from here instead of just plain anger.
As a self-identified "heterosexual, cisgendered dad-man," Bell shares his concerns about raising his two (soon to be three) biracial daughters in the current cultural climate.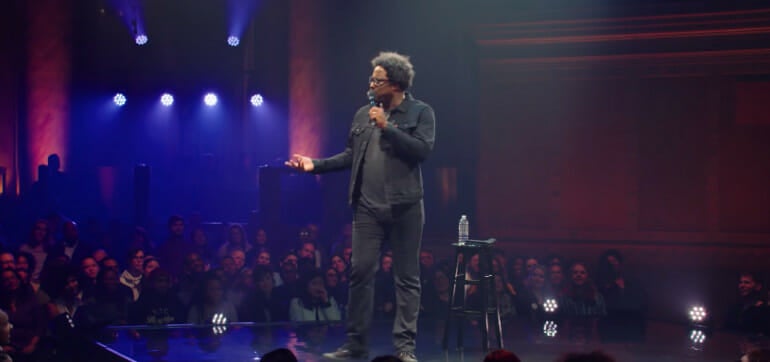 "I got a hashtag woke white wife," Bell jokes. "But it's hard. I try to watch the news, I try to stay informed, but the news is not always appropriate for kids these days."
On the one hand, American media is more diverse than it's ever been. Bell revels in the fact that thanks to shows like Doc McStuffins, his kids associate being a doctor with being a Black woman. But on the other hand, his 6-year-old also knows that the people yelling on TV are still trying to figure out "how Donald Trump became president," and that worries him. What messages are his children absorbing about their identities, and what they're capable of, through osmosis with all of the news out there? And how can he, as just one person, protect his kids from the pain of not always fitting neatly into the categories that rhetoric perpetuates?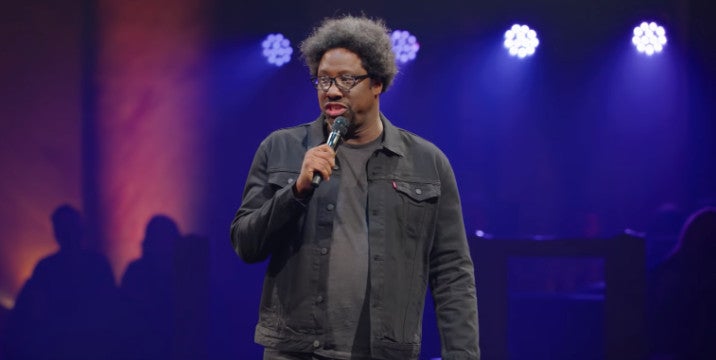 Ultimately the strength of Bell's comedy comes from his ability to draw so many groups of people together with his humor. At one point, during a story about a flight on a plane so small he wasn't allowed to carry his MacBook Air to his seat, he gets the audience to spontaneously break out in a sing-a-long of Don McClean's "American Pie."
In the hands of a lesser comedian an impromptu music break might feel hokey or staged, but coming from Bell it's something simpler—a welcome reminder that it doesn't take very much for us all to get on the same page.
Still not sure what to watch on Netflix? Here are our guides for the absolute best movies on Netflix, must-see Netflix original series and movies, and the comedy specials guaranteed to make you laugh.