Let's face it: The weather in Britain is boring. It's cloudy. It's wet. It's not really doing much.
Anybody who talks about it is obviously on their last conversational legs. It's really just something that you want to avoid at all costs.
Unless, of course, you're the individual behind the Twitter account for Surrey's police department in Southeast England. Then, talking about the weather is fun.
We say this because of three tweets sent Tuesday morning that foretold some inclimate weather conditions in a very unique method of phrasing, one that threw a nod to Vanilla Ice, that legend of bad rap songs from the 1980s and that second Teenage Mutant Ninja Turtles flick.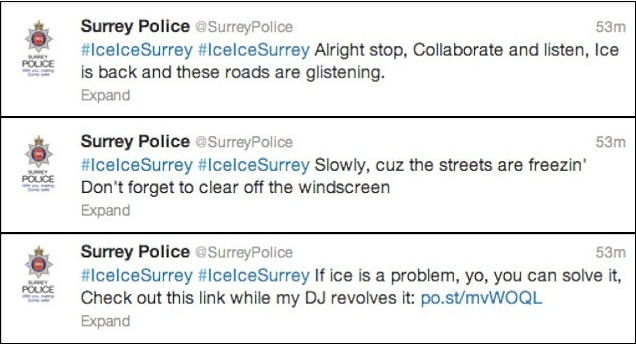 Get it? It was really icy out in Surrey on Tuesday!
To be honest, operation #IceIceSurrey is hardly the full extent of this mysterious tweeter's outstanding personality. The @SurreyPolice account is chock full of alternative methods of public relations, from broadcasting arrest reports to the tune of "Deck the Halls" to casting double entendres about robberies that pertain to stolen caffeine.
No wonder the account has managed to accumulate more than 18,000 followers. Alright, enough talk. Stop, collaborate, and listen:
Photo via Vanilla Ice Real Estate/Facebook