Vanderpump Rules has managed to become one of the most beloved—or reviled, depending where on the reality television spectrum you fall—shows in recent history. Once a mere spin-off of the Real Housewives of Beverly Hills, today VPR stands on its own merits, those merits being tequila shots, screaming in alleyways, love triangles, Taco Bell, fluid friendships, and a very flexible definition of feminism. Now the cast is back for season 8, and we'll be doing weekly Vanderpump Rules recaps.
Our recaps will give you the need-to-know details and rehash relevant backstories so you'll leave with an intimate knowledge of our SURvers' neverending saga. Oh, and there will be GIFs. See You Next Tuesday!
Vanderpump Rules recap, season 8, episode 17: Til Death Not Do Us Part
Right away, Stassi apologies to Beau for her rage-fest the night before. That's a theme this season: Fights that are propped up as relationship-altering, that have the potential to run the course of episodes… are immediately squashed within the first few moments. And the plot continues. Never thickens.
But even my hardened heart is OK with that this time because Stassi and Beau are engaged! I had my doubts that this proposal would actually be a surprise for Stassi, that she didn't have a hand in planning the whole thing for television, but it was clearly a shock to her. And I cannot lie, I think I loved it because I had the same reaction: "Are you fucking serious?" These two are the real deal, and Beau's incredibly genuine speech lacked the "I'm on TV!" showmanship that, ahem, other Vanderpump proposals have had. I knew this was the real deal when Lisa offered Stassi, who was dressed very casually, a dress from her own wardrobe to change into for the party, and Stassi deferred, saying she didn't even care. I swear to you, quarantine has changed me in very unexpected ways.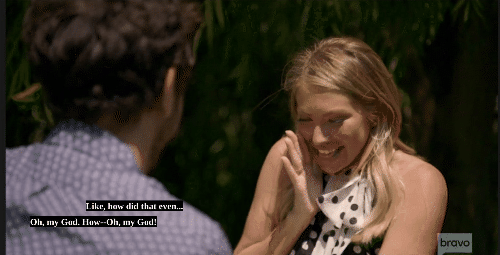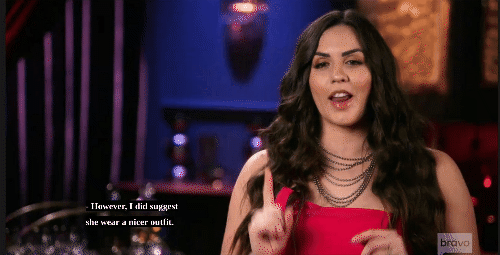 The conflict, of course, is that there is an engagement party at Lisa Vanderpump's house with all of Stassi's and Beau's friends… except Kristen… whose ex, Carter (the source of so much of her fighting with Kristen and Katie) texts Beau about how Kristen is why he and Stassi even met, and she delights in this. Girl, you are not helping your cause! That is not the route to take with your friend who is reveling in her engagement! The only recourse you have is to take yourself out of it entirely and congratulate your very happy friend, not guilt her into submitting to your friendship!
(It is a bummer to see Stassi getting excited about her wedding in Italy, which is currently set for October but… it remains to be seen what will happen, given the state of COVID-19 in the country.)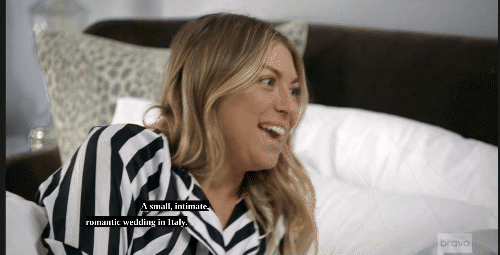 At the party, Lisa showers the newly engaged couple with attention, and food, and flowers… it's over the top. And Brittany, who Jax proposed to at a fried fish restaurant and had an after-party at her apartment, notices. The first half of the season was all about Brittany and Jax's wedding, and now, that's over, the attention is moving along, and I don't know, call me crazy, but I don't think they're going to love that! Later, the couple head to Kristen's to… mow her lawn. There are few things that can endear Jax to me, but seeing the level of suburban he's become is intensely gratifying for some reason.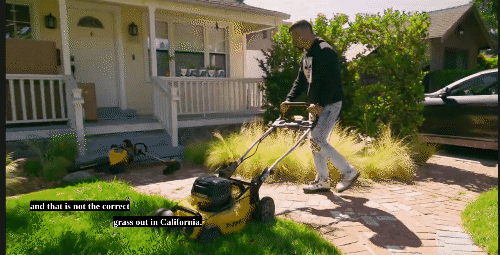 And I have to admit, the dude knows a lot about grass. Does something happen to men when they buy a home where they suddenly care about lawns? They reveal to Kristen the text Carter sent Beau and Stassi and Kristen "swoons." Wrong reaction but OK. Also, the editors have it out for Kristen this season what with the "I cry at home with my dogs" bits; this time, she says it's so bad she sends the dogs away so they don't have to see her cry. Bleak.
The other half of this episode is dedicated to the SUR versus Tom Tom softball game. Scheana, Charli, and Raquel, are the star athletes, a character break I love! It is all a very fun and good time that I can relay to you in three images:
Raquel defies Jax and ballerina jumps (I'm sure there's a real word for that) her way to first base.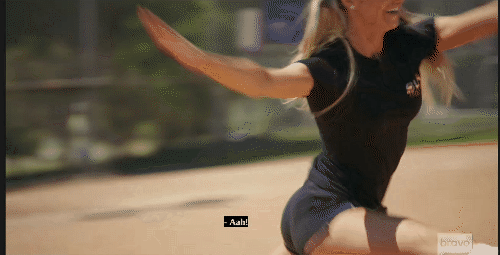 Charli quips about her competitiveness in the best confessional take I've ever seen. The amount of self-awareness she has is unprecedented for this show. She is in on the joke, people!
Scheana's great aunt was on the team that inspired A League Of Their Own.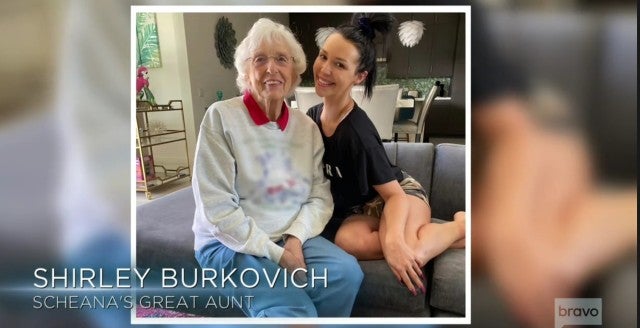 I'm so happy to say I initially misjudged Charli. In other big news, she revealed she finally tried pasta! At Olive Garden! Pasta from Olive Garden, cheesecake from the Cheesecake Factory, call Bon Apetit, we've got a new L.A. food critic on our hands!
At the game, James also apologies to Katie, for the, oh I don't know, 700th time. I don't want to feel duped by James (again) and I don't want to pointlessly root for him (again), but it feels real? He might actually be trying to, you know, not be a human version of a Reddit troll to the women in his social circle. That's a hard flaw to break and if he actually can, well, then that's the most growth we'll have witnessed from any VPR castmate. And isn't that what this show is all about?! Right, no, it's not… silver lining, I guess!
READ MORE: