True crime podcast Up and Vanished may have wrapped up its second season this week, but show host Payne Lindsey will hardly have time to breathe this holiday season.
Riding on the success of the first seasons of both his true crime podcasts—Up and Vanished and Atlanta Monster, which cumulatively amassed 250 million downloads– the Atlanta-based director and filmmaker has been hard at work, tackling both new and old cold cases.
Since August, Lindsey immersed himself in the second season of Up and Vanished which brought him to the spiritual town Crestone, Colorado, to find out what happened to Kristal Anne Reisinger, a former Denver resident and young mother who moved to the small town of 150 people seeking religious enlightenment, and disappeared a month later in July 2016.
Season 2 wrapped up on Monday and felt a whole lot less conclusive than the first season, which centered around the 11-year-old murder of Tara Grinstead, a school teacher from Ocilla, Georgia, and led to the arrest of two men awaiting trial. But for Reisinger's case, fans may have been disappointed to hear that investigators don't feel closer to finding her.
At the end of the season finale, Lindsey remained steadfast in his belief that there's been progress in her case and that it's only a matter of time before the truth reveals itself. Lindsey suspects a group of local men, including drug addict Catfish, are responsible for Reisinger's disappearance and voiced frustration that the locals don't want to talk unless they get paid.
"Just because this podcast season is over, doesn't mean that I'm done with this case," Lindsey said. "We did our best to shake the trees, and it's time to let the dust settle."
Lindsey put that promise into action the same day as the finale, when Tenderfoot TV launched a GoFundMe for Akasha, Reisinger's 5-year-old daughter, in hopes to improve her quality of life. The GoFundMe has raised over $7,000 of it's $30,000 goal since Monday, with $5,000 coming from Lindsey himself.  
https://t.co/UWYGlEciap pic.twitter.com/8gREgvPa0E

— Payne Lindsey (@paynelindsey) November 27, 2018
But the work Lindsey began in 2016 to solve the Grinstead case continues. For the first time, Tenderfoot TV made the jump into TV with the first episode airing on Oxygen on Nov. 18. The TV special picked up where season 1 left off and interviewed key individuals related to the case, including the accused Ryan Duke's best friend, and reexamined evidence.
"It's definitely been a busy week to say the least, but we're very excited that our pilot episode for the Up and Vanished series aired on Oxygen and so far we're pretty pleased with the feedback," Lindsey says.
Lindsey is also working on the follow-up season to Atlanta Monster, which explored the Atlanta child murders from 1979-1981, in which 28 Black children were murdered in Atlanta. In the second season—which he plans to air on Jan. 3—Lindsey and his business partner Donald Albright will tackle San Francisco's infamous Zodiac Killer.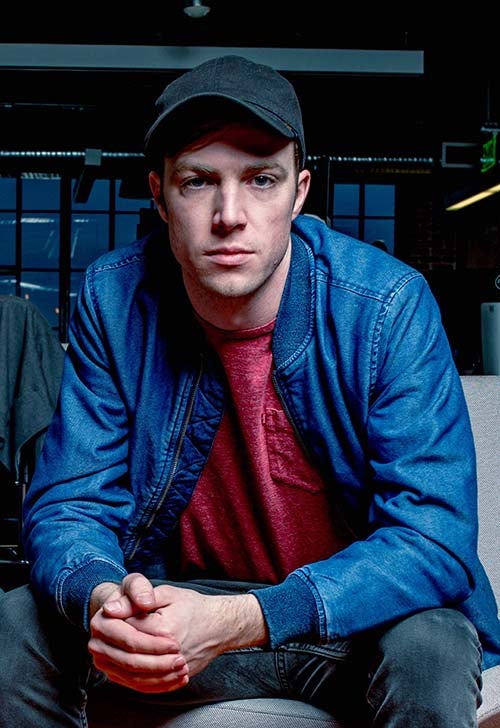 While listeners may worry that Lindsey is stretching himself too thin or not dedicating enough time to any single case, Lindsey said he has achieved the main goal he set out to accomplish through his podcasts.
"My only goal early on was to tell a story to the best of my ability," Lindsey said. "I didn't really know exactly what it would entail or what I was getting myself into but I wanted to dig deep, find some new information, and tell a compelling story that engaged listeners, and made them want to tune in week to week to see what was going to happen next."
The key to a more compelling true crime podcast, according to Lindsey, is the ability to branch out from the murder mystery and look at the story through a cultural lens.
"To me, the best true crime stories are the ones that don't necessarily fall entirely in the true crime category," Lindsey said. "They might be centered around some sort of tragedy or unresolved mystery or a retelling of something but it's always layered with really engaging stories and people and different issues that make a difference. They're not just about a murder."
This type of cultural reporting was used during the production of Atlanta Monster earlier this year and Lindsey said he plans to lean into it again as they explore the Zodiac Killer case in 2019.
"Historically speaking there's so much to go over and this really did affect more than the town of Vallejo; it affected the whole country," Lindsey says. "Capturing that part of the story is really important to us and to broaden it into an even bigger story about America and how this shaped the country in many ways and just the idea of a serial killer."
But Lindsey stresses that at the end of the day, it is not his job to solve anything. He just wants to remind you.
"If anything, I can expose some things—I can expose the truth—but at the end of the day I can't put the cuffs on them and I don't want to," he said. "It's not my job."
READ MORE: