Every day, the Daily Dot finds something that people on Facebook are sharing and, in turn, shares it with you—with a little explanation. Here's today's share.
We all know what unites America. It's movies, right?
A map that replaces every state with the title of a film that was set there is gaining fresh legs on Facebook.
For cinephiles, some of these titles will be forever intertwined with the state where they're set, such as Field of Dreams with Iowa and The Wizard of Oz in Kansas.
A few others are less obvious, like The Evil Dead in Tennessee and MIssouri's Road House.
Though this is much more aesthetically pleasing, the map isn't a new idea. It goes back at least to 2010, when a graphically simpler version was apparently created by a redditor named subtonix.
The day before, subtonix started a Reddit thread to crowdsource ideas for his map, asking users to name their home state and the movie that best represents it. "For me: New Jersey – Clerks," he wrote.
The United States of movies map was much more successful than the one subtonix made a few weeks later, based on worldwide stereotypes.
In it, middle America is renamed "Jesus and Meth." China is "Cheap Shit and Oppression." Canada is "Drunks and Nothing."
"I hope it is offensive to every single one of you," he wrote.
Probably no one will take as much offense as Hawai'ians or Alaskans. Their states didn't make any of these maps.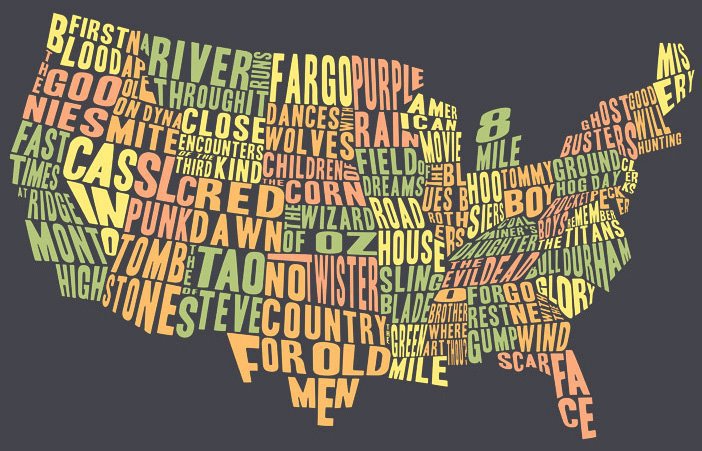 Photo via Facebook