Ever since Hollywood talent agency WME-IMG purchased the UFC for $4 billion in 2017, there's been a noticeable tension in the way the promotion is marketing itself—a philosophical push-and-pull between further legitimizing MMA as a mainstream sport on the one hand and turning it into pro wrestling with actual blood on the other. This tension was on full display last July when Daniel Cormier won the UFC heavyweight championship and instead of thanking the man he'd just knocked out, Stipe Miocic, or calling out a legitimate contender for his first defense, he pulled WWE superstar Brock Lesnar into the cage to challenge him.
Everyone watching knew that the moment was pure theater, and the two men made a meal of it, taunting each other and riling up the crowd like they were at WrestleMania, knowing how lucrative such a fight would be. Meanwhile, Miocic, who had ruled over the heavyweight division for two years, could only stand there and watch in silence as his hopes for an immediate rematch were dashed in the name of spectacle—the unwilling, broken-hearted straight man in an elaborate con.
So the fact that the rematch between Cormier (22-1-1 NC) and Miocic (18-3) fight is actually happening and the fight between Cormier and Lesnar is not is a giant victory for mixed martial arts and for those of us who can still see the decency in a cage fight. It means that the WME-era UFC still thinks of MMA as a sport first and entertainment second—that it has pulled back, for the moment at least, from the brink of WWE absurdity, and that Hollywood melodrama hasn't quite taken over the world of combat sports.
UFC 241: Cormier vs. Miocic
When: Saturday, Aug. 17 at 10pm ET
Where: Honda Center in Anaheim, California
Streaming: ESPN+
UFC 241 Main Event: Daniel Cormier vs. Stipe Miocic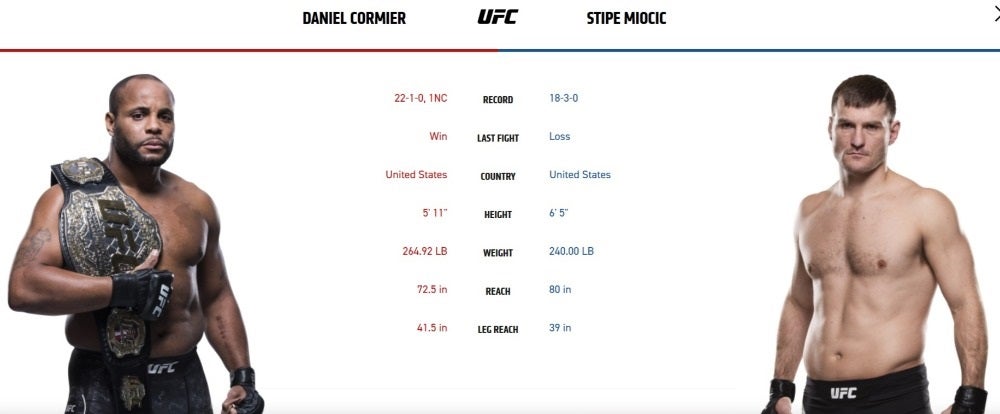 The first fight between Cormier and Miocic 13 months ago was a thing of beauty and intelligence realized by two great athletes, short but thrilling, with Cormier using his clinching and dirty-boxing skills to nullify Miocic's superior striking at distance and size advantage. Cormier prevailed that time by stopping Miocic in the first round. But no matter who walks away with the belt this time, a battle between Cormier and Miocic is a win for light over darkness and sport over marketing. Who knows how long it will last, but for one more night at least, being the heavyweight champion of the world will still mean something.
Anthony Pettis vs. Nate Diaz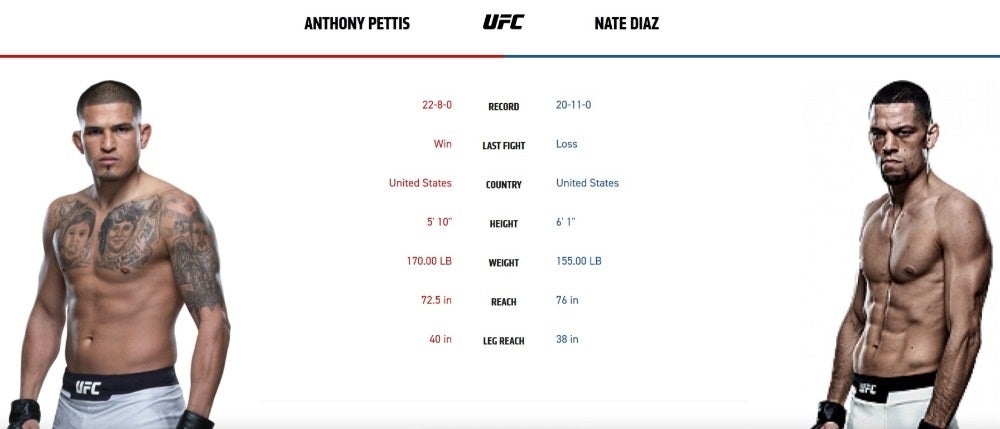 It's both a cliché and an act of high arrogance to say that if you're not looking forward to a particular match between fighter X and fighter Y, then you're not a real MMA fan. Mixed martial arts is a sport of multitudes, with enough techniques and approaches and personalities to satisfy all desires, from the love of a bloody brawl to affection for a high-level grappling chess match. It's generous in its contradictions and possibilities, and no fan gets to judge the way another finds meaning.
That being said: If you're not looking forward to this fight between Anthony Pettis and Nate Diaz, you're not a real MMA fan.
Consider: Pettis (22-8) and Diaz (19-11) are two of the best strikers MMA has ever seen—Pettis is a taekwondo master with imaginative, daring kicks, and Diaz is a boxer who overwhelms opponents with long, precise combinations. They're also blessed with brilliant grappling minds: Pettis submitted Brazilian jiu-jitsu master Charles Oliveira with a guillotine choke and Diaz blew up the entire MMA world by submitting Conor McGregor. Diaz trash-talks like a poet and has a bizarrely resilient chin, and Pettis has won more than one fight by leaping off the cage into the air. Both of them are genetically incapable of fighting boring, and Diaz is returning after three years as a grumbling millionaire-in-repose and Pettis was the first mixed martial artist on a Wheaties box, and they're both artists, and there is absolutely no way a fight between them could devolve into a wrestling match: Their consciences wouldn't allow it and neither would the Fates. The possibilities for this fight are endless, and the matchmaker who arranged it should have a statue erected in his honor.
Yoel Romero vs. Paulo Costa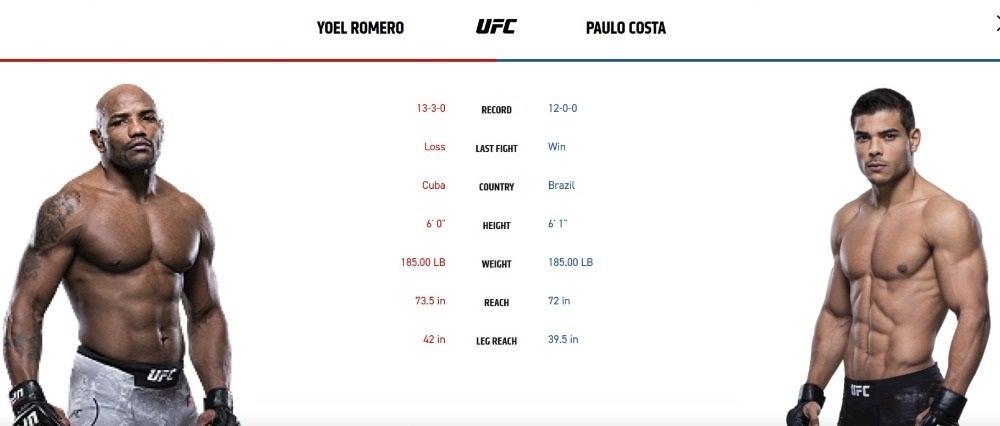 Consider this fight a battle between two "after" photos in a protein supplement ad. Yoel Romero and Paulo Costa are physical specimens that look like they were constructed in a lab or developed in a digital effects studio. With their chiseled abs and outsized pecs and round biceps, they inspire fear and awe even in other professional fighters, which is a rare thing and a great virtue in a cage. But there's a downside to looking like a superhero in a sport like MMA: People are always going to assume foul play. This is doubly true when you win every fight you've ever been in by stoppage, like Costa, or you fight with a kind of superhuman speed and explosiveness that should be impossible in a 42-year-old, like Romero.
Of course, some of the suspicions is warranted. Costa was forced to serve a six-month suspension in 2017 for receiving prohibited prefight intravenous infusions, and Romero once tested positive for a growth hormone. But, unlike Costa, Romero fought back, appealing his USADA suspension and suing the supplement company for failing to name the banned substance on their ingredients list. He won $27 million in damages, thereby clearing his name and filling his bank account forever. Why he still feels the need to fight with all that money, especially against a killer like Costa, is anyone's guess. But somehow it makes him even more terrifying than he already was.
Derek Brunson vs. Ian Heinisch

If, like many people, you view prizefighting through a Hollywood lens, then it will never be enough that a particular fighter is talented or disciplined or successful. You want to know that he pulled himself out of a pit and dragged himself into redemption against impossible odds. If this sounds like you, then look no further than UFC middleweight Ian Heinisch (13-1). When he was 19, the former high school wrestler got arrested for dealing ecstasy in a Walmart parking lot in Denver. Facing years in prison, Heinisch jumped bail and disappeared to Spain, where he was so poor he slept on a beach in the Canary Islands before falling in with the wrong people and once again getting busted, this time for transporting cocaine from Colombia. He spent over a year in prison before being sent home by the Spanish authorities, only to be immediately scooped up as a fugitive by the American authorities at JFK Airport and shipped off to Riker's Island, where he was nearly murdered by fellow prisoners before getting rescued at the last moment by a sympathetic judge.
Aware that he may be running out of lives, Heinisch started training in MMA and turned professional when he was 26. And somehow, just three years after starting his career, he won a UFC contract. From the depths to the heights in just 10 years. As a reward, or perhaps for his sins, Heinisch now has to fight Derek Brunson (19-7), who may not have anything like Heinisch's backstory but who has it all over him when it comes to cage experience. Brunson was fighting the best middleweights in the world when Heinisch was still swallowing 10-gram bags of cocaine and praying his way through airport security checkpoints in Tenerife.
Drakkar Klose vs. Christos Giagos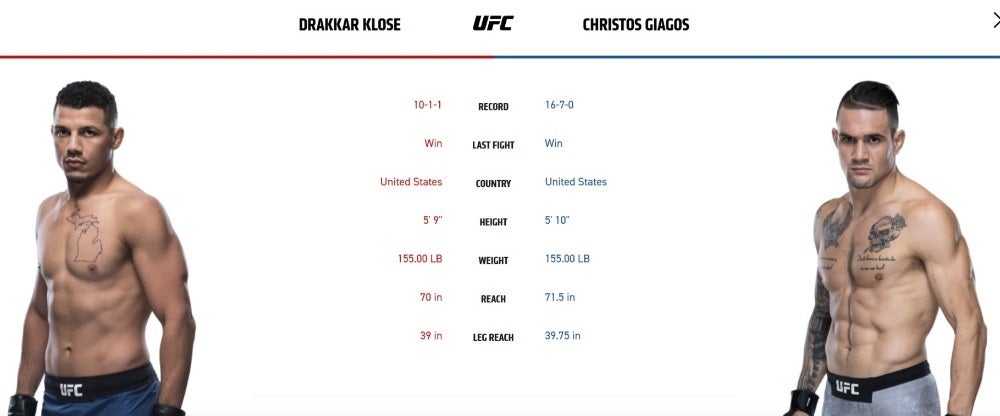 There are few professions more precarious than that of a UFC fighter. Those who make it to the promotion from the minor leagues may get more money and a shot at fame and life-changing success, but there will never be any guarantee of employment, only the moment-to-moment whims of President Dana White and other UFC executives. Which means many fighters enter the Octagon with the threat of not only physical catastrophe but career disaster hanging over their heads, making MMA even more of an existential threat than it already is.
The fight between Christos Giagos (17-7) and Drakkar Klose (10-1-1) will likely take place under this sword of Damocles. That Klose could be at risk of losing his place on the roster is evidence of White's distaste for fighters who win "boring." Klose is 4-1 in the UFC, but all five of those fights have ended in decisions, and White hates decisions. He sees them as a kind of moral failing, an affront to the gods of action and highlight reels and marketing. But while Klose will be fighting with the fear of the unknown, Giagos is all too familiar with the pain of losing a spot in the UFC, having been released by the promotion in 2015 after a short run and then slogging his way through the regional circuit for three years before making his way back. He's 2-1 since his return, but Giagos knows as well as anyone that when you're a UFC fighter, the wolf is always at the door.
UFC 241 poster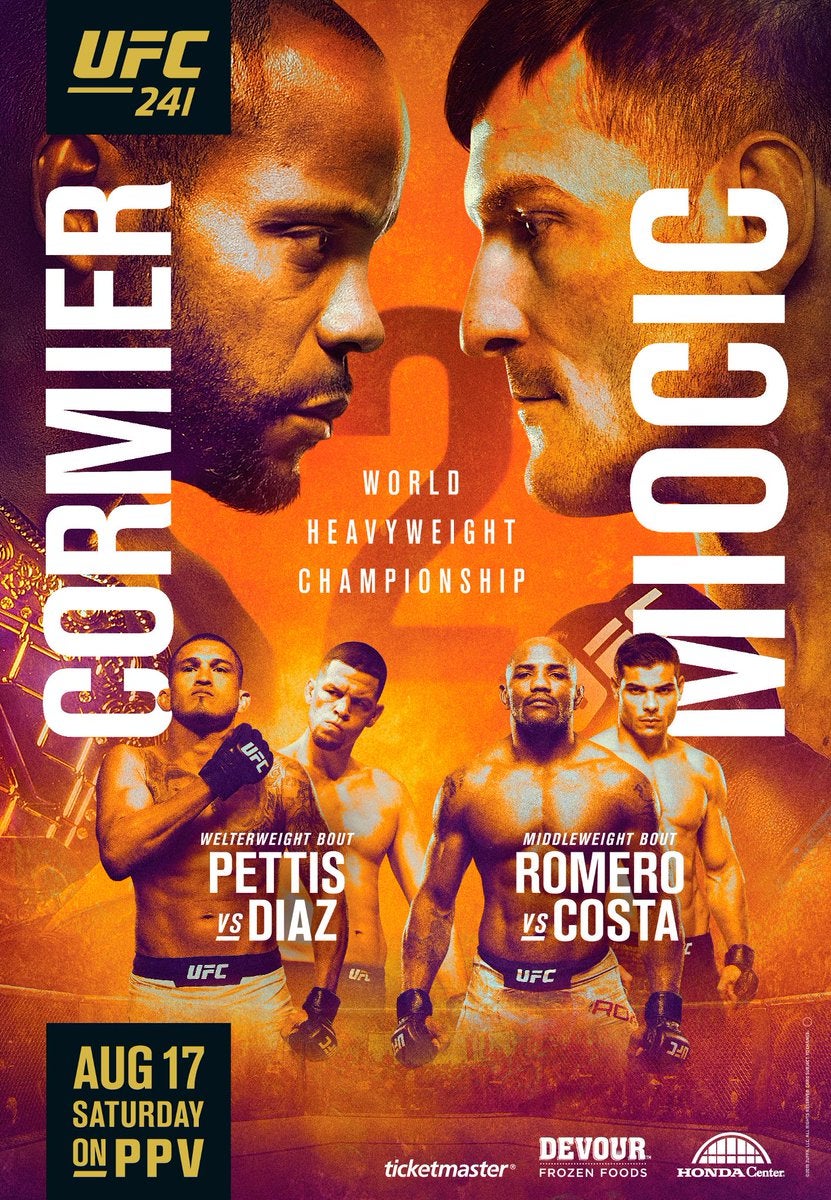 How to watch UFC 241 on ESPN+
Devices:

Chromecast,

Amazon Fire Stick

and

Fire TV

, Apple TV, Android TV, Roku players and TV, Oculus Go, Xbox One, PlayStation 4, Samsung smart TVs, and iOS and Android devices
There's only one way you can watch UFC 241: ESPN+. While the prelims will be split between ESPN and UFC Fight Pass, the main event will exclusively be broadcast on ESPN's subscription streaming service. The good news is that it's incredibly easy to use and works with pretty much every streaming device you might own.
There are two purchase options for UFC 241: You can pay $59.99 for that one PPV or you can get a full year of ESPN+ along with UFC 241 by paying $79.99. For UFC fans, you should really invest in the latter. ESPN+ now hosts 20 UFC Fight Nights per year, along with the exclusive series UFC Destined, Ariel & the Bad Guy, and Dana White's Contender Series.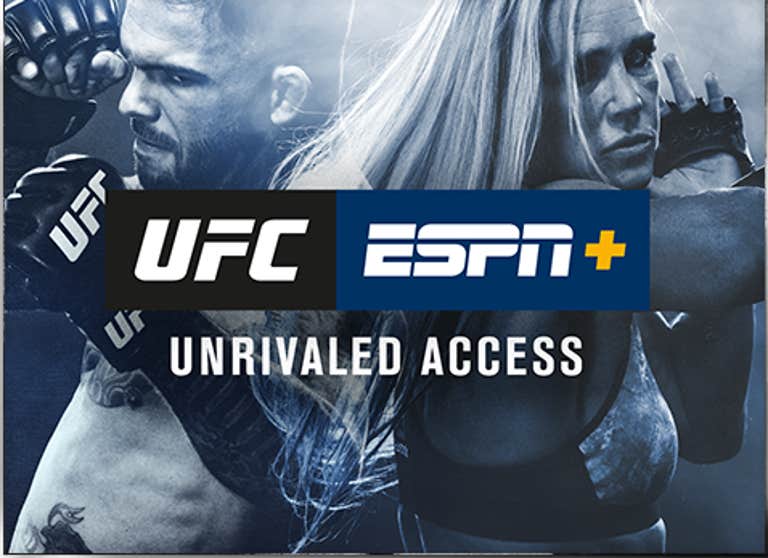 UFC 241 cost:
Need more convincing? ESPN+ also hosts Top Rank Boxing matches, daily MLB games, every out-0f-market MLS game, and loads of college football and basketball. You'll also be able to stream the complete 30 for 30 catalog on-demand.
UFC 241 fight card
Daniel Cormier vs. Stipe Miocic
Anthony Pettis vs. Nate Diaz
Yoel Romero vs. Paulo Costa
Derek Brunson vs. Ian Heinisch
Drakkar Klose vs. Christos Giagos
Raphael Assuncao vs. Cory Sandhagen
Poliana Botelho vs. Maryna Moroz
Manny Bermudez vs. Casey Kenney
Gabriel Benitez vs. Sodiq Yusuff
Devonte Smith vs. John Makdessi
Kyung Ho Kang vs. Brandon Davis
Hannah Cifers vs. Jodie Esquibel
Sabina Mazo vs. Shana Dobson
The Daily Dot may receive a payment in connection with purchases of products or services featured in this article. Click here to learn more.