The Champions League Draw is Soccer Christmas. It's the first chance for fans to see which eight groups the Champions League-qualifying teams will be drawn into—and therefore, which matchups they'll get to watch on Tuesdays and Wednesdays starting on Sept. 17. The eight Pot 1 teams are already decided, including defending champions Liverpool, Europa League-winners Chelsea, and top contenders Barcelona, Manchester City, Juventus, and Bayern Munich, but Thursday's Champions League draw will give us the whole picture as to who might advance to the knockout stages.
Here's everything you need to know in order to stream the UEFA Champions League draw live.
UEFA Champions League Draw
When: 12pm ET, Thursday, Aug. 29
Where: Grimaldi Forum, Monaco
Streaming: B/R Live, UEFA.com
2019-20 UEFA Champions League Draw live stream: Watch the Champions League Draw online
The draw is on B/R Live, which is home to Champions League action throughout the tournament. With its low monthly and annual subscription rate, it provides an easy way to stream the UEFA Champions League draw.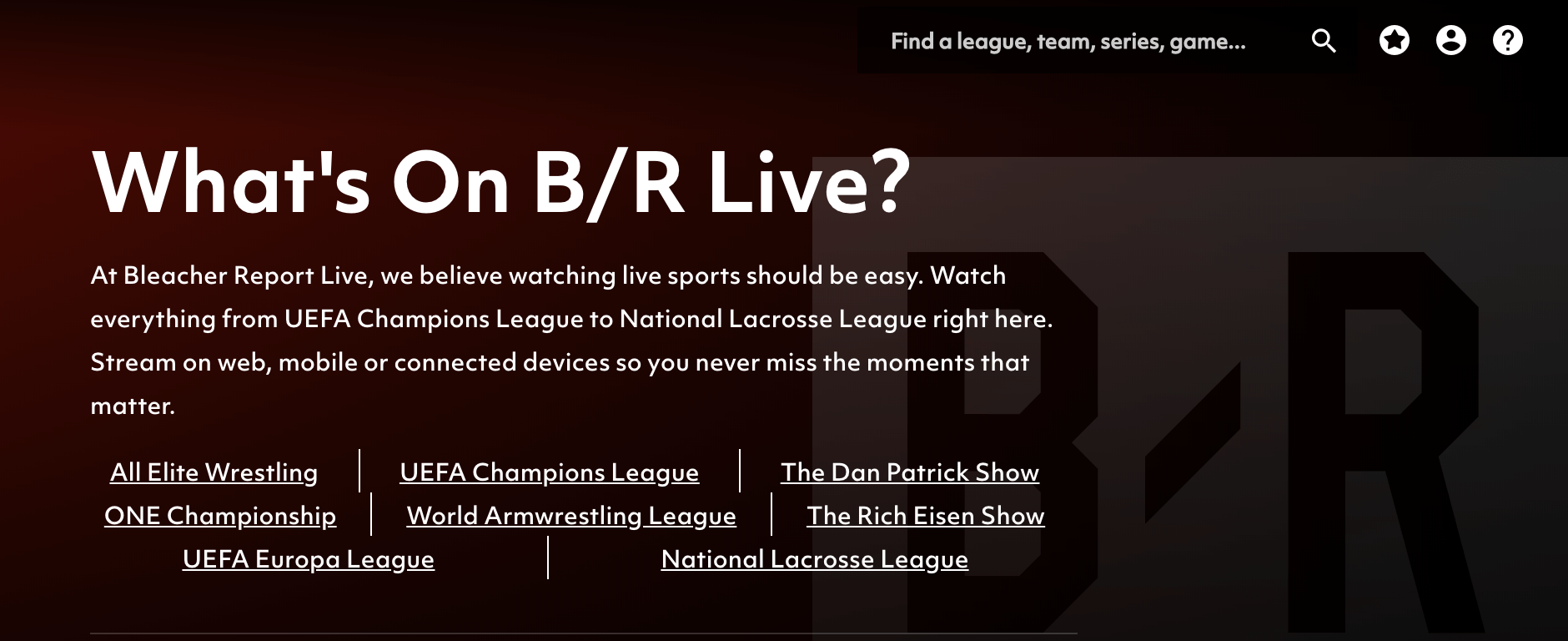 Cost: $9.99 per month or $79.99 for 12 months
Devices: Amazon Fire Stick and Fire TV, Apple TV, Android TV, Roku players and TV, and iOS and Android devices
B/R Live is a subscription service that is essential for soccer fans, as it carries all matches for the UEFA Champions League and UEFA Europa League. It also offers an array of other sports, including the National Lacrosse League, All Elite Wrestling, ONE Championship, and the World Armwrestling League. It also carries top sports talk, including The Dan Patrick Show and The Rich Eisen Show.
---
The Champions League Draw: Why it matters
It's a chance for fans to look into the future and project the fortunes of how their teams might do in the 32-team competition. In the Champions League group stage format, each team plays home and away matches against the other three teams in its group.
One team from each of four pots, determined by a formula attempting to rate each team's strength, will be drawn into each group. In the group stage, teams from the same domestic league can't play each other, so you won't see two Premier League teams or two La Liga teams in the same group.
After each team has played six matches and the dust settles, the first-place and second-place teams from each group advance to a 16-team knockout round. (And if you're a fan of the drama of a draw broadcast, you'll want to circle Dec. 16 on your calendar. That's when the Round of 16 matchups will be determined by lottery.)
Pot 1
Liverpool (England)
Chelsea (England)
Barcelona (Spain)
Manchester City (England)
Juventus (Italy)
Bayern Munich (Germany)
Paris Saint-Germain (France)
FC Zenit (Russia)
Pot 2
Real Madrid (Spain)
Atlético Madrid (Spain)
Borussia Dortmund (Germany)
Napoli (Italy)
Shakhtar Donetsk (Ukraine)
Tottenham Hotspur (England)
Benfica (Portugal)
Ajax (Netherlands)
Pot 3
Bayer Leverkusen (Germany)
Salzburg (Austria)
Olympiacos (Greece)
Valencia (Spain)
Inter Milan (Italy)
Dinamo Zagreb (Croatia)
Lyon (France)
Club Brugge (Belgium)
Pot 4
Genk (Belgium)
Galatasaray (Turkey)
RB Leipzig (Germany)
Red Star Belgrade (Serbia)
Atalanta (Italy)
Lille (France)
Lokomotiv Moscow (Russia)
Slavia Prague (Czech Republic)
The Daily Dot may receive a payment in connection with purchases of products or services featured in this article. Click here to learn more.