Twitter just doesn't learn, does it?
Two months after the company gave a parody account for Wendi Deng (Rupert Murdoch's wife) the prestigious verified status, the same thing happened with a parody account for retired National Football League quarterback Brett Favre.
While the Daily Dot has known for some time that brettfavre4 is an impostor, it seems fairly clear why Twitter verified the wrong account. The real Favre used to own the account before switching to the handle Favre4Official.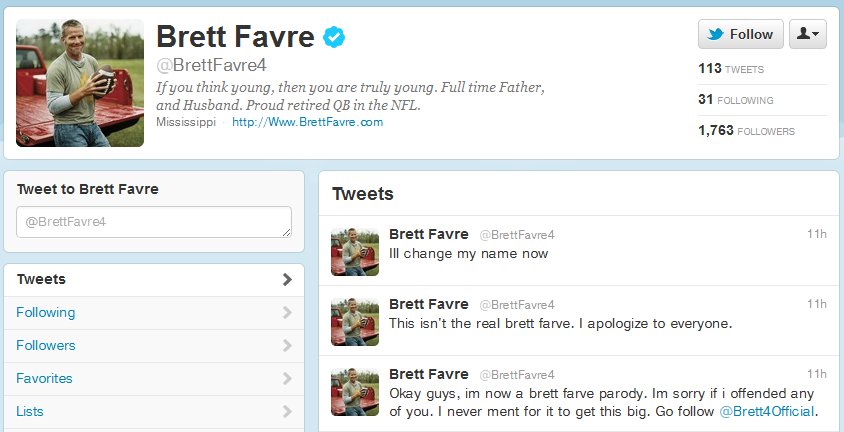 The person behind brettfavre4 admitted Thursday night that the jig was up and the account, with more than 1,700 followers, was not being run by the former Super Bowl champ. The admission tweet managed to get the real Favre's handle wrong, though.
We're trying to give Twitter the benefit of the doubt. It's fairly easy to assume @brettfavre4 was the real deal, especially given that a number of his tweets are just as boring as the real-life Favre. In fact, many wade into Normal Tweet Guy levels of tedium.
Twitter is cool with parody accounts, as long as they're clearly marked as such. @brettfavre4 wasn't, and the company fumbled, again.
Photo by kyleburning