Great comedy is all about timing. The wrong cadence or length of pause can kill good jokes faster than a cut-off microphone.
When it comes to Twitter parody accounts, it's all about being quick to the punch, staying in character, and having the perfect target.
We saw countless political parody accounts crop up this election season, many of which were created in reaction to something one of the people at the heart of the campaign said. Mitt Romney's pledge to cut PBS funding in the first debate brought about @FiredBigBird while his remark about having "binders full of women" led to @RomneysBinder. Barack Obama's line about there being fewer horses and bayonets had a similar effect. The list goes on.
There are countless others out there, from the surreal Nate Silver parody @FiveThirtyNate and the sublime @NotTildaSwindon to mashups like @50SoAndyGray (50 Shades of Grey and soccer commentator Andy Gray) and @PaulRyanGosling (former Republican vice-president candidate Paul Ryan and Hollywood heartthrob Ryan Gosling).
What separates a memorable parody account from all the others? We reached out to the people behind @InvisibleObama and @PaulRyanGosling for tips and tricks.
1) Be prepared
Inspiration can strike at any time, so it helps to be ready. Creating a Twitter account doesn't take very long, but you can jump ahead of the game by setting up a new account in advance.
First, head to Twitter.com, log out of your own account—if you have one—and go through the straightforward signup process. Pro tip: If you have a Gmail or Google Apps email account, you don't need a separate email address to verify your account. Simply add "+[text]" before the @ symbol, for example: [email protected]
It doesn't matter what you call your new Twitter account, and that's the beauty of preparing like this: You can change your @username at any time from your settings. When the time comes to start your parody, simply change the username, display name, bio and profile photo.
Ian Schafer created @InvisibleObama within five minutes of Clint Eastwood starting to interview an empty chair at the Republican National Convention. His account went on to snag more than 67,000 followers.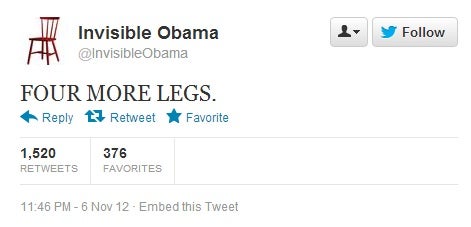 2) Get started
This is the trickiest part: knowing what is worth parodying. There's no magic secret. Just go with your gut. If you find something ridiculous and think someone else might too, there's probably parody fodder there.
Election night on Tuesday was largely free of memeable moments, unlike in 2008 when CNN's completely pointless hologram system made for ripe comedy fodder.
Paul Ryan Gosling is run by the five women behind the blog Mouthy Housewives. Karen Gerwin, one of those women, told the Daily Dot that the account caught fire on Twitter (with more than 74,900 followers since August) due to the "winning humor and sarcasm, of course. Plus, Paul Ryan is inherently easy to mock."
3) Make it last
Most reactionary parody accounts have a limited shelf life. Parodies based on a soundbyte can run out of steam fast. Keeping it going requires some creativity.
The key, Gerwin noted, is "staying funny, and staying on top of the most up-to-the-minute events that involve the subject of the parody."
Schafer told the Daily Dot his tactic is to ensure "consistency and quality. I can only vouch for the first, but every so often there's a gem in there." Expanding the account beyond its origins can help too, he said:
"The account has been very active, and the content eventually transcended the events of the RNC. That, and puns are the lowest common denominator of humor. The rest of the humor is in that the account is still active. Both the left and the right found ways and reasons to interact with it, and @InvisibleObama eventually became a way to refer to that empty chair on stage. It's also been very polarizing; there have been equal amounts of support and vitriol directed at it."
4) Stay on point
How many times have you seen blooper reels where actors break character and start laughing? The same holds true on Twitter. Your parody account is a facade. Going the method-acting route is probably a step too far, but if you want to keep up the illusion, you'll need to stay in character.
In Paul Ryan Gosling's case, the Mouthy Housewives don't have a big problem keeping on point since he's "a pretty one-note character."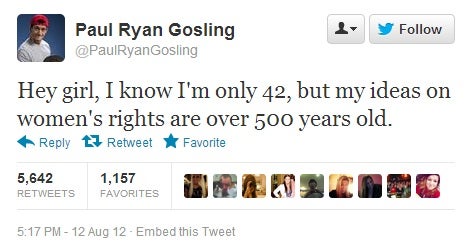 Schafer went a little further though, creating a detailed @MayorEmanuel-style universe for @InvisibleObama:
"There's a story canon in my brain that I don't waver from. There's a whole backstory. Kind of like Star Wars."
5) Collaborate with friends
Gerwin said that being able to run Paul Ryan Gosling with her fellow Mouthy Housewifes is "the best part" of the entire experience.
"We enjoy cracking each other up, and it was just an added benefit that other people came along for the ride."
Most of the time, the women write the tweets by themselves, but occasionally, one comes up with an idea that needs a little work, then they work together to refine it.
Everything's more fun with friends. Just ask @MatthewPerry888.
Photo via @paulryangosling/Twitter