After its most highly rated episode, Breaking Bad has not just inspired fan art, watercooler conversations and a spike in pork pie (the hat, of course) sales. It's also produced a new Twitter spam specifically targeting its fans, according to security firm Symantec.
Here's how it works: Phony Breaking Bad accounts with names like "Leaked Episode" and "Breaking Bad Fans" add thousands of Twitter users at once to a Twitter "list." That way, their account pops up into your notification tab, including a link to their spammy content.
This particular brand of Twitter spam isn't new. It took off several months ago when Twitter increased the number of lists each user can have from 20 to 1,000, and the maximum number of accounts in each list from 500 to 5,000.
Since spam is a game of numbers, this increase has turned Twitter into a much more useful engine for creeps hoping to part you from your money.
The links within the fake accounts in the Breaking Bad list spam accounts, and in some cases the links in the list descriptions themselves, lead to Pastebin pages with lists of links purporting to be sources from which you can download Breaking Bad episodes ahead of time.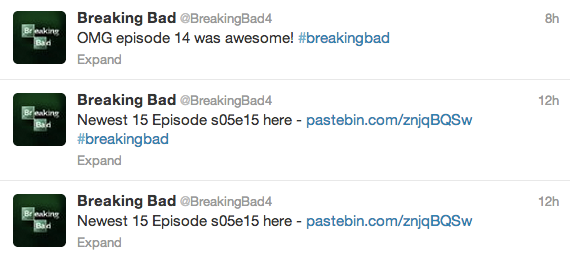 "In order to open the large file," behind that link, according to Symantec's Satnam Narang, "users are instructed to download the latest version of 7-Zip. The link directs users through an affiliate program, which is how scammers make money."
Of course the episode is not a "leaked episode.' It's an old episode.
Although no malware has been reported as being downloaded on the machines of people who have clicked these links, it certainly seems like a good delivery strategy. So be careful.
You can remove yourself from any list to which you were added by reporting the user who added you.  
H/T Symantec | Photo by Kevin Chin/Flickr