Get out the wine, fix your remote, and login to Twitter: It's television premiere week.
Starting Monday night, the four broadcast networks launched a bulk of their new programs for the 2012-2013 programming season. More than a dozen new shows are hitting the airwaves for the curious masses to judge, while another two dozen returning television favorites are making their season debuts.
All in all, that's more than 40 shows bowing in just seven days. To help make sense of it all, the Daily Dot compiled 15 must-follow accounts on Twitter, separated into three categories: the fans, the critics, and the sites.
The Fans
@PilotBacon // 2,486 followers
Part of TV Hangover, a self-proclaimed group of "drunks who watch a lot of television," Pilot Viruet is taking her well-crafted cynicism to The A.V. Club as a recapper for probably the worst show on television, 2 Broke Girls. For everything else, there's Twitter, where she channels her wonderfully sardonic criticisms of TV and pop culture.
@BigTVFan // 553 followers
This anonymous Twitter account provides an eagle-eyed analysis of TV ratings and schedule swaps. His expertly written blog posts about the industry are worthy tracking as well.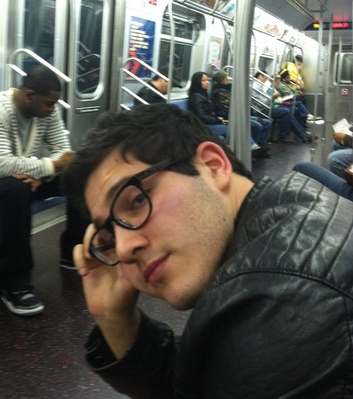 @jorcohen // 566 followers
A communications assistant for the New York Times, Jordan Cohen (pictured left) uses Twitter to amusingly live-tweet his nightly television musings. During the day, his tweets about entertainment news and stuff that you might've missed nicely complement your feed.
@iamwesley // 602 followers
Wesley Ambrecht is also another TV fan who uses his Twitter to give minute-by-minute examinations of the shows he's watching. He's currently studying in UCLA's Producers Program and will probably be running a network in the near future.
@tkylemac // 1,961 followers
A designer for MTV Networks by day and master GIF creator by night, MacMahon slurps up of the most ridiculous moments on reality TV, live-tweets his scorn, and posts the most GIF-worthy moments on his Tumblr, RealityTVGIFs (sampled below).
The Critics
@RealityBlurred // 10,196 followers
Andy Dehnart is the owner of Reality Blurred and an active Twitter user. His scrupulous tweets about reality TV news, ratings, and gossip are essential if you love indulging in Survivor and Dancing with the Stars.
@tvoti // 12,396 followers
Todd VanDerWerff is one of the funniest Twitter users you need to follow. He writes impeccable show reviews for the A.V. Club, but it's his tweets that give you a glimpse into his love/hate relationship with the idiot box.
@TVMoJoe // 11,422 followers
Joe Adalian writes some of the best analysis in the industry for Vulture. His often-meticulous tweets about show ratings, and how they compare to the past, provide extra context for TV junkies.

@Jamies_Hibberd // 17,337 followers
Although Hibberd (left) uses his Twitter to promote his articles for Entertainment Weekly, he is still worth a follow for his scoops and hard news coverage.
@BastardMachine // 20,927 followers
A critic for The Hollywood Reporter, Goodman has an acerbic sense of humor and writes addictive, detailed show analyses. He also really hates Weeds.
@HitFixDaniel // 18,089 followers
Fienberg has the not-so-glamorous task of live-blogging shows of making ratings appear interesting. He's also conducts interviews with stars for his website, HitFix. Oh, and he's very funny, so there's that.
The Sites
@AVTVClub // 6,679 followers
The site's Twitter description accurately bills itself as "TV obsessives writing for the TV obsessed." Part of the Onion's A.V. Club, the site is home to some of the Internet's best television criticism and has a knack for smart headlines.
@TheFutonCritic // 11,881 followers
This account tweets detailed ratings nuggets, video interviews with TV stars, and breaks news on the regular.
@TVbytheNumbers // 30,118 followers
A must-follow account for anything number-related, this Twitter account not only tracks broadcast network ratings but releases tough-to-find cable numbers on the regular. If you're playing your own version of fantasy TV, this should be your homepage.
@TVWithoutPity // 22,248 followers
Perhaps the granddaddy of them all, @TVWithoutPity's snarky show reviews and award show hypothesis has made the site a premier destination for years.
Photo via @sophs_louise/Hashgram