It's 20 years old at this point, but for web developer Michaela McCann, the Sandra Bullock–Keanu Reeves thriller Speed hasn't aged a day. She even favorably cites the high-octane blockbuster on the "About" section of her website. And what better way to pay tribute to its gimmicky charms than by transcribing the whole thing for a Twitter audience?
Unlike the mysterious and amazing Top Gun Twitter account, which ran afoul of Paramount's lawyers in hosting frame-by-frame screengrabs, @Speed_1994 sticks to its action-hero lines (which acquire a strange poetry when separated from the film itself), punctuated by appropriately violent emoji. Here, for example, is the villainous Dennis Hopper's first kill.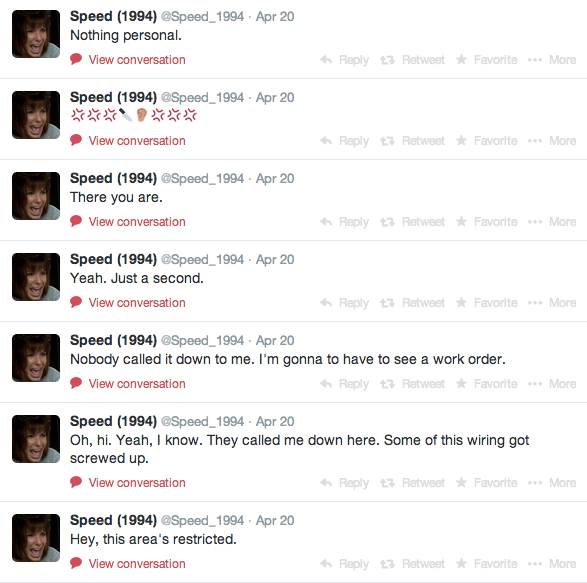 Naturally, the individual posts can get a little existential. Which is the whole point, right? That this utterly perfect film can be stripped down to raw philosophical insight? Well I think so. 
Makes no sense.

— Speed (1994) (@Speed_1994) April 22, 2014
Why?

— Speed (1994) (@Speed_1994) April 22, 2014
This is taking way too long.

— Speed (1994) (@Speed_1994) April 22, 2014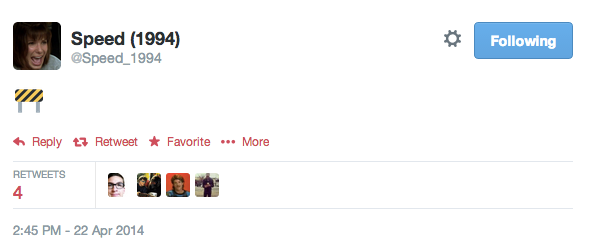 "I made the bot after wanting to familiarize myself with a new stack and a couple other tools," McCann explained to the Daily Dot in an email. "[Speed] is perfect for Twitter because the dialogue is mostly short sentences that require so much context and, without that context, I think it becomes hilarious. It's also an exciting story with well-developed characters, including a woman who is a love interest but isn't passive or without a backstory. She's literally in the driver's seat." The final tweets will coincide with the movie's official 20th anniversary, she noted.
Also, great news for anyone just tuning in: @Speed_1994 just got rolling recently, and we're still in the midst of first intense set piece. Nobody's even on the bus yet! So go make popcorn.  
Photo via IMDb/20th Century Fox