Did you know the Twitter bird has a name? It's Larry.
If that's news to you, you're not alone. The latest numbers from Topsy, a search engine which tracks Twitter and other social services, show more than a thousand mentions for "twitter bird Larry" today.
Sure, there have been clues. On the microblogging network's official post about using the New Twitter, it points out that typing "'L' (as in Larry)" will close all expanded tweets.
A Twitter employee first revealed the name in August 2011. Twitter's corporate responsibility manager Jenna Dawn named the bird in a tweet, AllTwitter noted at the time.
Shortly afterward, Peter Stringer, the Boston Celtics' director of interactive media, asked Twitter cofounder Biz Stone to go into detail. Could Larry, by chance, be named after Celtics legend Larry Bird? As it turned out, that was indeed the case.
But Stringer has a mere 3,083 followers. His message didn't resonate—it was retweeted and favorited just once. So why is Larry's name spreading now?
Blame Ryan Sarver, a product manager for Twitter's developer platform. He has 275,866 followers. So when Sarver tweeted yesterday about "the evolution of the Larry the Bird logo," he reminded the Internet of this forgotten piece of trivia. His tweet got retweeted 37 times and favorited 20 times, spreading far and wide.
He tweets, he scores.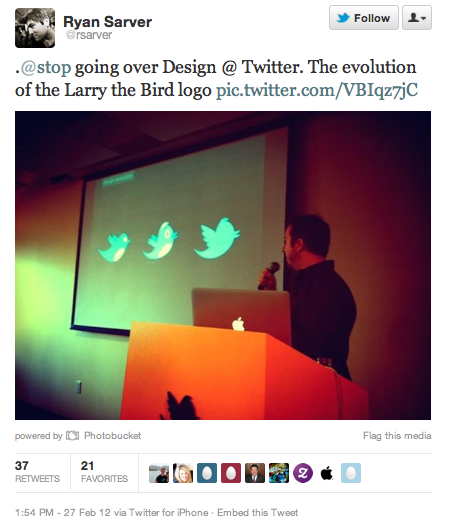 So for many users, Sarver's tweet marked the first time they'd heard Larry's name. But the "Bird" reference was lost on some.
"The Twitter bird has a name…#Larry. Is his last name Twitter? Larry Twitter sounds like the name of a nice bloke from down the road," remarked @kevinjanosz.
"The Twitter bird's name is Larry?! This just rocked my socks off…" wrote @mikinzie.
We hope Larry the Bird marks a comeback for social-media mascots. We bet LiveJournal's Frank the Goat is getting pretty lonely. And has anyone seen the Facebook quail lately?