There is much to be said about the YouTube video "Half In The Bag: The Transformer Series"—and yet not very much at all. To wit: Three men sit down and watch all three of Michael Bay's Transformers movies at the same time. It's good stuff from the team that brought you the world's most biting commentary on the Star Wars prequel trilogy.
The ensuing video, filmed from two angles—one facing them and one from over their shoulders—offers a compelling illustration of and commentary on the postmodern condition and how we live with technology, which can more or less be summarized by this GIF: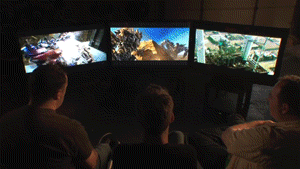 Transformers 4: The Age of Extinction comes out on Friday. If you have never seen a Transformers film in theaters, you might consider giving it a shot. But maybe bring earplugs, and good luck trying to get this mashup out of your head while you watch.
Screengrab via RedLetterMedia/YouTube