Todd Glass could have done a traditional standup special, but he found a way around it.
In his new hour of material on Netflix, Act Happy, Glass fucks with the structure and it yields mixed results. First, he has a backing band so he can play "big." This addition could have produced some interesting supplemental material—the band interacts with Glass' jokes and offers audio cues for ones that bomb—but as the special rolls on, its presence starts to muddle the set. When Glass gets a bit more serious toward the end and opens up about having a heart attack, the band members cut him off mockingly: "Wow, you had a heart attack." I understand the band is functioning as the comedic foil, but it takes you out of the bit.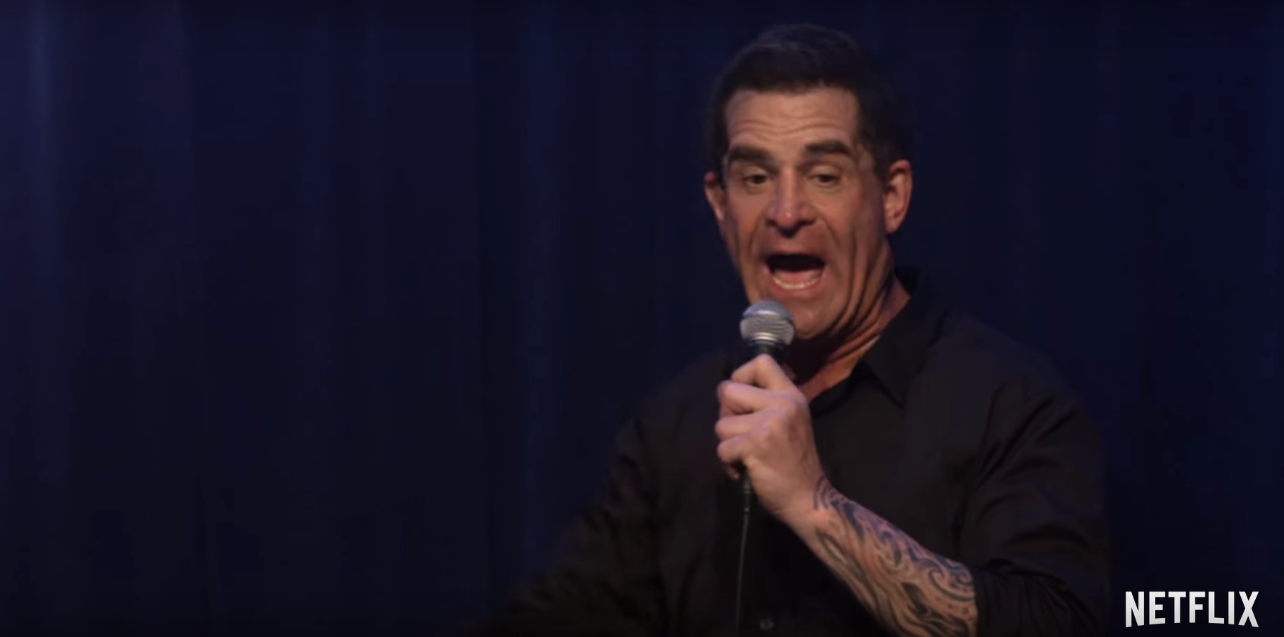 But after that interruption, Glass takes a more personal look at being gay and trying to navigate that language in this standup sets. He objects to the phrase "coming out of the closet," preferring "busting out of the shed" instead, referencing a bit he did on The Daily Show in 2014. At a time when Netflix is unloading a lot of specials from straight men who don't have a particularly revelatory viewpoint, Glass' stands out.
The set is unmoored, which isn't necessarily a bad thing. He leans into chaotic good. Glass keeps his energy up, jumping from topic to topic, often starting a joke and abandoning the punchline in favor of a new one. He covers house-flipping shows, flossing, pigeons, and admits he has a song prepared in case he doesn't have enough material. It appears he does have enough material, but sometimes a lack of focus hinders the delivery. Two highlights: He does a spot-on Brian Regan impression in a bit about man caves, and channels Rodney Dangerfield doing Mitch Hedberg jokes, which I probably would have watched for another 15 minutes.  
It's an erratic set, but Glass is still in control. In the bit about his heart attack, he suddenly pivots to people complaining about everything being "too PC" now. "It's not PC, it's just fucking kind!" he exclaims. Glass comes back to that thought at the end in a bit about not dogging on millennials. "You can't say anything anymore," he mimics. "You know who says 'You can't say anything anymore?' Most of the time people with nothing fucking to say." In Act Happy, Glass has a lot to say. 
Still not sure what to watch on Netflix? Here are our guides for the absolute best movies on Netflix, must-see Netflix original series and movies, and the comedy specials guaranteed to make you laugh.