Jimmy Garoppolo is the savior of the San Francisco 49ers. He signed a five-year, $137.5 million contract in the offseason. There's a ton of pressure on the 26-year-old to not only erase the memory of the proud franchise's recent failures but to make fans forget about the controversial 2017 where people paid way more attention to everything that happened before kickoff.
In other words, the 49ers want Garoppolo to stay out of the spotlight for anything other than football.
Too late.
San Francisco's most high-profile bachelor spent Wednesday night in Beverly Hills, California, on a date with an adult film superstar. TMZ spotted Garoppolo sipping wine and sharing conversation with porn star Kiara Mia. The pair walked arm-in-arm out of Avra restaurant—and the internet is losing it.
Who is Kiara Mia?
If you're at the office, you may not want to peruse her work. According to her Twitter profile, she's "an international porn star" who's now out of retirement. Her IMDb page notes that Kiara Mia was born on Jan. 24, 1977, in West Hollywood, California.
These days she's leading a renaissance of women-owned adult entertainment projects. Her Instagram and Twitter boast more than 3 million total followers. Fans can subscribe to her private Snapchat, and she sells sex-positive products via her social media. You can even advertise your business on her Instagram and Snapchat and reach "over 2 million men."
She's an influencer, in other words, but the NSFW component to her work means that few openly acknowledge her star power. That is until the NFL, a monolith of traditional American values, took notice this week. On Friday morning, she became the highest-searched name on Google in the U.S.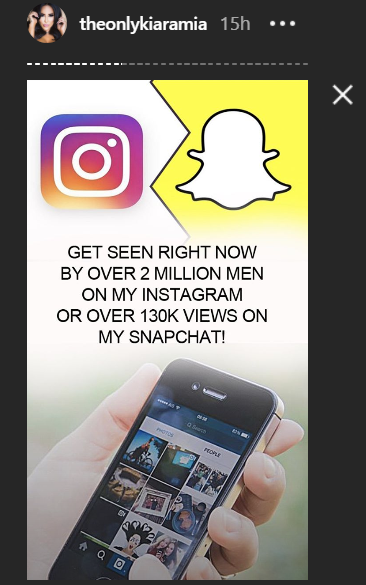 https://www.instagram.com/p/BlUSudLAb2x/?hl=en
https://www.instagram.com/p/BlB0RajAVMS/?hl=en
Mia's Instagram is littered with shaming sports fans who think she's going to somehow ruin Garoppolo's career, and offer comments like "leave Jimmy G alone!" Think back to when Dallas Cowboys QB Tony Romo lost a 2008 playoff game after going on vacation with then-girlfriend Jessica Simpson… and fans blamed her.
While fans are worried that Garoppolo's extracurricular activities could hurt his performance on the field, team brass and the quarterback's inner circle might be concerned with how the spectacle could damage the NFL's "next Tom Brady" and his image on Madison Avenue.
CBS San Francisco contacted a sports marketing expert who claimed the quarterback's life off the field won't go unnoticed by major brands. "He's got pretty much the perfect image for the Bay Area right now," marketing expert Bob Dorfman told CBS. "What this does is it may hurt him a little bit with certain marketers who say, 'I don't want to date a guy who's dating a porn star.'"
But while marketing experts think Garoppolo's dating preference might cause an issue, Mark Cuban believes the entire story is a non-issue.
NFL experts are already calling Garoppolo the future of the league, and he's not the first high-profile athlete to court an adult film star. Ultimately, Garoppolo's performance on Sundays will be all that matters to fans and the 49ers front office.
In the meanwhile, Mia has become a mainstream star.
H/T TMZ Sports