Netflix loves to strand kids on an island. Over the last few years, Netflix has chased the intersection of Lost and horny teens with shows like The I-Land and The Society. The service is obviously confident in the staying power of the "beautiful-high-schoolers-played-by-20-somethings-mysteriously-abandoned-for-reasons" genre. But The Stranded, its latest entry into the genre and first Thai original series, sets itself apart from its peers in a way no one could see coming. While other mystery box shows about kids on an island try to carve their own path, The Stranded is best summed up as "Degrassi on the Island from Lost." And ladies and gentlemen, we're here for it. 
The Stranded
RELEASE DATE:
11/15/2019
DIRECTOR:
Sophon Sakdaphisit
STREAMING:
Netflix
Flawed yet incredibly promising, 'The Stranded' is a fun mystery island melodrama with potential to grow.
The Stranded follows a group of students at an elite island private school who get trapped following an apocalyptic tsunami. Cut off from their families, unable to communicate with the mainland, and seemingly left without any adults, the students set about trying to escape. Banding together, they try to repair a boat that washed onto the mainland while mysterious forces thwart their every move.
The students rally around two dramatically different forces. One is Kraam (Papangkorn Lerkchaleampote), the heroic adopted son of a fisherman who has had disturbing nightmares his whole life. His rival is Anan (Chutavuth Pattarakampol), a rich kid who longs to feel the respect his father has earned through professional success. Between them is the group of survivors and May (Chayanit Chansangavej), Anan's girlfriend and the island's makeshift doctor. 
Along for the ride are Ying (Ticha Wongthipkanont) and Ice (Kittisak Patomburana), typical horny bad kids who hide surprising depth, and Arisa (Chaleeda Gilbert), a moody outcast haunted by a dark secret. At this point, you probably think you know where this is going, and after episode 1, so did I. But as the frustratingly short seven-episode season rolls along, the seeming Degrassi influence on The Stranded starts to become all-encompassing.
For a show with magic knives, mysterious resurrections, allusions to forgotten societies, and haunted wildernesses, The Stranded sure loves focusing on the teen drama: who is sleeping with whom, the way rich and poor kids interact in society, bisexuality, young gay romance. The Stranded regularly says, "Stop paying attention to the mystery, y'all, and check out the melodrama over here." The tonal shift can be jarring at times, but it also helps keep things from drowning in self-seriousness. 
Spread out over a 10- or 12-episode season, the sheer number of plot points might feel a little less rushed or at least make more sense. Cramming everything into seven episodes, however, gives the whole show a breathless pace that's fun to watch in the moment even as it blasts past details that deserve far more focus. But because both the teen drama and the mystery box drama are such soapy fun, you just kind of roll with it and hope to God something gets explained later.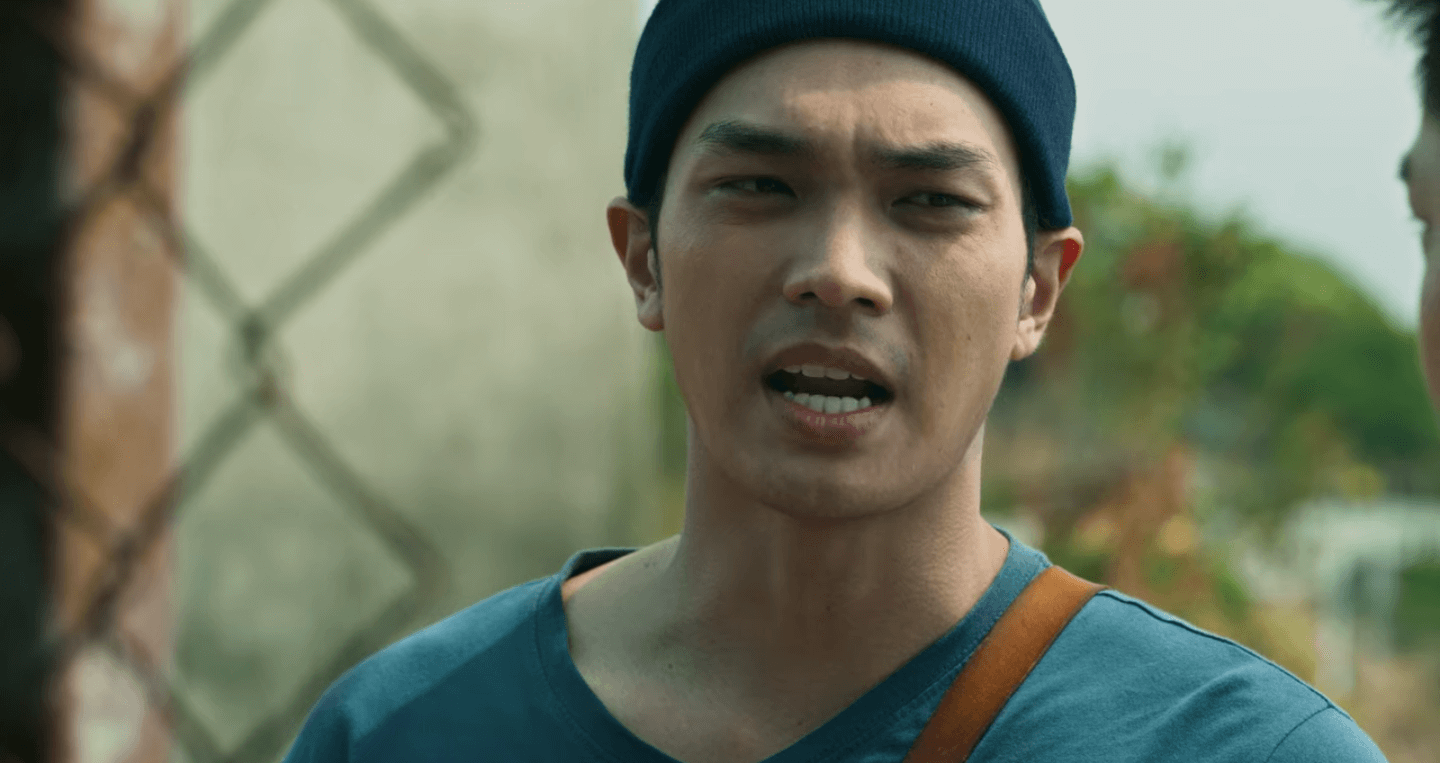 The Stranded is Netflix's first Thai original series, an international collaboration between directors Sophon Sakdaphisit (Shutter) and Ekachai Uekrongtham (Beautiful Boxer), and Western screenwriter Christian Durso. Thai culture factors into the show, particularly when it comes to issues of class and wealth, but never in a way that will feel alienating to Western audiences. I honestly wish there were more Thai culture present. Outside of a few broad strokes, The Stranded could easily be set in America with few changes. 
After watching the entire series twice, trying to pick up on bread crumbs of plot I might have missed the first time, I can say the show makes more sense than you think and far less sense than it needs to. It's truly a shame the season is so short, because The Stranded is at its strongest when it takes time to breathe. 
The magic elements are great, but the teen drama is surprisingly compelling. From rich kids literally sacrificing the symbols of their privilege, turning designer clothes into a sail, to the negotiations for spots on the boat, sometimes you wonder if The Stranded would work better as straight Lord of the Flies. But then the moon goes blood red and someone's eyes turn white as mystic visions attack their body, and it's back to the races. 
The Stranded is sort of a trainwreck, but it's a truly compelling trainwreck. Never sure if it wants to be a teen drama or an intense horror show, it tries too hard to be everything. For something aimed at teens, the sexual content, violence, and language can occasionally be a bit much. On my first watch, I used the English dub and English subtitles. I'm happy I did, because I can report that the dub and subtitles use wildly different scripts. The dub is actually missing a few important character details that change the thrust of entire scenes. If you can't watch in the original Thai language track, make sure you leave the subtitles on anyway. Trust that you'll appreciate the differences.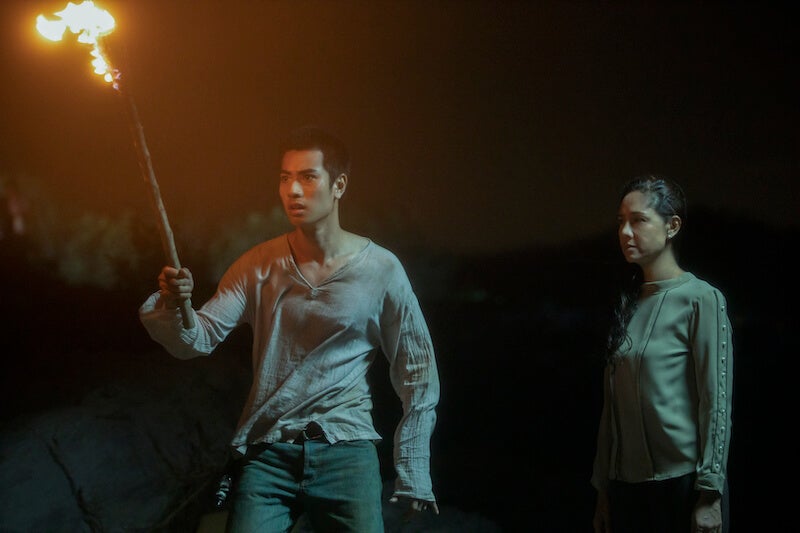 While The Stranded's short season is its greatest weakness, it's also what makes the show so easy to recommend. Each episode is around 45 minutes long, making this the perfect cheesy binge-watch for a rainy day. When The Stranded finally fully embraces the otherworldliness of its own premise in the final episode, you'll see just how good this show could become. It's slightly infuriating to not know if there will be a season 2 when the last episode raises so many fascinating questions about where it could go next. 
That's part of the problem with modern serialized TV: A host of series, from Surface to The I-Land, have raised interesting questions we'll probably never get to see answered. Even without a second season, however, it's hard to not kind of love The Stranded. When it's scary, it's legitimately scary. It treats its LGBTQ characters with dignity and nuance. Most importantly, its romantic subplots are juicy enough that you won't mind abandoning vengeful ghost girls in the woods to get back into the triangle. 
Does The Stranded often fall into cliche? Yes. Does its tone sometimes seem at war with itself? Oh man, does it. Is it rushed? Hell yes. But beneath its flaws are a group of characters and ideas that you can't help but root for. I'm not sure if The Stranded rises to the level of good yet, but it's hard to look away once you start watching. 
Hopefully, season 2 gives the show time to breathe and stretch its legs so the teen drama and mysteries can flourish. But when a show ends and you immediately want to start watching season 2, it's impossible to pretend that show isn't worth your time. Warts and all, The Stranded deserves to be rescued from the world of interesting mystery shows that never get a chance to fully tell their story. So do me a favor and watch it, so I can see what happens next.
Still not sure what to watch tonight? Here are our guides for the absolute best movies on Netflix, must-see Netflix original series, documentaries, docuseries, and movies.
Looking for something more specific? Here are our Netflix guides for the best war movies, documentaries, anime, indie flicks, true crime, food shows, rom-coms, LGBT movies, alien movies, gangster movies, Westerns, film noir, and movies based on true stories streaming right now. There are also sad movies guaranteed to make you cry, weird movies to melt your brain, old movies when you need something classic, and standup specials when you really need to laugh. Or check out Flixable, a search engine for Netflix.
---
---