They do, in fact, make them like they used to.
While the internet generally looks at Netflix as the home to forward-thinking, critically acclaimed shows like Bojack Horseman, GLOW, and Maniac, the streaming giant is equally invested in producing the kind of television that there has always been. The latest entrant in the Netflix library to give audiences something comfortably familiar is The Good Cop.
Like Netflix sitcoms The Ranch and One Day at a Time, this dramedy, from Monk creator and showrunner Andy Breckman, operates by the the principle of "If it ain't broke, don't fix it."
Even though The Good Cop is an hour long (43 minutes or so without commercials), many of the scenes play like they take place in a half-hour sitcom. Tony Danza plays Tony Caruso Sr. and Josh Groban plays Tony Caruso Jr. The elder Tony is an old-school NYPD cop who has been disgraced by corruption charges and drummed out of the force. The younger Tony is a clean-as-a-whistle detective who wants to be the kind of cop his father never was. A dead mother/wife and a lot of family baggage complicate matters as necessary. While the series is based on an Israeli show of the same name, the execution has the light tone combined with the procedural beats that brought the USA Network so much success in the heyday of Monk, White Collar, and Burn Notice.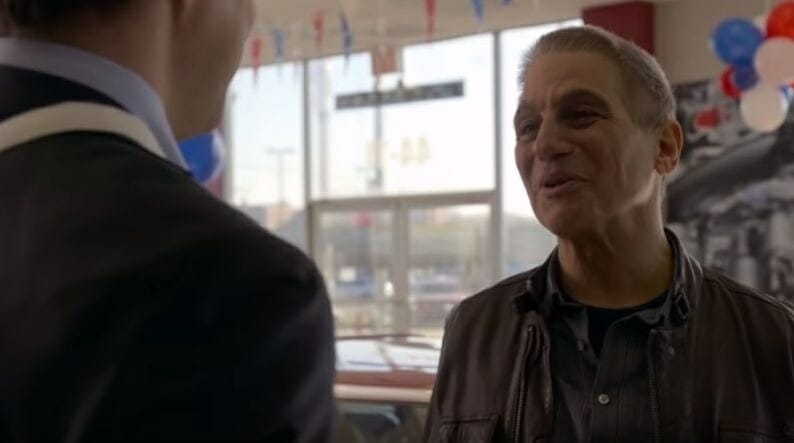 The Good Cop is the kind of show that would have been on basic cable in the time of Franklin and Bash, and if it were just two or three shades grittier, it would feel at home on CBS or ABC today. Netflix knows that as companies pull their back catalogs from their service and launch their own streaming platforms like CBS All Access and Disney's forthcoming app, they will need to build a huge back catalog if they are going to retain their massive subscriber base. If you can't buy Monk, then you might as well make your own.
While neither Groban nor Danza are on Tony Shaloub's nearly untouchable level as a character actor, their Odd Couple meets Law and Order dynamic will probably work for audiences who like this kind of show. There is just as much domestic back and forth between the father and son as there is crime fighting, just as much wise-cracking as case-cracking. The veteran writing staff and seasoned cast shift tones effortlessly.
In the first episode, the two Tonys have an argument over breakfast that defines their disparate worldviews. Groban's character is hesitant to use "stolen" IHOP sugar packets in his coffee. Danza's character says, "They're just sugar packets. Everybody takes a couple." Groban self-righteously responds, "That doesn't make it right. You break one rule, they all break." Groban's line becomes a mantra that he repeats like clockwork as the series progresses.
No, these thematic beats aren't exactly subtle or nuanced, but if you are looking for that, Ozark and Bloodline are waiting for you in your Netflix library. If you are going to hang with this show, it is because you want to watch the old man who played by his own rules and got burned and the straight-laced choir boy who never steps over the line learn something from each other and have a few laughs along the way.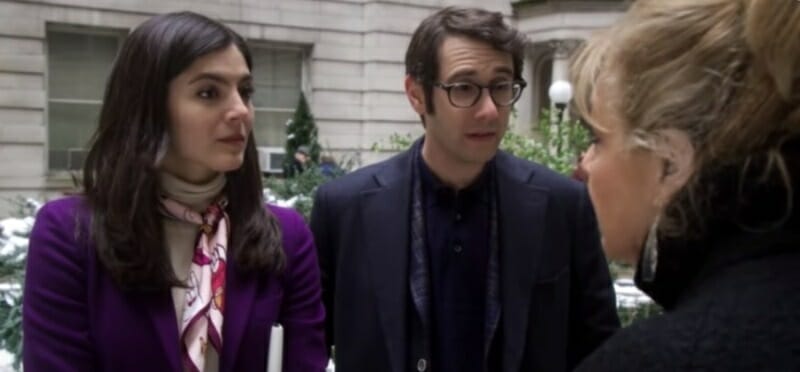 The show has the predictability of a warm blanket. Veterans of cop shows past show up in the supporting roles to add tough guy tone or a dose of humor depending on the circumstance: You've seen almost every recurring character on The Wire, Rescue Me, or one version or another of Law and Order. Groban's love interest (Monica Barbaro), who just happens to be Tony Sr.'s parole officer, shows up in a leather jacket and drives a vintage Mustang, just in case you were under the mistaken assumption that she wasn't a badass. Other familiar tropes from procedurals populate the proceedings, and exchanges like "Who am I talking to here, you or the badge?" followed by a straight-faced, "I am the badge," are thrown out as reliably as day-old New York bagels.
As with any show in this genre, the strength of The Good Cop is the plotting. The thinly connected episodes stand just fine on their own, and every element introduced in the first act will factor into the solution of the crime and the resolution of tension at the episode's conclusion. Depending on the episode, it is Groban's studious observations or Danza's street smarts that save the day, keenly observing something that the other could have never seen coming.
If the tropes and cliches of cop dramas feel stale to you or the sitcom structure of set-ups and punchlines delivered by broad characters bore you, this isn't the show for you. But, you—and Netflix's algorithm—probably already knew that.
Your uncle and your grandma will be talking about The Good Cop at Thanksgiving, assuming they know how to work the remote beyond the basic channels that serve up football and cable news. If you don't have the time to watch the show, you can rest assured that The Good Cop is a fine, steady entrant into a well-worn TV genre. After 45 minutes, the case and dozens of jokes will have been cracked, and the viewer will be ready to go on the pleasantly predictable ride all over again.
Still not sure what to watch tonight? Here are our guides for the absolute best movies on Netflix, must-see Netflix original series, documentaries, docuseries, and movies.
Need more ideas? Here are our Netflix guides for the best war movies, documentaries, anime, indie flicks, true crime, food shows, LGBT movies, gangster movies, Westerns, film noir, and movies based on true stories streaming right now. There are also sad movies guaranteed to make you cry, weird movies to melt your brain, old movies when you need something classic, and standup specials when you really need to laugh. Or check out Flixable, a search engine for Netflix.